"Beautiful tile — designed responsibly"
Dallas, TX – April 21, 2023 – In recognition of Earth Day 2023, sister brands Daltile, Marazzi, and American Olean are highlighting some of the many sustainable features of their products, processes, and company ethos.
"As a company, we strive to create beautiful tile designs responsibly," said Paij Thorn-Brooks, vice president of marketing, Dal-Tile LLC. "Under our brands' 'Our Promise' sustainability platform, we are focused on creating a more Climate Positive future by being dedicated stewards of our global impact, leveraging our resources to shrink our footprint and reduce our waste. Not only do we strive as a company to encourage sustainable activity around Earth Day, but we are keenly focused on this effort 365 days a year via a myriad of environmental sustainability efforts."
The Daltile, Marazzi, and American Olean environmental sustainability efforts include, but are not limited to, the following: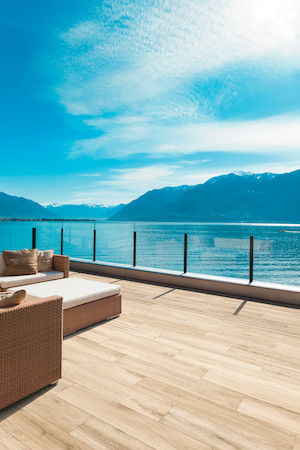 99% — Over 99% of our tile collections contain recycled or reclaimed materials.
300 million — On average, our North American facilities recover and reuse over 300 million pounds of recycled and/or reclaimed material per year.
17% — 2018 to present we have reduced our carbon footprint by 17%.
84% — Overall, we recover and reuse 84% of all process wastewater generated in our manufacturing plants to make tile products.
125 million — Our measures have prevented over 125 million gallons of wastewater from entering local municipal water treatment facilities.
11% — We have reduced energy consumption by 11% at all of our company-owned Sales Service Centers and distribution facilities.
0% — Our tiles are made from only natural materials: water, clay, sand, feldspar, and other minerals. Our tiles contain zero VOCs, zero PVCs, zero allergens, and zero formaldehyde.
We have developed and continue to maintain product-specific EPDs. We have also produced product-specific HPDs for each of our core companies.
"We look forward to doing great things as we continue to grow our multi-facetted sustainability program," concluded Thorn-Brooks. "Our commitment to having a positive impact on the world around us is one of the core pillars of our business."