Editor's Letter – March 2018
As I am writing this, National Tile Day, February 23, is just three days away. Our social media and online digital sites have been awash in Why Tile? news and hashtags, and posts that serve to boost tile's popularity with consumers, illustrating the properties, artistry and performance characteristics of the floor and wall covering that we in the industry have dedicated our lives to promoting, selling, installing and using in design. Tile manufacturers' associations – foreign and domestic – as well as contractors, designers, Coverings, and others are all getting into the act. Did you catch any of it? How did you get onboard with raising awareness of tile as a great finishing material in 2018?
Did you miss it? Well, mark it on your calendar for next February 23, 2019 and plan a promotion or awareness campaign in your segment of the market. Wondering what to do? Enter #whytile or #nationaltileday in your favorite social media and see some of the efforts that took place in 2017 and 2018, then plan accordingly and join the festivities.
Taking a look at our story lineup this month, please be sure to catch the Business Tip, written by Pat O'Connor. He takes a look at how the new Tax Cut and Jobs Act may affect your business. LATICRETE's Sean Boyle also gives us a view into economic trends and growth that will impact our industry in 2018 and beyond.
Also take a look at the Coverings preview. It includes information about an exciting new activity NTCA is spearheading at the show – the Installation Experience. At press time, it's still in the planning stages, but read and learn about what we've got up our sleeve for your enjoyment and education, and plan to attend Coverings May 8-11 at the Georgia World Congress Center in Atlanta this year.
God bless,
Lesley
[email protected]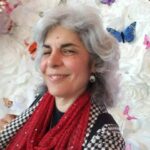 Editorial Director and Senior Writer for TileLetter and TileLetter ARTISAN
Lesley Goddin has been writing and journaling since her first diary at age 11. Her journey has taken her through a career in publishing and publicity, landing her the editor position of TileLetter and its special publications in 2006. Her goal is to educate, inspire, recognize and encourage those in the tile industry -- especially the tile and stone contractor. Other interests include the soft, purring marvels known as cats, labyrinth walking, drumming and percussion, and a range of spiritual, musical and artistic pursuits.