Subway tiles will never go out of style. Their rectangular, timeless shape combined with strength and durability always will be on-trend.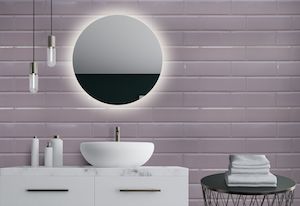 Ege Seramik's Diamante Series I is taking these classics one step further; adding a slight relief and a high gloss finish to play with light. These subtle upgrades bring any space to life.
The Diamante Series is sized 4"x12" and is available in 10 calming colors: Pastel Mint, Pastel Sky, Pastel Bone, Pastel Lavender (pictured), Damson, Ocre, Blue, Teal and White.
"Our new collection was created to take a classic tile and make it into something more," stated Alp Er, General Manager of Ege Seramik USA. "These larger subway tiles can be installed horizontally, vertically or in a decorative pattern. They offer style and sophistication, and a bit of visual panache."
---
About Ege Seramik
Since 1972, Ege Seramik has been a major global supplier of top-quality ceramic and porcelain tile materials. To meet the demand of customers in the United States and Canada, Ege Seramik America, (established 1991) has been serving a strong and loyal cadre of active North American customers from its stateside headquarters in Georgia. For years, Ege Seramik has been the number one Turkish product exported to the North American continent. To learn more about Ege Seramik and view the entire product line, visit  http://www.egeseramik.com or contact the firm directly at Ege Seramik America, Inc. 1721 Oakbrook Drive, Suite C Norcross, GA 30093 Office: (678) 291-0888.