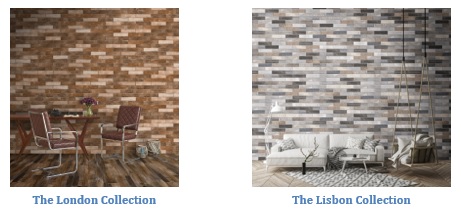 Ege Seramik proudly introduces small brick-sized glazed porcelain tile collections that recreate the look, feel and aura of hand-made bricks.
The LISBON and the LONDON COLLECTIONS are available in one standard 2.4" x 10" size, and both lines feature three colors: LISBON (Grey, Beige, Mix) and LONDON (Cotton, Anthracite, Mix). The impressively accurate reproduction of the look of brick on these tiles is enhanced not only with a textured "feel of brick"… but, with a comprehensive offering. LISBON COLLECTION boasts twenty-five (25) different faces and LONDON offers twenty (20) faces.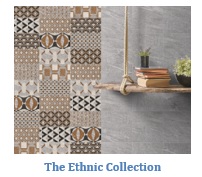 Ege Seramik's new ETHNIC COLLECTION adds even more flair to this vintage look by mixing it up with classic decorative pieces. Available in one standard size format, 4" x 8," field tiles have fifteen (15) different faces and there are nine (9) different deco designs that come mixed in the same box. This contemporary collection combines strength and durability with timeless appeal. The ETHNIC COLLECTION is available in very classic colors, grey, beige and brown with the deco pieces only available in one complementary style for all three colors.
Our all-new porcelain collections are perfect for floor and wall installations; bringing an original urban allure to any room.
"These new collections are stylish, timeless and affordable," stated Semih Susleyen, Sales Manager of Ege Seramik America. "Our state-of-the-art ink-jet technology allowed us to really put a modern twist on an old-time favorite look."
Attendees of the largest tile and stone exhibition in North America, COVERINGS 2018, will be able to see and feel the new COLLECTIONS, May 8-11, 2018 at the Georgia World Congress Center in Atlanta, GA, in Ege Seramik's Booth #8621.
About Ege Seramik
Since 1972, Ege Seramik has been a major global supplier of top-quality ceramic and porcelain tile materials. To meet the demand of customers in the United States and Canada, Ege Seramik America, (established 1991) has been serving a strong and loyal cadre of active North American customers from its stateside headquarters in Georgia. For years, Ege Seramik has been the number one Turkish product exported to the North American continent. To learn more about Ege Seramik and view the entire product line, visit http://www.egeseramik.com or contact the firm directly at Ege Seramik America, Inc. 1721 Oakbrook Drive, Suite C Norcross, GA 30093 Office: (678) 291-0888