The collection developed by the designer from Burgos, 'Esencia Material', is an ode to love for past elements, but adapted to the current context. Each piece is impregnated with a strong material expressiveness: from clay to glazed ceramic, plaster, stone or wood; all of them connect with our inner self. Navazo, who is one of the most prestigious interior designers in Europe, experiments with ceramics for the first time.
The official presentation of the ceramic collection 'Esencia Material', designed by the prestigious interior designer Erico Navazo, one of the most influential designers in Europe, exclusively for APE Grupo, took place in several cities these days.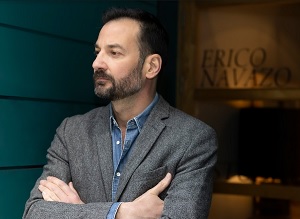 As the name suggests, 'Esencia Material' is about the authenticity of materials and robustness of our origins, placing value on how expressive the elements found in nature are. The language of clay, plaster and lime, stone, marble, concrete, terrazzo and wood can be clearly perceived in each piece of the collection.
Navazo says that with this collection "I have tried to combine my childhood memories that brought me closer to design and art, and I have done so by highlighting the essence of the materials, which constitute the nature of things, with my own essence and memories." "This is a very personal collection but at the same time one that transits universal codes that connect with people all over the world," explains the Burgos-born artist.

Navazo takes a tour of his innermost self
Navazo's designs are the result of a deep inner journey through which he intends to reflect his connection with art, experiences and roots through the material essence. "All these material elements are very functional and every day, but at the same time they take us back to the past, they evoke memories, so it is a collection full of emotions, but in a very simple and honest way," he adds.
His ceramic collection tells his own story, and he says it is made from the heart to convey sensations through the spaces. "The different pieces have a common affection for textures, memories and for doing things in a very particular way, as I learned and was taught. They have a common ceramic tradition, showing how tiles used to be made in the past, their artisanal process, their imperfect beauty."
Plasters, limes, graphic canvases, the boiserie technique, satin enamels… are all expressed in a powerful way
The fact is that the materials in his collection speak the same language – nature. All the pieces work with each other and in different ways. Some reflect simple plaster through volumes and geometries, with torn material textures that generate linear and curved geometric patterns that speak for themselves. He has also designed wooden pieces that revive the Japanese technique of Yakisugi, plaster and clay, and on them he traces brushstrokes that simulate lime, red chalk and charcoal, generating graphic canvases.

Navazo also recovers boiseries or wood panelling in combination with cement. Both materials are mixed in a single voluminous piece, achieving a striking material effect. He also creates sinuous interplays and combinations of materials, this time with a dark terrazzo resting on a ceramic piece that replicates a natural stone native to the Burgos region. Different positions are drawn to reproduce imperfect coverings that the passage of time embellishes.
Navazo, of course, rescues the ceramic language of authentic glazed ceramics full of colour, light and intensity. He argues that colour "is full of emotions, it moves us, even if we don't know why. Its capacity to stir memories is unique". The interior designer presents us with single-colour pieces glazed from the prism of contemporaneity, giving them a satin effect.
An interior designer who stands out for his ability to blend periods and styles
This is the first time that Erico Navazo has experimented with ceramics and designed his own collection for indoor and outdoor spaces through APE Grupo.
Erico Navazo is a well-known Spanish interior designer and designer who has created unique projects in private homes, hotels, shops, business and institutional headquarters, restaurants, etc., whose work has been recognised on numerous occasions by national and European design institutions and publications. His work is known for its good taste when it comes to blending different periods and styles.
The Casa Decor organisation recently awarded him the "special and honorary 30-year professional award" for his professional career, and Interiores magazine also recognised him as the "Best National Interior Designer of the Year". In addition, Navazo's work was awarded the 2019 Architectural Digest magazine award for the best design and as the best professional.
For successive years Navazo appears in the list of the 100 most influential interior designers in Europe according to the prestigious AD magazine. He has also worked on product design collaborations with internationally recognised brands such as KA International and Ormo's Sofas.
Committed to signature collections
'Esencia Material' reinforces APE Grupo's strategy in its commitment to signature series, and to design above all. For many years, the ceramics company has been collaborating with architecture, design and interior design professionals to create collections with their own hallmark. This is the case of the Italian architect Luigi Romanelli, who developed works such as 'Work', 'Argillae' or 'AMA', or the American designer Sylvie Atanasio with 'Fado'. Now, APE Grupo is expanding its signature collections with Erico Navazo.
---
Corporate information
APE Grupo is specialised in the creation of differentiated spaces through a wide range of ceramic flooring and cladding, as well as providing advanced technical solutions for architecture and interior design.
APE Grupo was founded in 1992 and set up as a business group, comprising four brands and a technical office, in February 2016. APE Grupo currently employs 150 people and in 2022 closed the financial year with a turnover of around €65 million. Thanks to the effort and work carried out in each of its brands, the result of an expansive strategy and a wide range of products, the tile company is present in more than 125 countries.