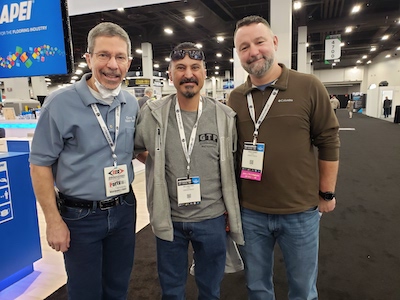 William Pino, Owner of Summit Valley Tile & Stone LLC in Las Vegas, Nevada, is one of the most recent Certified Tile Installers (CTIs) – #1749. He took – and passed – his hands-on exam during The International Surfaces Show (TISE) in Vegas earlier this year.
Pino got his start setting tile in 1999 as a helper to two contractors in Denver. After about a year, he moved to the Vail/Beaver Creek area of Colorado, working again for two tile contractors and taking on some solo jobs as an independent company.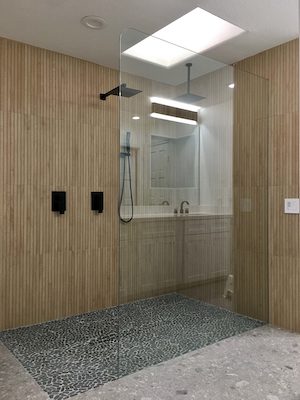 Pino says he is a fast learner and learned everything from tile work to drywall. "I really just learned how to do tile by being thrown to the wolves and working for companies that I definitely did not have enough experience to work for," he said. "But I showed up to work every day, watched, and learned a lot of the basics in that time. Thankfully, I worked for companies that had standards so I was in fact learning correct installation methods, which I would come to find out years later."
He established Summit Valley Tile & Marble in homage to the beautiful Summit county of North Carolina where he and his family lived for two years, while working for a stainless steel pool/spa company adhering tile with all epoxy products (LATAPOXY 300 and SPECTRALOCK PRO).
After moving to Las Vegas in 2006, he worked for the union for six years, gaining a lot of experience in mud work, large stonework, stone/tile fabrication, mechanical installations and large scale projects due to casino projects. From 2012 to 2016 he did tile work for a flooring store. Yet, he yearned to re-open his business. After obtaining his C-20 tile contractor's license in Vegas, he opened under the name Summit Valley Tile & Stone LLC in 2019.
His family business has grown like wildfire by word of mouth, normally being booked out 6-10 weeks. His younger son Matthew (21) started working part-time for the business in 2014 and is preparing to take the CTI test. His older son Marqus (22) recently started with the business, managing the office.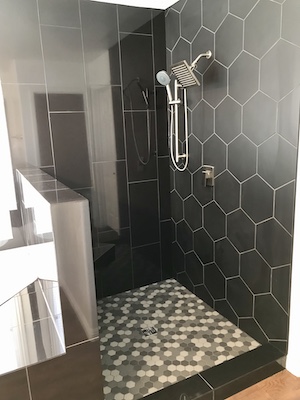 "Being family-owned allows us to have a better grasp on quality and standards, which is something we really pride ourselves on," Pino said, noting that his company offers a white-glove service from start to finish, helping design the space and sub out electricians, plumbers, materials and more. "Also, the fact that we generally do 90-100% of the work makes customers very comfortable not having four to five different contractors in their residence." His company is primarily residential, specializing in full bathroom/kitchen renovation and custom shower installs. "We typically have full control of the project when we take on jobs, so customers tend to choose us because we can take their bathroom down to the studs, reconfigure, and turn it into a beautiful finished product, all pretty seamlessly," he said.
Pino noted that the greatest joy of being a tile contractor is the ability to set his own schedule, allowing him to partner with his wife and "raise two amazing boys," he said. He also loves "transforming people's houses into their dream homes. I get to meet different people from all walks of life, so no job is ever the same. I feel a great sense of accomplishment when I complete a project, knowing how the space started and what I was able to turn it into. The feeling of seeing someone so excited when they have their dream kitchen/bathroom is unmatched."
NTCA camaraderie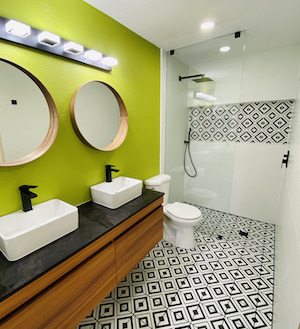 This year is Pino's second full year as an NTCA member, which he joined to find likeminded individuals in the industry and develop camaraderie. "I've been a solo installer company much of my career so apart from my little union experience, and with not much else to lean on, I feel like the NTCA provides that value to my company, thus far." The ability to reach out to other members for guidance on business and installation issues is priceless. And now that he has discovered NTCA University, he looks forward to deeper learning for himself and his employees.
"Honestly, I believe the NTCA has been and is going to be, a great resource to our business," he said.
A new CTI, he is looking to obtain some Advanced Certifications for Tile Installers (ACT) as well. "Personally, I believe being a Certified Tile Installer and having Certified Tile Installers in my business will set us apart, showing that we take pride in educating ourselves as well as testing ourselves on the best practices, and industry standards," he said.
The pandemic briefly impacted the business, but once work picked up, it overwhelmed the small company. Good labor to hire was scarce, so Summit Valley kept a tight schedule, completed most projects within a reasonable time frame and on budget with just two installers and one
part-time helper.
"As for now, our primary objective for 2022 is to remain anywhere from 8-12 weeks booked out, keeping new work coming in for my couple employees and myself," he said. "However, if expansion can happen and the right person comes along, I am always looking to hire."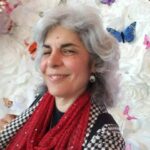 Editorial Director and Senior Writer for TileLetter and TileLetter ARTISAN
Lesley Goddin has been writing and journaling since her first diary at age 11. Her journey has taken her through a career in publishing and publicity, landing her the editor position of TileLetter and its special publications in 2006. Her goal is to educate, inspire, recognize and encourage those in the tile industry -- especially the tile and stone contractor. Other interests include the soft, purring marvels known as cats, labyrinth walking, drumming and percussion, and a range of spiritual, musical and artistic pursuits.