The new website provides information tailored to suit the professional profile of its visitors, whether they are architects, fitters, builders or private individuals.  

A product selector and section with details of real projects offer a swift, easy, detailed insight into Faveker's ventilated façade solutions.
Faveker, a company specializing in advanced tile solutions for ventilated façades, has created a new website, https://faveker.com/, with a revamped design, featuring specialist technical information about its façade solutions.
With this new website, the tile firm will provide information tailored to meet the needs of materials specifiers, architects, interior designers and stakeholders. To adapt the available information to suit each specific group, the new website can be browsed based on the interests and profile of each type of user, accessing information via one of the following categories: architects, installers, builders and private individuals.  
As well as providing specific details of the company's tile products and systems, the website includes up-to-date information on solutions for refurbishment projects, sustainability and awarded certificates, thanks to the company's commitment to environmental care in all its different areas. Likewise, it includes an attractive section with detailed information about real projects that have been built throughout the world with Faveker's products.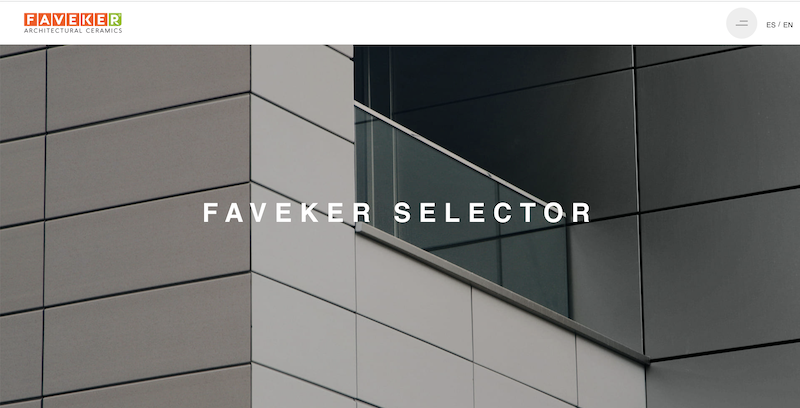 One of the features of the new website is a ceramic tile and fastening system selector so that users can swiftly find out the solutions suitable for each individual project, depending on the outlined technical specifications and applications. Selector | faveker.com
Furthermore, another section of the website showcases real architectural projects in Spain and abroad where ceramic tiles by the company have been used. And, for those needing to see BIM representations, the site also has a section with a library of Faveker BIM objects.
Users can download the whole catalogue swiftly and easily, in addition to installation manuals, certificates, technical data sheets, and guidance on cleaning and care. A news section and blog provide specific up-to-date information about the company and its solutions, together with related advice.
In general, the new website stands out for its well-organized information, modern design and easy browsing system. Its digital tools also facilitate the user experience and access to product information.