(Chicago, IL – March 2021) –Fiandre, part of the Iris Ceramica Group, launches Il Veneziano, a through-body terrazzo-style porcelain, plus new polished Italian marble looks in the Maximum Marmi range, its premium Italian porcelain selection of large format panels: Marbre de Savoie, Deep Emperador, Ethereal Travertino, and Finest Estremoz.  Ariostea's Marmi Classici collection of marble effect porcelain floor and wall coverings features new polished colors: Crystal Dark, Crystal Grey and Crystal Sky, also available in large format. Debuting for the first time in the U.S., these new high tech architectural surfaces include the latest in Fiandre's advanced technology and manufacturing capabilities and years of continuous research.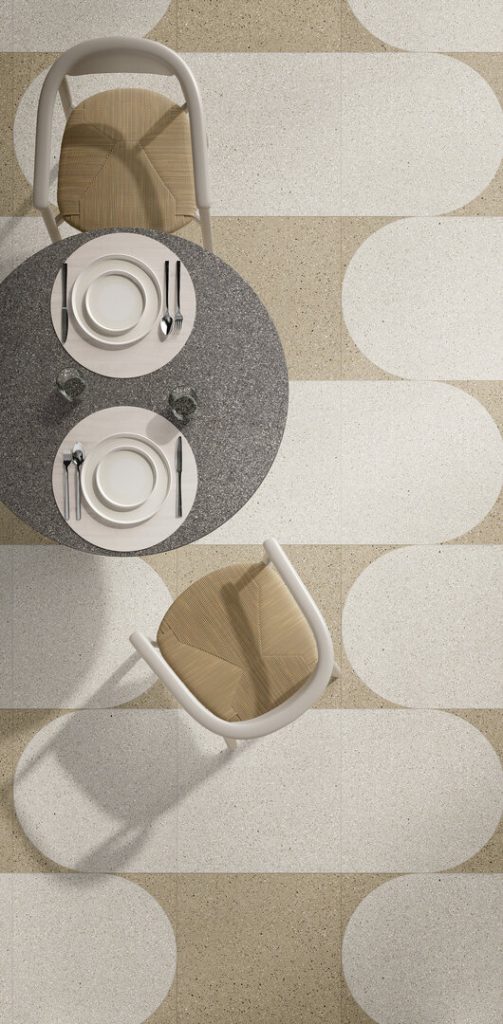 Following in the footsteps of this quintessential terrazzo trend, Il Veneziano echoes the magnificent traditions of age-old, artisan craftsmanship. In full-body ceramics, classical terrazzo tiles deliver tremendous architectural impact. Each surface is a technical-aesthetic fusion of romanticism and innovation, classic sophistication and avant-garde. Introduced into contemporary projects, Il Veneziano is a luxurious tribute to the 15th century palaces overlooking the Venetian Lagoon.
Il Veneziano full-body porcelain tiles retain their aesthetic and physical qualities: effortless manufacturing, twofold natural or polished finish, five sizes in 6 colors and 10 millimeter thickness. Opening up a future of multi-level projects and unprecedented creative design, Il Veneziano also offers designers freedom to customize colors and sizes.  Designers  may select background tone, color flecks  and format size providing a sophisticated, successful medium for artistic expression.
"All Roads Lead to Rome"—Historical inspiration for Marbre de Savoie stems from Roman times when by order of Emperor Augustus, marble was extracted to construct the consular road connecting the Po valley to Gaul. Marbre de Savoie features a distinctive gray background with almost blue-like shading, and white and pale gray veining and is available in semi-polished and polished finishes. Marbre de Savoie's superb qualities in respect to resistance and durability and mere 6mm thickness make it a perfect choice for floor and wall applications, both interior and exterior walls.  More applications, such as stairs, kitchen backsplashes and hoods, as well as shower surrounds can easily be achieved in their beauty. Maximum crystalline marble is light and uniform in appearance, giving an attractive effect and adding value to any room.
Inspired by one of the stones traditionally used in colonial buildings throughout the Iberian Peninsula, Deep Emperador pays tribute to Spain's best-known marble, characterized by its wonderful dark brown, occasionally black color with warm hazelnut, cream or caramel veining. Its gold undertones and iridescent reflections create an exquisite, exclusive ambiance. Deep Emperador is ideal for interior floors and walls, external facades or elegant, contemporary decorative furnishings. The polished finish highlights the dense interwoven veining, contrasting shades and depth of texture. Its exquisitely beautiful appearance, durability and resistance, numerous formats and 6mm thickness, make this surface ideal for creating a unique look to any architecture or interior design project.
Ethereal Travertino is inspired by sedimentary rock and features a pale ivory/milky white background with softer veining than classic travertine. In particular, Ethereal Travertino's polished finish accentuates the soft cloudy surface appearance. Suitable for both classic and contemporary projects, exceptionally versatile Ethereal Travertino is a timeless, elegant option that adds lightness and warmth to any room. Available in various formats, at just 6mm thick Ethereal Travertino is ideal for applications such as floor and wall tiling, external facades and also for cladding furniture, such as table or coffee tables, shower surrounds, shelves, wall units, partitions and doors.
Inspired by the famous Portuguese stone, Finest Estremoz features a subtle pinkish-cream color background with gray-white shading. Sophisticated Finest Estremoz gives any ambiance a delicate elegance, without dominating the overall design. The stunningly glossy, polished finish brightens any room. At only 6mm thick, Maximum surfaces are light and easy to handle while still retaining the excellent technical performance, in terms of durability and quality, typical of Fiandre architectural surfaces products.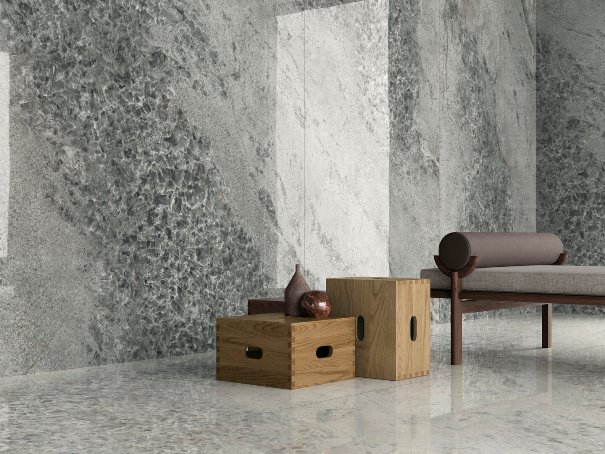 The new crystal onyx look colors— Crystal Dark, Crystal Grey and Crystal Sky —in Ariostea's Marmi Classici collection bring to life some of the finest and most sought-after natural marbles, creating a timeless style that reflects contemporary design with incomparable elegance and harmony.The polished finish brings out the unique and dynamic grain, while the striking gleam of materials enhances the surfaces' prestige and natural beauty.
Maximum Marmi's large format 120"x60" tiles allow large areas to be covered with a uniform cladding that further enhances the beauty of rooms, while the sub-formats offer the designer flexibility of application. The thickness of just 6 mm allows bespoke architectural elements and refined furnishing accessories to be designed, including stairs, doors, consoles, seats, tables and lamps that embellish interiors, creating total look environments.
The large 120"x60" tile format and sub-formats also allow the cladding of facades, walls and floors of buildings, guaranteeing levels of performance that only porcelain stoneware can provide, including durability, resistance to mechanical stress and chemical attack, high absorption resistance and easy cleaning.
The new collections are now available for the U.S. market through the Fiandre Group's own distributors, Transceramica and EuroWest as well as through its nationwide network of distributors. The sleek styles and surface solutions are engineered for both commercial and contemporary residential projects. The porcelain products will also soon be on display in Fiandre's Chicago and NY showrooms. For more information, visit www.transceramica.com or www.eurowest.com or www.granitifiandre.com
Produced in Italy, the Maximum Marmi 120×60 large format sophisticated slabs are inspired by the fine veins, color variations, and elegant details. Fiandre's Maximum Marmi collection of large format porcelain wall and floor solutions encourages the most ambitious architectural ideas and enhances the most exclusive furnishing installations for hospitality, commercial and residential settings. The collection is available in the following dimensions, in polished or semi-polished finishes: 120"x60", 120"x40", 60"x60", 60"x40", 40"x40", 60"x30", 30"x30", and 30"x15". 
Sustainability is a key principle of Fiandre's philosophy
Fiandre's commitment to environmental issues and its sustainability positioning distinguishes the brand in the global porcelain and ceramic marketplace. The pureness of the raw materials along with the most advanced technology and continuous study of aesthetic design trends ensures long-lasting products. Recognized globally for its environmental commitment and certifications: ISO 1400, EMAS (EU Eco-Management and Audit Scheme) and over 250 Fiandre materials are LEED certified.