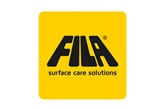 FILA Solutions, a leader in the manufacturing of surface treatment, protection and maintenance products for ceramic tile and natural stone, will debut its latest cleaning treatment innovation, INSTANT REMOVER, during Coverings 2019, April 9-12, 2019 at Orange County Convention Center in Orlando, Florida.
The patent-pending, INSTANT REMOVER is an "immediate cleaner" for fresh cement grout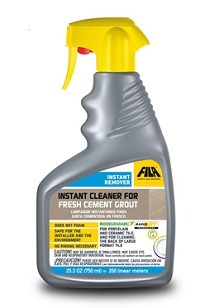 used with porcelain, ceramic, glass mosaic and quarry tile; including large format. It is the only product of its kind that can be used for both removing grout haze on the front (avoiding the "picture frame effect")… and, for cleaning the back of tile prior to installation. With INSTANT REMOVER, there is no need for rinsing; use indoors and out, for floors and vertical surfaces.
Effective enough for grout with additives, INSTANT REMOVER eliminates residue during installation… before it has cured.  It is safe for the environment, as it does not emit harmful fumes. And, INSTANT REMOVER will not damage grout joints or corrode metal trims, such as steel or aluminum.
Meet the FILA experts at Coverings Booth #3134. In addition to all of the above, FILA Solutions will conduct a "how-to" demonstration on Coverings Live Installation Demonstration Stage, Booth #3158 on Friday, April 12th at 10:50am.  Expo attendees can see exactly how to work with this new innovative product and try the tiling revolution for themselves.
For more information, call FILA Chemicals USA Corp at 305-513-0708 or visit http://www.filasolutions.com/usa.
###
About Fila Solutions:
FILA (Fabbrica Italiana Lucidi ed Affini) has achieved international recognition for excellence in providing highly technical, easy-to-use protection and care treatment systems for all surfaces. A family-owned yet strategically structured, managerial company, FILA has become a large international group always maintaining strong core values. With an eye on the future, FILA offers optimal answers to the needs of every client, consistently staying ahead of the market. That's just one reason why FILA has been endorsed as "#1" by 250 of the world's leading tile and stone producers. For more information, click on www.filasolutions.com.