Premier Tile & Marble, Gardena, Calif.
High-profile projects get a professional Five Star Contractor touch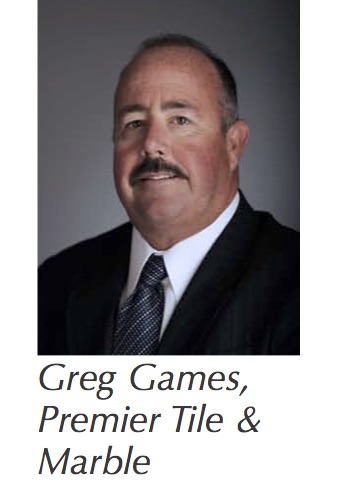 Greg Games, the owner and president of Premier Tile, began his career in the tile industry in the late 70s working for his father, Ray Games. The senior Games owned Orange County Tile, which focused on residential tile installation.
Greg Games joined the union and became a journeyman in 1982 while working for Venetian Tile. Soon, he began estimating and eventually became vice president until its owner retired.
In 1993, Premier Tile & Marble (www.PremierTile.com) was established in Gardena, Calif., with many field and office employees who had worked together for many years. This family-run business prides itself on employing second and third generations of highly-trained craftsmen, who have helped build Premier Tile into one of Southern California's leading commercial tile installers.
2018 marks Premier Tile's 25th year providing the highest-quality commercial tile and stone installation that clients have come to expect. The company's reputation in the industry comes from its dedication to professionalism and strict adherence to the highest standards. The company is proud to have played integral roles in the building of many high-profile projects such as: the award-winning Oaks Mall; The Brickhouse at Playa Vista; Disneyland; Los Angeles Football Club; USC; UCLA; Entrada at Santa Barbara; Glendale Galleria; Santa Monica Mall; Westfield Century City Mall; PetCo Park; Kodak Theater; Del Amo Mall; Kaiser Hospitals; Torrance Memorial Hospital; Great Wolf Lodge; Los Angeles International Airport; LA Federal Courthouse; Waldorf Astoria; Rady's Children Hospital and many more.
Premier Tile joined NTCA initially in 2010, re-upped in 2017, and recently became a Five Star Contractor. "Collaborating with the NTCA gives us the avenue we need to keep our finger on the pulse of our industry," said Greg Games. "We believe the Five Star program is very reputable, and a good tool for contractors to use in hiring subs. We are proud to have qualified for the program. We believe that being a member of the Five Star program will set us apart from other companies, and general contractors will choose a company that merits this certification."
All Premier Tile employees are either enrolled or have graduated from the Local 4 (previously Local 18) apprenticeship program, which helped qualify the contractor for Five Star status. "We encourage all our apprentices to compete in the annual contest, and we are pleased to say that Premier Tile employees have won that contest many times," Games said. "We require our key personnel to take and pass the UofCT program offered by The University of Ceramic Tile & Stone. Other construction-related areas of education include: OSHA Training, Forklift Certifications, Scaffolding Certifications, ICPI Concrete Paver Installer Certifications and First Responder Certifications. Employees are always encouraged to continue their education and share their experiences with their fellow employees."
As California continues to build and grow, Premier Tile forecasts continued growth and expansion.  Currently it is in negotiations with many general contractors for a variety of large and exciting projects. The evolution of products in the tile industry has opened many new avenues and Premier Tile is at the forefront of new and innovative installations, looking forward to another successful 25 years!
"After being in business for 25 years, we proudly look back at many successful projects," Games added. "We have helped build a city where our families live and given employment opportunities to many long- time employees."