During virtual Total Solutions Plus at the end of last year, NTCA's Assistant Executive Director Jim Olson moderated a panel discussion on "Getting Back to In-Person Events." This addressed the industry's impatience – and caution – about returning to live, in-person gatherings including trade shows, conventions, workshops, trainings and certifications. 
Panel speakers included:
Scott Carothers, CTEF
Elena Grant, Taffy Events
Mark Heinlein, CTI, NTCA
Lupe Ortiz, International Masonry Training and Education Foundation
Jim Olson, NTCA moderator
Coverings
Elena Grant, with Taffy Event Strategies, the management company for Coverings, discussed what looks to be shaping up for Coverings in 2021, which is now set for July 7-9 at the Orange County Conference Center in Orlando, Fla., and engaged session attendees in a live survey.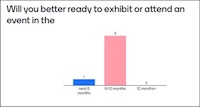 She acknowledged that though she does see some travel happening, "there is so much uncertainty, and ups and down." She said the team is excited and committed to bringing Coverings to the community in 2021 in Orlando at some point.
To keep people engaged with Coverings while most business is still virtual, Grant said quarterly virtual Coverings Connected events are scheduled (the next one is February 23, National Tile Day – go to coverings.com for information) that offer free content and CEUs. She said it's key to "be creative and think outside the box. We are connecting with people online and hopefully soon onsite." Particular attention will be given to safety at the conference center around food and beverage locations, with food safety being a priority, marking floors by social distancing, and recommending masks, and having sanitation stations for hand sanitizing. She also said that going virtual in 2020 had a positive outcome: "Sixty percent of audience had never been to a Coverings event, so we are reaching new people and expanding the community. It's one of the reasons why we decided to do [Coverings Connect] quarterly."
Union training/ACT certification
Lupe Ortiz, with the International Masonry Training and Education Foundation (IMTEF), said that trainings have been conducted in the union training centers, with strictness of precautions. He said temperatures of every student are measured, information about COVID in English and Spanish is available, and every student and trainer has to wear personal protective equipment (PPE). Chairs and desks are all 6' apart and everyone has to wear masks. "There is zero tolerance on the masks," he said. "If someone refuses to wear a mask, they have to go home."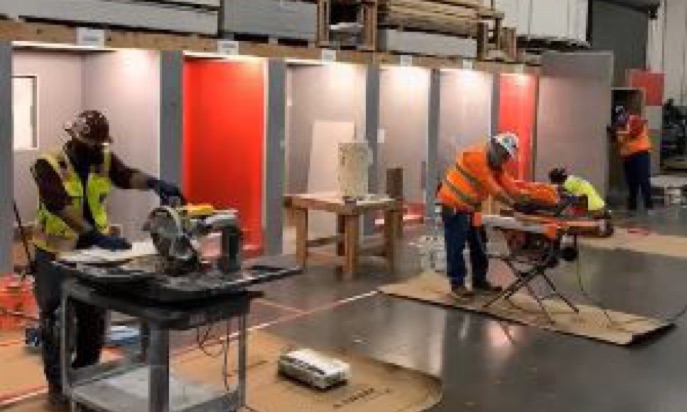 At another training center, students are working at alternating modules to maintain the 6' distance, Ortiz said – and everything is disinfected at the end of every day. "All tools are also disinfected. Students bring their own tools, but saws are cleaned." Hours in the lab are cut back to allow time for sanitizing and disinfecting, he said.
"People are excited to get back to the trainings," he said. "And people are even more excited that we got ACT back." An ACT – Advanced Certifications for Tile Installers – class was recently conducted in Los Angeles. "We are doing gauged porcelain panel certifications," Ortiz said. "CDC allows you to work close together if you follow the guidelines. We do have fewer students, depending on the side of the training center – only two students handling the panel."
It's still uncertain what future events will look like, but the positive is that "It's making us better – we all have to step it up,"
Ortiz said. "It forces instructors to get into the technology and forced us to create better programs: videos, all kinds of different stuff to take home and spend more time in the lab, for union, open shop everywhere."
NTCA workshops, trainings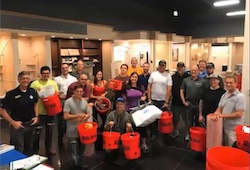 Mark Heinlein, NTCA Training director, said he is both excited and cautious to get back to Coverings. "I was interested to see Lupe's pictures and how they do it. We'll need to institute NTCA protocols – distancing, disinfecting, PPE, masks and gloves to keep trainers, attendees and trainees safe. It will be complicated, but we will have gauged porcelain training. We might do smaller panels to have fewer people touch the panels and smaller modules with more personalization between attendees and trainers. Fewer people makes it more possible to get together to achieve social distancing and mask wearing. It would be a bad thing if someone got sick.
"We have had a LOT of demand and a LOT of interest," Heinlein said. We are putting a schedule together – we are thinking possibly going to an invitation type of event."
Heinlein also cited a silver lining on the challenges of 2020 – "they make us better; we're teaching ourselves new skills and tricks." He pointed out the NTCA Roundtable Live! series including the Artisan Roundtable series that began in October, and looks to be a monthly gathering. NTCA is also working on a new week-long Facebook Watch Party Workshop that will feature lots of audience participation and interaction and live feeds from the training staff, and focus is going into updating the failures presentation.
CTEF: Certified Tile Installer exams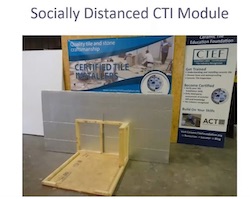 Scott Carothers, Director of Training and Certification for the Ceramic Tile Education Foundation (CTEF), which offers classes at its Pendleton, S.C. headquarters and Certified Tile Installer (CTI) exams across the country, said installers are champing at the bit for a chance to take the hands-on portion of the CTI exam and get certified. "We have room for 21 people for hands-on training – we have changed that to 10," to keep things safe, he said.
The CTEF team has instituted a "register now, pay later" system, Carothers said, that allows CTI candidates to sign up online, and get access to the written test materials, and then pay once the CTI hands-on exam is scheduled in their area. CTEF has scheduled its first Certified Tile Installer (CTI) hands-on testing event for 2021 at The Carpet & Tile Warehouse in Vero Beach, Florida, on Saturday, February 20, 2021. CTI trainings in the fall of 2020 were small – only 3, 4, or 12 people, the latter held in a 6,000-sq.-ft. warehouse so modules could be well distanced.
Carothers said there is a CTEF COVID 19 Policy for CTI and ACT that's working very effectively; view it here: www.ceramictilefoundation.org/covid-19-resources. ACT membrane and grout programs have been able to be conducted, using a socially-distanced CTI module, electronic scoring, instant test results, and working on having a video evaluator in process.
CTEF has a rule against sharing any tools, and N, KN 95 or approved three-layer mask wearing is mandated. Carothers said candidates will be reminded twice about the mask rule and the third time, they are out – candidates sign and date a document that acknowledges this policy. On the upside, Carothers said that activity on the CTEF website has spiked with people looking for training and resources.
Suppliers, contractors and distributors comment
Other folks on the call commented about how they are handling training during this time, with virtual programming playing a big role right now.
Brett Mauney, National Account Manager & Technical Sales Trainer at Merkrete Tile & Stone Installation, said traveling has been on hold for Sika. "I have to abide with what state city county is doing," he said. "If I traveled to cover the 30 states, I'd have to quarantine for two weeks. So, we've started to develop virtual programs – it's a new way to go about things."
MAPEI's Jim Whitfield said, "We do virtual programs as well – our own webinar programs, and virtual training for customers' customers. We do large trainings or bringing people into our facilities; only small groups where people can be 10 ft. plus away and using masks."
Rudy Llerena of D&B Distributors admitted that he was looking forward to the NTCA road show in the fall. "At D&B, there has been a lot of in-house training, with counter team and sales team trained on the products," he said, using digital resources from setting material suppliers. "We've had good dialog with clients that creates more leads for our team to do on site training," especially in floor leveling and underlayment training, he said. "We are using a lot of virtual like Microsoft Teams and Zoom to meet with clients and go out in field. Contractors have not been a problem; architects and designers were a little more challenging, but we are starting to get in as firms open up."
Mike DeGuisti, of Terra-Mar in Oklahoma, wears both distribution and contracting hats – and found that COVID has increased business 34%. The company invested $2,500 in disinfecting machines, and plexiglass "everywhere to be as careful as we can but to keep moving ahead," he said. "We kept having training programs for all our products."
For Crossville, Inc., Noah Chitty commented, "Not much has changed from March. The factory is still running. We are just trying to keep factory open and keep people safe." He said that Crossville instituted smaller teams, "so if anyone does contract it doesn't take everyone down. We've been really successful at that. You know something is going to happen, so we are trying to prepare to be proactive for it to not shut down operations. We have three non-tile related businesses that we can draw experiences from. All the businesses have been kept running."
In conclusion, NTCA's Olson commented that, "What I keep hearing is everything is smaller and we are trying to do it in a safer way. I thank every single one of you for that, since that's how we are going to keep moving forward. I pray for all of your families, I pray for all of us. We have a big chore ahead of us to keep moving ahead and get through it. Stay strong and safe."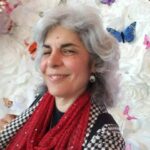 Editorial Director and Senior Writer for TileLetter and TileLetter ARTISAN
Lesley Goddin has been writing and journaling since her first diary at age 11. Her journey has taken her through a career in publishing and publicity, landing her the editor position of TileLetter and its special publications in 2006. Her goal is to educate, inspire, recognize and encourage those in the tile industry -- especially the tile and stone contractor. Other interests include the soft, purring marvels known as cats, labyrinth walking, drumming and percussion, and a range of spiritual, musical and artistic pursuits.