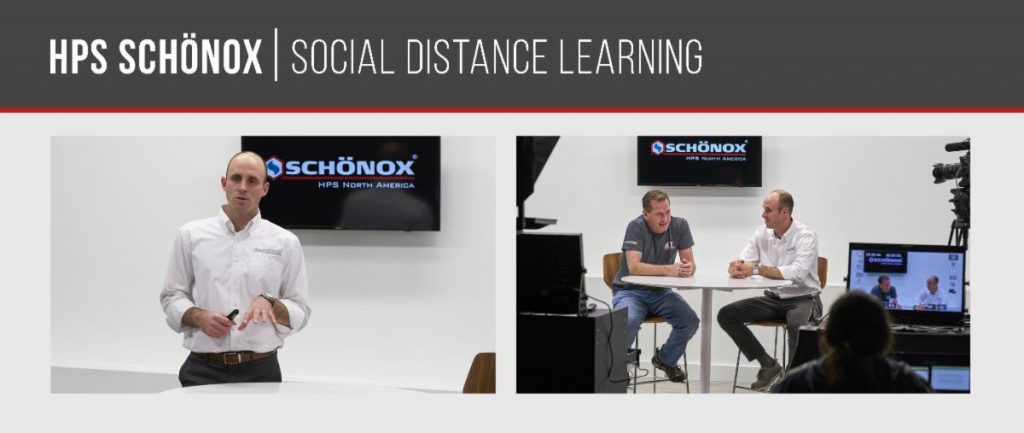 Schönox HPS North America, Inc. continues to offer distance technical training that provides opportunities to learn about the full range of company products, installation tips and subfloor preparation details.
These hands-on opportunities are generally presented at the company's training facility in Florence, Alabama, but just as frequently at contractor, installer or distributor locations around the country. During this unpredictable time, the safety of customers and employees is of the utmost importance, but HPS Schönox remains at the ready to help support customers in providing subfloor solutions.
TECHNICAL TRAINING – APRIL WEBINARS Schönox Technical Trainings include its synthetic and hybrid self-leveling technology, incredible moisture mitigation systems, basic overview of all Schönox products, as well as others.
All times shown are CST.

Schönox Training: Rapid Healthcare Conversion Initiative – 45 minutes Tuesday, April 21, 10A Worldwide the need for hospital rooms and healthcare treatment spaces is escalating day by day. Schönox subfloor products can convert almost any floor space to healthcare use, quickly and safely. Hotels, offices, lobbies, storage areas, and other spaces can be retrofitted. Conversion of the floors to suitable healthcare surfaces is off paramount importance.
Schönox products are an environmentally responsible choice. All products contribute to USGBC LEED credits and they have low to no VOC characteristics. Schönox AP, AP Rapid, and AP Rapid Plus, self-leveling compounds, have unique dust reduced properties, making them ideal for occupied spaces. Schönox ZM Rapid cures in and is ready for covering in 90 mins, also ideal for occupied spaces.

Schönox Training: Basics 101 – 60 mins Wednesday, April 22, 10A Part 1 – 30 minutes: Advance your knowledge to determine the correct primer and use of primer systems and explore the rock-solid foundation of cement-based self-levelers and application techniques.
Part 2- 30 minutes: Explore the innovative world of synthetic and hybrid self-levelers and application techniques and discover the uses of the most technologically advanced adhesive systems.

Schönox Training: Synthetics and Hybrids – 30 mins Thursday, April 23, 2P & Tuesday, April 28, 10A Schönox AP, APF and AST are synthetic gypsum products manufactured from the purified emissions taken from the smoke stacks of fossil-fueled power plants. Once fortified using a special conversion method, the final synthetic gypsum is far superior to ordinary gypsum. These products can go over many critical substrates, dry to an outstanding 5800 to 6200 PSI, and DO NOT SHRINK. And as with all Schönox products, AP, APF, and AST contain no fly ash.
The next generation of synthetics are hybrid leveling compounds. Schönox AP Rapid and AP Rapid Plus 100% active-drying, rapid-curing self-levelers offer the benefits of both worlds by combining the versatility, strength, and durability of synthetic gypsum with the speed of fast-curing cement.

Schönox Training: Shower Installation – 45 mins Tuesday, April 28, 2P The Schönox Shower System is compatible with all brands of pre-manufactured shower pans or can be used in conjunction with Schönox US for a poured shower pan.

Schönox Training: Education – A Smarter Way to Subfloor – 45 mins Thursday, April 30, 2P Do more than make the grade with Schönox Self-Levelers Learn how Schönox AP, AP Rapid, DSP Plus, and other products save time and expense, while being environmentally responsible by limiting the need for demolition. Schönox is the smart choice for education.
FLEXIBLE AND CUSTOM SCHEDULING Scheduling a personal technical training session or a CEU for your team is also available. You can register for a pre-set training on any Thursday in April or contact the company to set-up a one-on-one training for you or your group. There's never been a better time to catch-up, expand your knowledge base, and be better prepared to use what you learn when we get on the other side of social distancing.

For more information, call 855.391.2649