Deerfield Beach, Florida – On the MAPEI stage, at the 2022 International Surfaces Event (TISE) in Las Vegas, Nevada, MAPEI interviewed GoCarrera's founder Paul Stuart who announced new key features in the popular flooring industry App, Go Carrera.

Stuart's Go Carrera is a free App designed with the goal of solving one of the largest problems facing the flooring industry: The installation crisis. Available for free download at the Apple App Store or from Google Play, the Go Carrera App also promotes product knowledge for installers and dealers, connecting dealers to skilled installers connecting skilled installers to biddable projects, all while promoting best industry training and safety practices.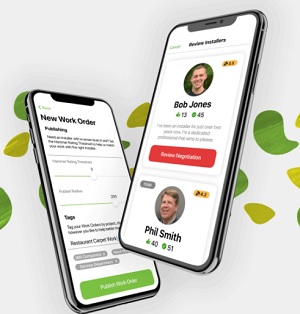 "We see the installation challenges facing the flooring industry and recognized a good opportunity to support an industry cause," said Steven Day, MAPEI Corporation's Operational Marketing Director. "And we were happy to support this App and the launch of these new features on our stage at Surfaces."

Go Carrera allows installers to upload free detailed profiles including their abilities, skills, and projects. In-app features include record-keeping, job boards, and training. The App's nation-wide coverage allows dealers to work anywhere with qualified local installers.Inside Go Carrera is a training module, called "PKLaunchpad," which includes product knowledge, installation tips, and trainings, all branded and supported with MAPEI products. Each completed and verified training increases the
installer's Hammer Rating™, a patent-pending skill scoring system that measures installers' skills using a rating system from zero to five. The Hammer Rating™ System helps installers gain access to additional work, as well as to compete for projects along with other qualified installers with similar skill sets.

"Our goal is to help elevate the entire installation community through education and training, while providing essential digital tools designed to help installers run successful companies," stated Paul Stuart, Founder of Go Carrera. "MAPEI knows the importance of this goal and it was a natural fit for them to support our debut of this App, inviting us to hold it on their stage at Surfaces."

For more information on the Go Carrera App, visit www.gocarrera.com. To download the free App, visit the Apple App Store or Google Play and search "GoCarrera".
---
About MAPEI
MAPEI Corporation has supplied residential and major commercial projects with total installation solutions for tile and stone, floor coverings and decorative concrete, as well as concrete restoration and admixtures, for more than 80 years.

Founded in 1937 in Milan, MAPEI is now one of the world's leading manufacturers of chemical products for the building industry and has contributed to the construction of some of the most important architectural and infrastructure works worldwide. With 89 subsidiaries operating in 57 countries and 81 manufacturing plants in 36 nations, MAPEI Group employs more than 10,600 staff worldwide. The foundation for the success of the company is specialization, internationalization, research & development, and sustainability.

Headquartered in Deerfield Beach (Florida), MAPEI North America consists of the subsidiaries MAPEI Corporation (for the USA), MAPEI Inc. (for Canada) and MAPEI Caribe (for Puerto Rico and other Caribbean islands), whose 18 facilities collectively have a workforce of more than 1,600 employees. MAPEI facilities have been certified to ISO 9001 and ISO 14001 quality standards. An environmentally conscious manufacturer that reinvests 5% of its revenue into R&D, MAPEI offers training for architects, contractors, installers and distributors through the MAPEI Technical Institute. For more about MAPEI, visit www.mapei.com or call 1-800-42-MAPEI (1-800-426-2734).

About Go Carrera
Go Carrera developed from Stuart and Associates Commercial Flooring, founded in 1999 in Wichita, KS by Paul Stuart. Currently the largest commercial flooring contractor in Kansas, Paul now runs the company having spent decades installing
floors. His unique knowledge of both sides of the flooring industry, has led to the development of the Go Carrera App. App Co-Founder Daniel Drouhard helps guide the industry's first digital ecosystem for both flooring installers and distributors alike. For
more information, visit www.GoCarrera.com or call 1-316-213-2452.