Amityville, NY, December 2021 – Infinity Drain, the manufacturer at the forefront of architectural and decorative drains for both indoor and outdoor applications, has received recognition in three Best of Product design awards programs. The revolutionary Next Day Custom program was selected as an Editor's Pick for the Architect's Newspapers' Best of Product Awards plus the Decorative Plumbing & Hardware Association (DPHA) Product of the Year Awards (Honorable Mention – Accessory Category) while the game-changing Stainless Steel Shower Base is a winner in the Architectural Record Best of Product Awards (Kitchen and Bath Products Category).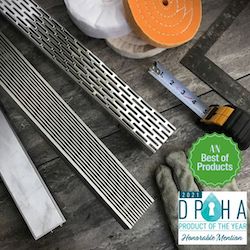 Next Day Custom Program:
Infinity Drain's Next Day Custom program is the first of its kind to make perfect linear drain wall-to-wall installation a reality – without the wait. Next Day Custom Linear Drains are available in lengths up to 72" in two finishes, three grate styles and for all installation waterproofing methods.
Stainless Steel Shower Base: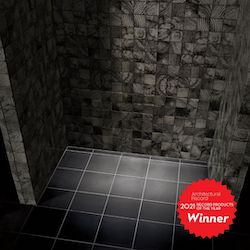 Infinity Drain expands their Stainless Steel Shower Base line for residential and commercial bathrooms. Now available in 42 SKUs, the Stainless Steel Shower Base is offered in a variety of center and linear drain placements, five finishes and seven styles – the Infinity Drain Stainless Steel Shower Bases can integrate for either curb or curbless (barrier free) showers. Engineered to shave precious hours off of projects for both installer and consumers, these proprietary Stainless Steel Shower Bases are made from high quality 304L 16 gauge stainless, arrive factory flood-tested and ready for installation with an integral drain, pre-sloped floor and primed for tile installation. Importantly, the Infinity Drain Stainless Steel Shower Base is guaranteed for life against waterproofing failure. If the product should develop a leak, Infinity Drain will bear the cost of labor, removal, replacement, and will restore the installation with the same 'like and kind" materials originally used.
About the Awards
The Architect's Newspaper speaks directly to leaders in architecture and design with news, products, developments, trends, and updates, while the awards celebrates product advancements in the architectural and interior building sector.
The Decorative Plumbing & Hardware Association is a nonprofit organization representing the interests and advancing the welfare of independent retailers, manufacturers and manufacturer's representatives. DPHA develops programs and publications to improve business practices, employee performance and the quality of service that DPHA members provide to designers, design professionals, builders, affiliated trades and the general public.
The Architectural Record 2021 Products of the Year Awards salute the best building materials and furnishings introduced to the U.S. market. The awards are presided by a highly regarded panel of architects and designers will judge the entries on the basis of innovation, function, sustainability, and aesthetics.
---
About Infinity Drain
For over a decade, Infinity Drain has established itself as a leader in design-centric decorative shower drains with a reputation of unsurpassed quality. From hand polishing decorative grates to custom fabrication – all at the exacting specifications of customers, Infinity Drain offers the broadest selection of decorative choices and installation options. Its award-winning designs and innovations, including the Site Sizable® linear drain, continue to shape barrier-free bathroom design. Infinity Drain is revolutionizing bathroom installation with its completely waterproof Stainless Steel Shower Base backed with an original owner lifetime guarantee. Infinity Drain products are proudly fabricated in Long Island, NY, USA. For additional information, visit infinitydrain.com.