Terrazzo was designed by Gabriella Equizi, designer at Interstyle since 2015 (Master Degree in Industrial Design at Polytechnic of Milan, 2005). It was inspired by the Venetian terrazzo, a type of flooring made of marble granules with a diameter of up to 40mm, bound together by a pebble-based lime or cement.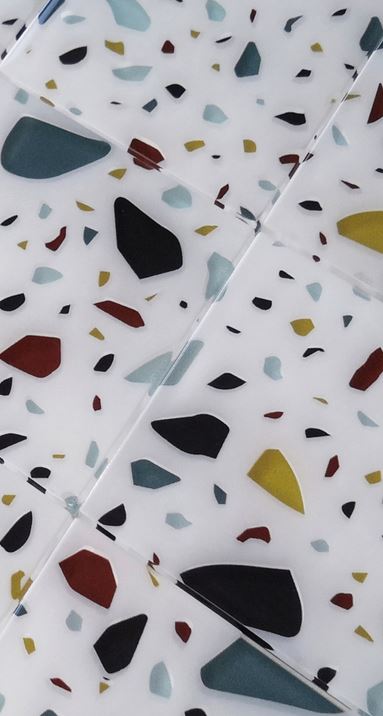 Equizi engineered the product, by simplifying its "soul" and adding a three-dimensional look. Interstyle Terrazzo is made with 6 mm thick glass with two layers of screen printing: the pattern printed at the bottom and the mask printed on the top surface of the glass. The mask reveals the "pebbles colors" and naturally creates a shadow on the layer below.The collection comes in six colors beautifully curated and inspired by the natural world: Eternal, Coralline, Terra, Gravel, Mare, Volcanic. 
Interstyle Terrazzo fits any type of interior design, whether classical, modern, or contemporary, creating a distinctive effect. It embodies creativity, warmth, and precision, making an everyday living and working space extraordinary. Suitable for interiors, exteriors, and water applications.