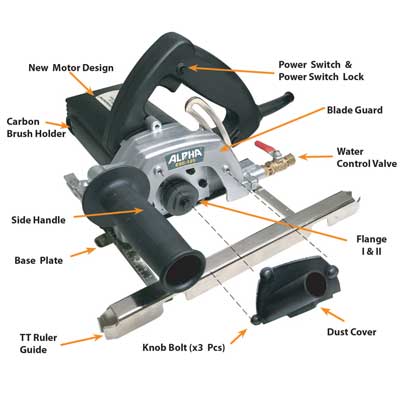 Alpha Professional Tools® has re-designed the popular AWS-125 Wet Stone Cutter, which had changed the way we cut out sink holes using a manual cutting application. The ESC-125 was created based upon the feedback from fabricators in preparation for the new silica rule change by OSHA in 2017. To reduce the silica particles, we added a dust cover on the side of the blade guard to redirect the dust from the cutting edge into an attached HEPA vacuum for dry dust removal. The ESC-125 is equipped with a newly designed Water Jet System that delivers sufficient water to cool the cutting edge as well as removes slurry from the cutting line ahead of the stone cutter.
Equipped with the Water Jet is a Hybrid Kink/Memory-Free Water Hose that comes with a quick disconnect garden hose adapter.
The new Clamping System, located on the side of the blade, ensures cutting stability, whether doing a step cut 3cm sink hold cut-out or making a groove for the reinforcement rod with much smaller diameter blades.
For more information, visit our website at www.alpha-tools.com or contact us at 800-648-7229