Over the summer, the National Tile Contractors Association (NTCA) produced "Introduction to the Tile Trade," a 5:57 minute video for use in introducing new tile installers to the trade and spreading the word about the many opportunities available in tile setting and finishing. It's designed for those in the tile industry or in education to take into high schools and trade schools to raise awareness and interest in what the tile trade has to offer.
Narrated by NTCA executive director Bart Bettiga, it focuses on the timeless aspect of tile, and the craft of tile installation as an opportunity for a rewarding construction career. Art, math, science, and language skills all come into play in this multifaceted line of work. It explains that tile setters and finishers will learn and weave together creativity, exacting standards, business acumen and a variety of attributes into a hands-on career that cannot be outsourced. And because tile setting is a highly skilled career, qualified and certified tile installers command better compensation than those who trade in low-use products and services. 
The video points out that tile setting and finishing are also professions where, in many cases, you can earn as you learn with on-the-job mentorships and apprenticeships that build trusted partnerships between you and your employer. 
In addition to directing viewers to resources to get more information on potential employers, it spells out personal attributes possessed by successful tile setters: they are dependable, hardworking, mechanically inclined, have a sense of urgency, and are self motivated critical thinkers. Tile installers also benefit from being skilled in communications, time management, planning, with leadership abilities and the ability to retain knowledge. And installers and finishers have the satisfaction of having been part of visual landmarks in the community and creating functioning works of art. 
You can find the video on the National Tile Contractors Association YouTube channel at http://www.youtube.com/c/NationalTileContractorsAssociation.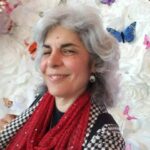 Editorial Director and Senior Writer for TileLetter and TileLetter ARTISAN
Lesley Goddin has been writing and journaling since her first diary at age 11. Her journey has taken her through a career in publishing and publicity, landing her the editor position of TileLetter and its special publications in 2006. Her goal is to educate, inspire, recognize and encourage those in the tile industry -- especially the tile and stone contractor. Other interests include the soft, purring marvels known as cats, labyrinth walking, drumming and percussion, and a range of spiritual, musical and artistic pursuits.