iQ supports apprenticeship program, prompted by surprise visit to Hawthorne Tile
Over the course of the summer, iQ Power Tools, manufacturer of premium power tools with integrated dust collection technology, traveled 6,000+ miles all across the country for its War On Dust campaign to educate about silica dust hazards and other related "health at the jobsite topics." On the last leg of the road trip, the iQ team traveled through the Pacific Northwest to spend some time with key dealers and supporters of the brand.
While in Portland, Ore., Paul Guth, CEO and Sarah Williams, Marketing Director of iQ, made a surprise visit with the company's War on Dust trailer to Dirk Sullivan, Owner of Hawthorne Tile, an NTCA Five-Star Contractor. "Dirk is such a strong name within the industry and a person that continually gives back to the industry, that I knew we couldn't drive through Portland without stopping and meeting him in person," stated Williams.
Importance of education: Oregon Columbia Tile Trade Joint Apprenticeship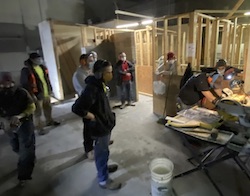 During their visit, they discussed many issues within the industry – everything from supply chain challenges, innovation, labor shortages and most importantly – education. During the conversation, Sullivan spoke of his own investment in apprenticeship. Four years prior he and other tile business owners launched a state-approved apprenticeship program, "The Oregon Columbia Tile Trade Joint Apprenticeship." Sullivan's program was jump-started, not surprisingly, due to the dearth of skilled journeymen within the tile and stone trade. "Basically, there was never a stronger demand for qualified and professional tile installers," Sullivan declared.
He further touched upon workers' growing needs to expand their skills within the trade, and that being a talented and registered tile installation pro is a career, not just a job. Top-flight installers are valued by their skills; not by their paychecks.
Initially, there were eight training agent members on board, each of whom fully grasped the importance of proper education that has been lacking in our industry. A well thought-out concept, which provided monthly training for apprentices and different levels of involvement for members, was soon founded, according to Sullivan.
NTCA University provides essential technical and business education
Those participants in the training committee – duly named the Oregon-Columbia Tile Trades Training Trust – each had to be a member of the National Tile Contractors Association (NTCA). Why?
Sullivan stated, "Each of these students worked with the NTCA University modules, all of which were federally approved. Hawthorne Tile has been an advocate of the NTCA since we became a member and immediately recognized the value of doing so. It's not just about installing tile," Sullivan declared. "It's about running a business efficiently and profitably, and ultimately creating jobs for your community.
"This program would not exist without the generous donations of our manufacturing partners, volunteers and association support," added Sullivan.
In addition to Hawthorne Tile, the following companies are training agents in the committee: Prestige Tile & Stone, Campbell's Custom Tile, Provenzano Enterprises, Columbia River Tile & Stone, Paragon Tile & Stone, Inc., and Level Plane Tile & Stone. Also contributing to the effort – but with no apprentices in the program at this time – are Mid-Valley Tile & Design, Inc., and Davis Solutions. "Shon Parker of Schluter, and William White and Ryan Willoughby of ARDEX are also on our board," Sullivan said.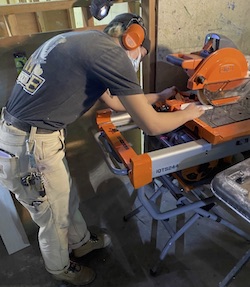 iQ: supporting education; growing the next generation of tile setters
Upon hearing of the program, Paul Guth, CEO of iQ, didn't hesitate to donate iQ's patented tile saws, blades, PPE, some iQ swag and more. Guth stated, "This is far more than a product donation. It's imperative that our industry continues to celebrate and support the next level of tile setters. Manufacturers need to continue to invest in and promote the need for skilled laborers on a daily basis." Guth pointed out, "Part of our 2022 initiatives include an emphasis on more education. We've been quite successful in getting out there and openly discussing the hazards of silica dust and now, we feel obligated to up our game and help the industry even more!"
Sullivan agreed. "Proper training is needed in our industry," he said. "If someone has a bad experience with a ceramic tile installation, word gets out. The trickle-down effect would then be 'Nah, I don't want ceramic tile. The grout always cracks, is hard to clean; tiled showers always leak. There's always something wrong.' When in actuality, the problem is not with the tile, it's with the installation and flaws in the assembly."
Within 24 hours of iQ personnel meeting with the Hawthorne team, the product was organized and shipped out. Within a week, pallets of the aforementioned products amply arrived at Hawthorne Tile. Sullivan was humbled by the generous donation from iQ. "It's amazing what is achieved when forward-thinking people get together. Previously, we never owned any iQ equipment, but had always prepared to purchase it when needed. The needed time is now!
"We're proud of what we've accomplished so far with our apprenticeship program," Sullivan concluded. "But we still have a long way to go!"
---
DOL-approved apprenticeship program developed by the NTCA
When the Oregon collective was founded, NTCA was in the process of working on development of guidelines for apprenticeship programs in conjunction with the Department of Labor (DOL). The Oregon Columbia Tile Trade Joint Apprenticeship developed its own program based on existing resources, and using NTCA University courses.
In mid-2019, however, the National Guidelines for Apprenticeship Standards for the National Tile Contractors Association were approved by the Department of Labor (DOL).
The National Guidelines for Apprenticeship Standards for the National Tile Contractors Association provide a structure that an NTCA member in any state can use to develop a DOL-approved apprenticeship program of their own – tailored to the needs and goals of their individual company. The program combines classroom time and on-the-job learning (OJL) components in a two-year finisher program and a three-year setter program. It incorporates coursework from NTCA University and OJL into a hybrid program. That means apprentices are not locked into the 144 hours of classroom time and 2,000 hours of OJL and experience. Instead, focus on core competencies means individual apprentices who excel can satisfy a reduced time investment in the OJL component, while still logging the 144 classroom hours.
For more information about the program contact Becky Serbin, NTCA Education and Curriculum Director at [email protected].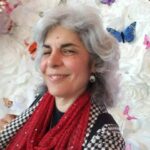 Editorial Director and Senior Writer for TileLetter and TileLetter ARTISAN
Lesley Goddin has been writing and journaling since her first diary at age 11. Her journey has taken her through a career in publishing and publicity, landing her the editor position of TileLetter and its special publications in 2006. Her goal is to educate, inspire, recognize and encourage those in the tile industry -- especially the tile and stone contractor. Other interests include the soft, purring marvels known as cats, labyrinth walking, drumming and percussion, and a range of spiritual, musical and artistic pursuits.