Bringing the GS-29 wet area tile installer license to New Mexico
In the One-to-One column, NTCA Executive Director Bart Bettiga interviews industry leaders about pertinent topics.
Karl Parker is the owner of All American Design and Construction, located in Albuquerque, N.M. He has been in business for 13 years, focusing primarily on kitchen and bath remodeling and construction.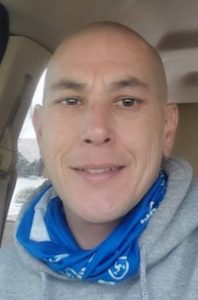 Karl successfully passed the Ceramic Tile Education Foundation CTI test (CTI #1188) several years ago, traveling 18 hours to take the physical exam in Clemson, S.C. He has been active in Albuquerque in both training and education program development, and in the past several years has made an impact on licensing requirements in the state.
In addition, he recently has become involved in the International Association of Plumbing and Mechanical Officials (IAPMO), helping to bring tile industry expertise and interaction to his local plumbing industry. IAPMO coordinates the development and adaptation of plumbing, mechanical, swimming pool and solar energy codes to meet the specific needs of individual jurisdictions both in the United States and abroad. IAPMO develops and publishes the Uniform Plumbing Code (UPC); Uniform Mechanical Code (UMC); Uniform Swimming Pool, Spa and Hot Tub Code (USPSHTC); and the Uniform Solar Energy and Hydronics Code (USEHC), which as of 2018 is known as the Uniform Solar, Hydronics and Geothermal Code (USHGC). (See the A&D Corner in this issue to learn more about critical product testing for the 2021 USPSHTC – Ed.)
I caught up with Karl to gain a perspective on how this interaction with the state of New Mexico licensing department and the local IAPMO chapter benefits him and our industry.
How did you get into the tile business and learn the trade?
I was working for a general contractor and became a friend of a superintendent who had a pretty good understanding of tile installation. He actually was the one that taught me how to pull mud. He mentored me and gave me an excellent basis of tile work. I also got excellent training working for the general contractor on all aspects of construction. While I was laid off 13 years ago, I decided to go into business for myself. I took the GB-98 exam, which allowed me to have a commercial and residential contractor license. I did a year of commercial work, and then moved into residential remodeling type of work. This is where we are niched today.
You have a passion for training. Why is this so important to you and what actions have you taken to share your knowledge with others in your tile community?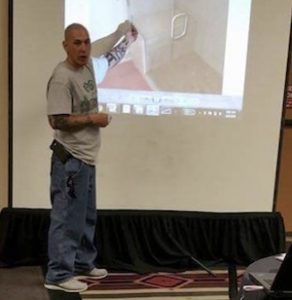 There are not enough people who are trained properly. There is a lack of training here and across the country. Several years ago I started getting local representatives together and we rented conference rooms at hotels. We called it Tile Team New Mexico. We had 13 manufacturers working together for hands-on training programs and full demonstrations. This was unique as we got competitors together for a common goal, promoted the programs at local tile distributors and retailers, and put together great content and networking events. We need to do more of this type of training to supplement and support what national groups like NTCA are doing when they travel around the country.
Tell us about your efforts in working with the State of New Mexico. I believe this has to do with implementing a water test for inspectors to have to perform to make sure a shower that was installed does not leak?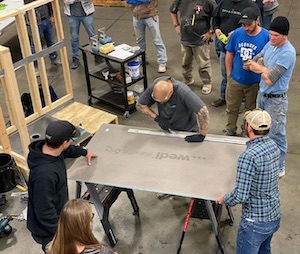 My main issue here was to address a development several years ago when the construction industry license GS-3, a specialty license for tile work in showers, was removed. Once I saw that there was no license requirement, I knew that something had to be done. They had gotten rid of the GS-3 specialty license that allowed New Mexico people to install tile. You needed a code compliance bond and had to have inspections tied to the license, but since there was no mechanism in place to inspect tile, they removed the license requirement. This pretty much left tile work to be like the wild, wild west.
Although this didn't really affect me because I already had the GB-98 license, I saw a real problem here, especially for showers and wet areas. Luckily, department officials agreed with me. The plumbing chief, building chief, and local homebuilders association supported my proposal. A year and a half later they adopted the GS-29. This is a wet area tile installer license.
We are still trying to get the state to have a more effective enforcement and accountability of this license, but it's a start. The license allows the installer to come into a residential or commercial setting, demo it out, hang backer board, etc., put a membrane over it, glue their own drain, install the membrane, water test it, and install it. Only thing they can't do is rough up a shower valve, and they can't stub up a drain – the plumber has to do that – but they can cut the pipe and solvent glue it.
What is your current role with IAPMO and how will this positively impact the tile industry in your opinion?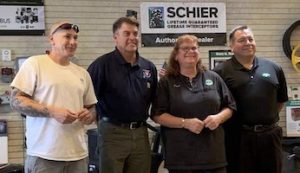 After the GS-29 license was implemented, I got to know the chief plumbing inspector in New Mexico. He recognized my area of expertise and my passion, and invited me to a New Mexico IAPMO chapter meeting, and they were looking for new chair members. I was elected as secretary treasurer of the IAPMO chapter. I was the first person from the tile industry to be elected to an IAPMO chapter. I am now also a national member of IAPMO and I hope to get more involved.
I have sat on several code review committee meetings. I think this is important because I feel there needs to be a clear form of communication between the plumbing industry and the tile industry. Progress is now being made. Thanks to work by several tile industry people, The Uniform Plumbing Code in 2021 Appendix section will now refer to TCNA Handbook B Shower Methods when it comes to constructing tile showers.
On the board of IAPMO I was also approved to be a licensed continuing educator on shower construction. I can run these classes for people like plumbers to get continuing education; I can run them for city inspectors or state inspectors who need continuing education. By doing this, you are showing people the importance of a good tile installer and helping communicate that to them. If we can minimize failures, especially in showers and wet areas, we can help the tile industry a lot.
What advice can you offer to other dedicated tile people to try to simulate what you are doing in New Mexico and help improve the tile trade?
Get involved, not just in the tile industry, but in other trades that affect our work, like the plumbing industry and the building industry. If I had not attended meetings regularly and gotten involved, I would not have had the opportunity to network, etc. I also got voted onto the State of New Mexico Mechanical Bureau, Technical Advisory Committee. I was voted in as subject matter expert in the area of showers and shower construction. I was the first tile industry member voted in on that as well. These opportunities present themselves when you get involved in your local industry. That's the best advice I can give.
---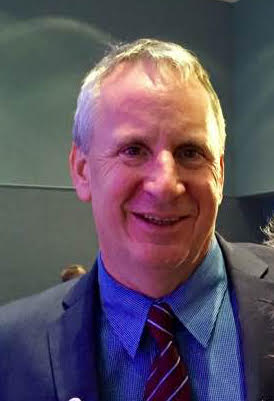 As Executive Director of the NTCA for nearly 20 years, I have witnessed firsthand the impact tile contractors like Karl Parker can make on our industry by getting involved in their local tile community. Change happens gradually, but in cases like Karl's, its effect can last for many, many years. As a national association with a somewhat limited staff, we rely on active and passionate members like Karl to make us aware of how we can support and assist their efforts. I encourage any of you who would like to make a difference to contact me to discuss your ideas.
Bart Bettiga, 
NTCA Executive Director
[email protected]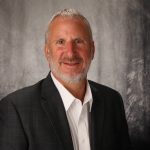 Bart Bettiga is the Executive Director of the National Tile Contractors Association and Publisher of TileLetter. Bettiga is a member of the Board of Governors of Coverings, one the largest tradeshows in North America. He has over 30 years of experience in the tile and stone industry and has served as the NTCA Executive Director since 2002. He is a well known speaker and author on ceramic tile and natural stone distribution and installation. He oversees the financial operations of the NTCA, TileLetter and the Ceramic Tile Education Foundation.