CTEF holds first 2021 open CTI exam in Vero Beach, Fla.
The long-awaited, first open Certified Tile Installer (CTI) exam of 2021 was held by Ceramic Tile Education Foundation (CTEF) Evaluators on February 20 at Carpet & Tile Warehouse in Vero Beach, Fla. 
Although Scott Carothers, CTEF Training Director, said that a few closed CTI exams have been conducted for small numbers of contractor staffs recently, this was the first public CTI testing for the industry since the COVID-19 pandemic shuttered testing in spring 2020.
Eleven eager candidates traveled from around Florida and from distant states such as Ohio, Washington, Louisiana, North Carolina and Mississippi to be credentialed in this industry-recognized testing and certification program. Three candidates passed the exam: Kyle Beal of Integrity Contracting, Elkton, Fla.; David Sandana of Dilligence Flooring LLC, Puyallup, Wash.; and Juan Aquino of Rohi Tile and Marble, right in Vero Beach.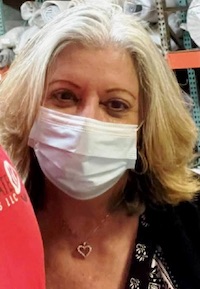 Deby Winter, co-owner of host Carpet & Tile Warehouse, said this was Aquino's second CTI test – he didn't pass in 2020. But this year, she said, "he came with a fire in his eyes. He got to work and got it done by 3:30 p.m., and spent the last 30 minutes making it perfect."
Robert Ford of Stone Dragon Tile Arts LLC of Hawthorne, Fla., said, "I've known about the CTI evaluation for several years but I've been waiting for about a year and a half for an event to take place in a close enough proximity. Taking the Certified Tile Installer test was important to me to prove and further my skills. Also, if I earn a certification, I will be the only CTI in my hometown, which could potentially help me land better jobs. It is an immediate expression of the time and effort I have put into learning and honing my craft."
Enthusiastic evaluators, industry support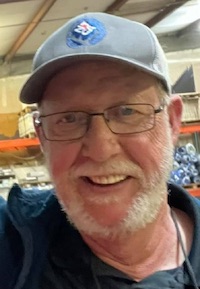 John Roberts of Beno J. Gundlach Co., was the main evaluator, with help from other evaluators-in-training: John D. McIntyre from Merkrete/Sika and Steven Cooper of Sunray Flooring Co. Exhibiting the support, passion and commitment to qualified labor and the CTI program, established CTIs flocked to the event to lend a hand. These included Shawn King of Shawn King, Inc., of New Port Richey, Fla., Joe Lima of Lima Tile in Sacramento, Calif., who was in state and asked to assist, and Chris Johann and Henry Talley of Johann Tile LLC in Vero Beach.
Winter noted that Talley, who got his CTI credential in 2020, was a "dynamo," and named "MVP of this year's CTI in Vero Beach: he never stopped picking up empty drink bottles and trash, so these guys could do what they needed to do, which was to focus."
Other industry support was provided by Shannon Huffstickler of Schluter Systems and Luke Miller of Tile Money.
Roberts said many evaluators and past CTIs, like King, travel on their own time and pay their own way to be in support of those taking the test. Other companies, like Beno J. Gundlach, foot the bill for any associated costs of their employees evaluating or supporting the exam.
Roberts noted, "This is not an easy test – then everyone could pass it and it wouldn't have any relevance in the industry. Everything on that test is about industry standards."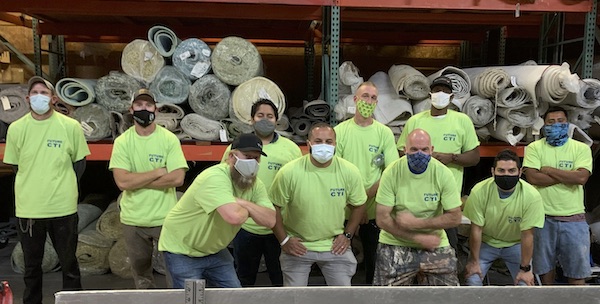 Carpet & Tile Warehouse held the last CTI training in 2020 at its Vero Beach location, and kicked off the 2021 CTI exam season at its facility again. Since that time, the company has made a shift away from employing tile installers itself to supporting tile installation education and credentialing for the industry. This decision resulted in the company financials finishing 2020 ahead of 2019 and being able to dedicate itself to education and credentialing by hosting not only CTI exams, but also by hosting trainings from Schluter and ARDEX.
Winter said she encourages "every single independent flooring store involved in selling tile to host a CTI test in their area and host educational opportunities. This will go a long way to hike the number of Certified Tile Installers serving the industry."
In addition to hosting the exam, and helping to supply swag bags, Winter said Carpet & Tile Warehouse had shirts made for every candidate, with an extra one that everyone who attended signed. "We are creating a wall in our store, where these shirts will be displayed in a jersey box with a brass plaque. It will be a tradition that will take place in every one of the tests. Anyone who is willing to put themselves out there and willing to put themselves through this grueling test deserves to be treated special. "
Testing safely
In line with CDC precautions and recommendations, CTEF instituted a COVID-19 policy in August of 2020 for all CTI hands-on test hosts, installers and evaluators, as well as CTI candidates, all of which were in play at the February 20th test. This included providing alcohol-based hand sanitizer, cleaning and disinfecting frequently-touched objects, and providing masks for those who do not provide their own masks. Approved masks – covering nose and mouth – were mandatory, and candidates were required to take their temperature before traveling to the site and to remain home if they had a fever at or above 100.4 degrees F; they were also tested by evaluators at the site. In Vero Beach, social distancing was maintained by barriers between modules and modules were spaced six feet apart. No tools or equipment were shared and candidates wore nitrile gloves at all times unless eating or using the rest room. Individual bottles of water and box lunches prevented contamination. With comfortable temperatures in Florida at this time of year, the warehouse doors were open, providing excellent
ventilation.
Beal said, "The extra safety precautions weren't bad. I don't normally wear gloves while I work, so that got a little annoying. I did like having the barrier between myself and David; I think it helped me stay focused on my module."
Ford added, "The necessary safety precautions that were required during the test were of course a challenge, but in reality construction workers and tradesmen should be protecting themselves on the job daily."
Going forward
Roberts said that people at the test admitted that, "'It feels so good to be at a tile event.' Even with mask and shields – they were still happy to be at an event and be around their fellow tile installers."
Beal, who passed the exam, said, "Every time I see negative talk in the social media groups, it's the same guys who always talk down about the CTI test, but have never taken it. I always see the CTIs being positive and supportive. That's the vibe I'm trying to surround myself with."
The event had a side benefit for the National Tile Contractors Association as well – NTCA Ambassador Ryan Carrasquillo, employed by wedi, signed up a new NTCA member at the exam: Nicholas Gootan, of the Home Team of Tampa Bay in Lutz, Fla. And Robert Ford joined NTCA the morning before the test.
Carothers called the Vero Beach exam "a springboard for the rest of the year." Upcoming CTI tests include one that's already filled at Louisville Tile Distributors in May; another Louisville Tile CTI in South Bend, Ind., and one in collaboration with Mario "Tile Guy" Garcia in Fresno, Calif. Carpet & Tile Warehouse is planning another in early December and again in February 2022.
Roberts summed up the feeling of the day. "It's a brotherhood. We become brothers and sisters in arms once we pass our CTIs."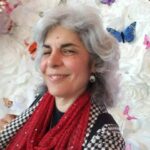 Editorial Director and Senior Writer for TileLetter and TileLetter ARTISAN
Lesley Goddin has been writing and journaling since her first diary at age 11. Her journey has taken her through a career in publishing and publicity, landing her the editor position of TileLetter and its special publications in 2006. Her goal is to educate, inspire, recognize and encourage those in the tile industry -- especially the tile and stone contractor. Other interests include the soft, purring marvels known as cats, labyrinth walking, drumming and percussion, and a range of spiritual, musical and artistic pursuits.