Milwaukee , April 2, 2021 — What's involved in creating a mosaic mural? Industry members who tuned into the NTCA Artisans in Tile Coverings program livestream on Facebook or logged into Zoom earlier today got to find out.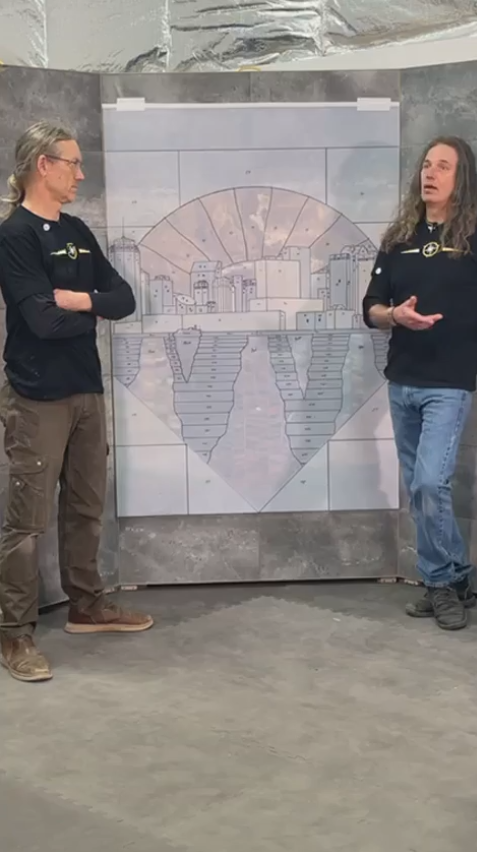 Master tile artisans Lee Callewaert of Dragonfly Tile and Stoneworks, Grafton, Wis., and Joshua Nordstrom of Tierra Tile, Homer Alaska, joined together in Dragonfly's Milwaukee studio to discuss the design and installation of the New Orleans Cityscape mural they created for Coverings 2020. They also discussed creating corner templates that can be used a number of ways to customize tile installs, and the upcoming Coverings 2021 mural, designed for the Orlando event this coming July. NTCA Training Director Mark Heinlein moderated the event and fielded questions.
New Orleans Cityscape
The idea was born of a conversation that Callewaert had with NTCA Executive Director Bart Bettiga at Totals Solutions Plus 2019. Bettiga suggested Callewaert contact Nordstrom and from there it "snowballed," Callewaert said.
In February 2020, the two artisans met in the Dragonfly studio to conceptualize a design, and have half of the project templated for Nordstrom to return to Alaska and work on, while Callewaert created his section of the mural in Wisconsin. Ideally, it was all to have come together at Coverings 2020, as part of a shower install the NTCA trainers were demonstrating how to build. The project was to unfold in three one-hour segments over the course of the show.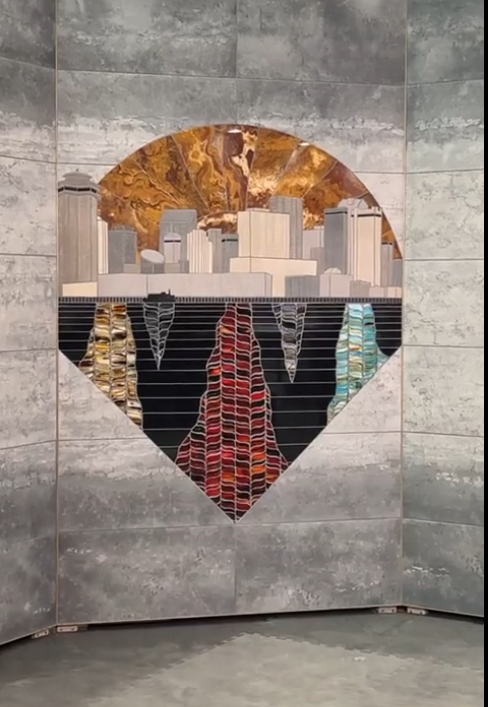 Callewaert said his half was nearly complete when he got the text that Coverings had been cancelled due to COVID. "Right there on the spot I got boxes out and boxed up every piece and put it on the shelf. I didn't touch it until recently to finish it."
Nordstrom and Callewaert explained they chose to do a relatively simple mural, with straight lines and few hand-cuts for the New Orleans cityscape. "We didn't want to make it that detailed," Callewaert said. The intent was to show that beautiful art could be made with relatively simple materials and cuts. "We didn't overcomplicate the design," he said. "If you have a wet saw you can make art. You don't need a lot of fancy tools. Every one of you has a wet saw."
Callewaert and Nordstrom both worked independently on portions of the mural in their own shops, but then brought it all together for today's broadcast.
This finished 2020 mural will be auctioned off, with all funds going to support the Ceramic Tile Education Foundation (CTEF) which administers the Certified Tile Installers (CTI) exam as well as the Advanced Certifications for Tile Installer (ACT) exams.
Templates
Along with the New Orleans cityscape, the duo came up with some ideas for corner treatments that can easily turn into a medallion, Nordstrom said. They wanted to show, "simple corner treatments and what you can do with them," he said.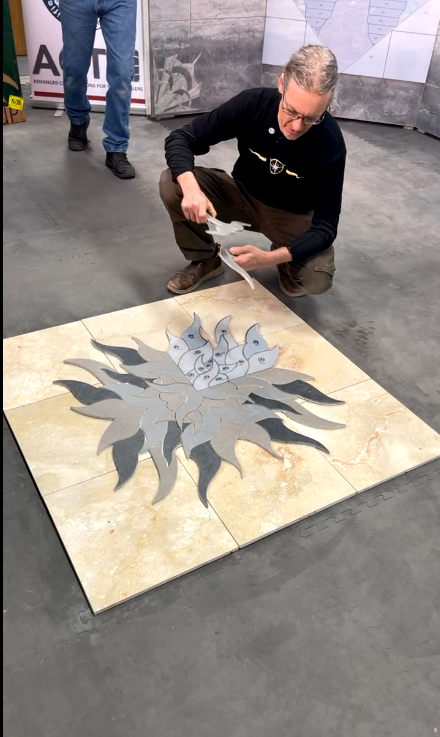 Nordstrom displayed the corner pattern in the livestream, demonstrating how you can use it as a corner treatment, doubled like a book for a half-medallion for a window or front entry treatment or cut four pieces and use it as a medallion. He explained how premount it on fabric and backer or to face tape it with mosaic tape for installation in a submerged or wet area like a pool. "Premounting is huge for doing mosaics," he said. "It really takes a lot of the work out. You can build the whole thing in your shop then just take it to your jobsite." Callewaert and Nordstrom donated these designs which will be available for sale to benefit CTEF.
Tile Trade Artisans Guild
The artisans hatched the idea of establishing the Tile Trade Artisans Guild on Facebook about a year ago, and now have over 1,000 followers. "I've learned things from our own page," Callewaert said. "How else would we have contact with all these other artists from around the country? We are trying to inspire others – but thank you for the knowledge you've given me too. It goes both ways."
The page provides an opportunity to ask about tips and techniques and to showcase work in progress in a variety of styles as well as finished pieces. Partnering on all these projects together also laid the groundwork for the two "brothers from different mothers" Nordstrom and Callewaert to forge a friendship.
Coverings 2021
A new mural has been planned for Coverings 2021 in Orlando this July. The artisans will give a sneak peek of portions of the design this coming Tuesday, April 6 at 2 p.m. CDT.
"We decided to step the game up with a little," Nordstrom said. "The 2021 piece is going to be pretty stunning and elaborate. We will start production of that this afternoon and by Tuesday, we will be far enough into production to show bits and pieces with the final reveal at Coverings. We are excited to be working on this together."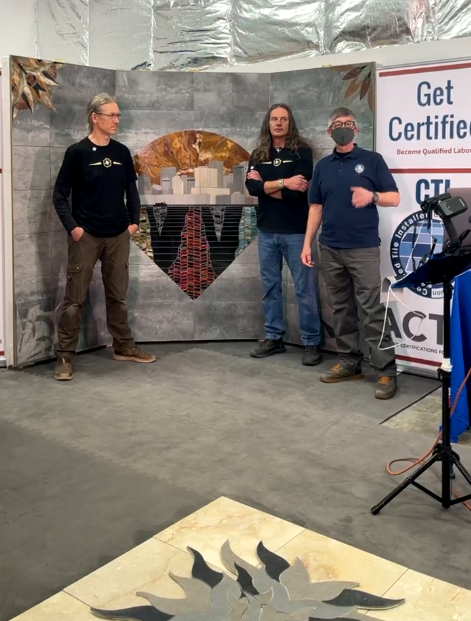 Spreading the word
"If we can inspire a handful of people, and they inspire another handful of people, that's what it's about." Callewaert said. "Were just here to help give you information tips tools and methods so that you're not apprehensive about trying it. The more we can help you with the process, the more likely you are to give it a shot. You'd be amazed at your daily skills as a tile installer how they come into play into making art."
The artisan tile setter movement is growing, with the Tile Trade Artisans Guild on Facebook, monthly Artisan Editions NTCA Roundtables Live! on Zoom, this Artisans in Tile Coverings program, and a new twice-yearly publication that focuses on this segment of the industry, called TileLetter ARTISAN, scheduled to mail at the end of this month.
Be sure to tune in on Tuesday, April 6 at 2 p.m. CDT for a sneak peek at the new mural being developed for Coverings 2021 in Orlando.  Go to Mark Heinlein's Facebook page at https://www.facebook.com/mark.heinlein.5 or register on Zoom at https://zoom.us/meeting/register/tJAuc-qvqD0jHdUsLCVCl4DiRFhafNc0S1oP . If you missed this first broadcast, visit Heinlein's page or visit the NTCA YouTube Channel at https://www.youtube.com/channel/UCXxHJ1G3fz0JQTBu-Xwyq8g.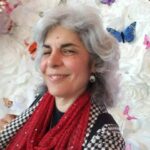 Editorial Director and Senior Writer for TileLetter and TileLetter ARTISAN
Lesley Goddin has been writing and journaling since her first diary at age 11. Her journey has taken her through a career in publishing and publicity, landing her the editor position of TileLetter and its special publications in 2006. Her goal is to educate, inspire, recognize and encourage those in the tile industry -- especially the tile and stone contractor. Other interests include the soft, purring marvels known as cats, labyrinth walking, drumming and percussion, and a range of spiritual, musical and artistic pursuits.