"Too much of one thing can end up creating stress; this is something that no one needs in their life. But living a life in balance can provide harmony and peace." – Catherine Pulsifer
I am writing to you about May on the Thursday before heading off to Coverings in Las Vegas next week. Seems like I was just there for The International Surfaces Expo at the beginning of February!
The world keeps turning, and with it, challenges, heartbreaks and successes. The world at this writing is struggling with gas prices, with material shortages made worse by the invasion of Ukraine, and of course the human cost of this situation. The altercation between Will Smith and Chris Rock at the Academy Awards has many people gasping and discussions raging on social media about humor, mockery, honor, and violence, while Lady Gaga showed colossal grace and kindness supporting and celebrating Liza Minnelli at those same awards. COVID isn't quite gone, but it's been competing with attention on the interwebs and news outlets, and people are tiring of precautions, even as a new sub-variant threatens to race through the population.
And yet…tile is being manufactured and installed, work continues and spaces are beautified. Young people are choosing their career paths. And to that end, Ken Ballin has authored a perspective about college and trade school in this issue that's worth your attention.
Scott Carothers examines an extremely challenging installation by Welch Tile and Marble Co., in our Technical section about a trendy restaurant in Grand Rapids, Mich., with logistics work that will make you hold your breath.
Another tile factory is coming to the U.S. – Portobello America, which is in the process of building a new plant in Baxter, Tenn., and adding domestic product to its Brazilian imports and products from U.S. partners. Read about it in Bart Bettiga's One-to-One story.
William Pino of Summit Valley Tile & Stone LLC in Las Vegas, Nev., earned his Certified Tile Installer credentials at TISE a few months ago, and is the subject of this month's Member Spotlight. Learn about his passion and his journey, around the country and through the industry.
Speaking of journeys, Robb Roderick recently brought the NTCA Workshop to Albuquerque, N.M. I had the opportunity to attend, since that's my hometown! Read about the enthusiastic reception for workshop, held at and hosted by Floor & Decor, and also the LATICRETE New Mexico Road Show held in Albuquerque that same week.
Schluter's cover story case study tells the story of Staff Sergeant Brad Lang, who sustained an accident in the line of duty that took both his legs above the knees – but not his ingenuity and inventiveness. With a home from the Homes for Our Troops nonprofit, a friendship with Schluter Systems Vice President of Distribution Phil Woodruff, support from Daltile and volunteers from Schluter and EJ White, Lang envisioned a new shower and industry support helped it to become reality.
And Martin Brookes has penned his letter about mental health and mindfulness. With internal stresses, pressures at work and at home and in the world seemingly on the rise, kudos to Martin for recognizing that we are ALL human, and as such subject to dis-ease of mind, body, and spirit from time to time. Wisdom dictates we give our minds the same tender care as a broken bone or physical illness. Check out his perspective and suggestions.
As we move into spring, make time to breathe in the sweet fragrance of awakening life, enjoy a day with family and friends in mild temperatures, and take pride in the good you bring to the world in the work you do.
Keep it in balance, friends.
God bless,
Lesley
[email protected]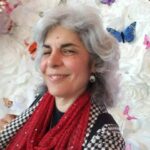 Editorial Director and Senior Writer for TileLetter and TileLetter ARTISAN
Lesley Goddin has been writing and journaling since her first diary at age 11. Her journey has taken her through a career in publishing and publicity, landing her the editor position of TileLetter and its special publications in 2006. Her goal is to educate, inspire, recognize and encourage those in the tile industry -- especially the tile and stone contractor. Other interests include the soft, purring marvels known as cats, labyrinth walking, drumming and percussion, and a range of spiritual, musical and artistic pursuits.