Initiative strengthens the company's presence for future growth in the region
June 1, 2018, Bethany, Conn. — LATICRETE, a leading manufacturer of globally-proven construction solutions for the building industry, is expanding its footprint in Canada with a dedicated in-country business operation, including a new office in the town of Tecumseh in the Windsor-Essex region of Ontario. The new business effort strengthens the company's Canadian presence and provides a base to immediately grow the sales force in the region.
"Canada consistently ranks in the world's top 10 largest construction markets, making it a prime area for growth," said Stephen Butkovich, who will lead the business effort as the Director of LATICRETE Canada. "Over the years, we have seen carryover between the U.S. and Canada with many skilled workers attending American trade shows. This new presence is a prime opportunity to combine the knowledge of those workers and be able to better assist our Canadian customers with easier access to our team and our products."
Prior to his new role, Stephen Butkovich served as a Regional Sales Manager overseeing business channels of LATICRETE in the Mid-Atlantic and Canada-East regions.

"We are excited to welcome LATICRETE to Tecumseh," said Tecumseh Mayor Gary McNamara. "I have always said Tecumseh is a great location with excellent proximity to North American markets. We are pleased LATICRETE has chosen our town to open their business and look forward to supporting their future growth in the region."
The WindsorEssex Economic Development Corporation assisted LATICRETE with scouting locations, matching benefits and provided the necessary macroeconomic data to determine the proper location for the business effort.
"It's been our pleasure working with LATICRETE, and this announcement today certainly enhances our collective efforts in diversifying our economy," said Stephen MacKenzie, CEO, WindsorEssex Economic Development Corporation.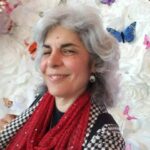 Editorial Director and Senior Writer for TileLetter and TileLetter ARTISAN
Lesley Goddin has been writing and journaling since her first diary at age 11. Her journey has taken her through a career in publishing and publicity, landing her the editor position of TileLetter and its special publications in 2006. Her goal is to educate, inspire, recognize and encourage those in the tile industry -- especially the tile and stone contractor. Other interests include the soft, purring marvels known as cats, labyrinth walking, drumming and percussion, and a range of spiritual, musical and artistic pursuits.