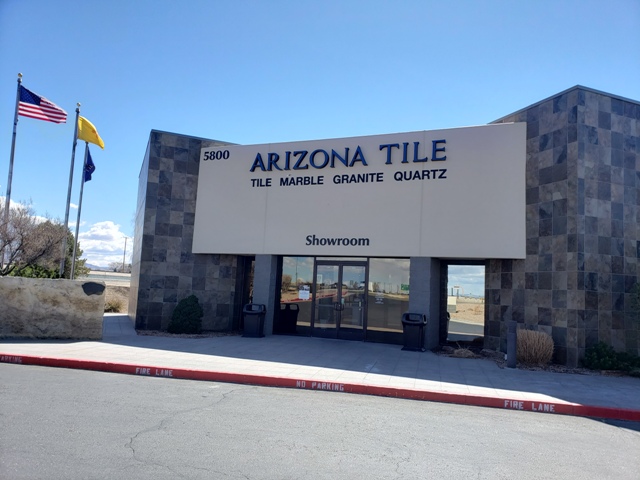 ALBUQUERQUE, N.M. – March 14, 2022 — LATICRETE began a four-day series of road shows in Albuquerque this morning, kicking off the events at Arizona Tile on Venice Avenue NE.  LATICRETE Technical Reps Tim Evans, based in Albuquerque, and Denver-based Mike Hogan, offered free product demos, snacks, beverages and prizes at these events.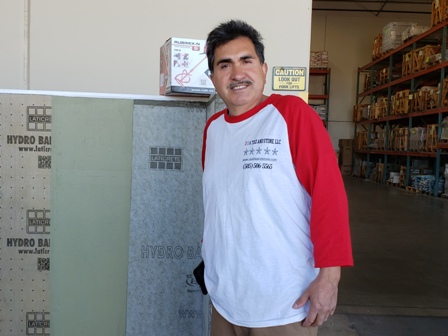 Rafael and Maria Nieto of USA Tile and Stone, LLC – a local contractor that does residential and commercial projects were there for the discussion and the demos. Rafael, who displayed his Journeyman card during the discussion, noted that he was there to learn more and supplement his knowledge. Rafael is seeing people wanting to improve their homes post-pandemic, updating with different tiles designs and ideas. 12" x 24" or bigger tiles are in demand. He often uses LATICRETE products, and also floats projects when that's the best approach for the project.
Tile contractors and installers flocked to Arizona Tile here this morning, interested in discovering more about LATICRETE products  — what benefits they offer and how to use them.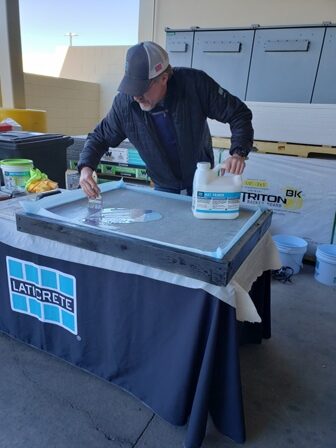 In response to tile contractor questions, Evans explained the benefits of HYDRO BAN XP Interior & Exterior Waterproofing Membrane – which is rated for steam showers and eliminates use of a separate vapor barrier, as well as 2" HYDRO BAN Board which can be used for shelves, or a weight-bearing bench when combined with bracing or support every 16".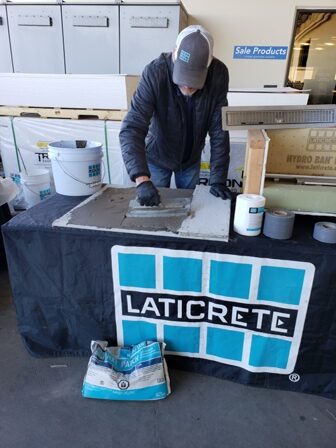 Hogan demonstrated NXT Level Flow Self-Leveling Underlayment, priming the surface first with NXT Primer, allowing it to set up, then applying the leveler to a depth of 1.25". He also demonstrated the use of NXT Patch Fast Drying Underlayment Patch which can be used outdoors and offers 4350 psi compressive strength.
In addition to snacks, literature and a drawing for a RUBIMIX-N Professional Drill and Paddle, LATICRETE is offering some giveaways such as hats, 6 gallon buckets, and mortar.
Catch the LATICRETE New Mexico Road Show the rest of the week at these locations, from 10 a.m. to 2 p.m. No RSVP needed – just drop in any time!
March 15 – Emser Tile – 8520 Pan American East Freeway NE
March 16 – Choices Wholesale Flooring, 4382 Alexander Blvd.
March 17 – Floor & Décor –4936 Pan American Freeway NE