ATLANTA – March 17, 2020 – LG Hausys is expanding its North American Viatera® brand operations with the addition of a new manufacturing line at its industrial campus in Northwest Georgia, along with a new warehouse and showroom in Southern California. The initiatives meet the growing demand for the company's highly popular Viatera quartz surface product. They also continue LG Hausys' commitment to providing industry leading product innovation and best-in-class customer service and delivery.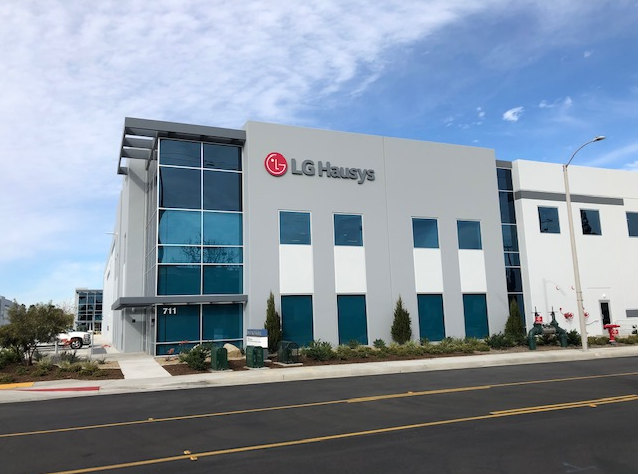 The new Viatera line is the third plant now in operation at LG Hausys' existing manufacturing location in Adairsville, Ga. The new facility spans more than 111,000 square feet and increases Viatera production capacity by 50 percent. Staffed with 40 new employees and fully in production since January 20th, the line produces Viatera products in Jumbo II slab size at 2cm and 3cm thickness. As part of LG Hausys' multi-million dollar investment, the new line also allows for future product innovation. This includes the ability to add new robotic technologies for veining effects and utilizing advanced mechanical devices for new color and design creations.
"The addition of our new third Viatera line is a significant [accomplishment] for LG Hausys and our customers," said LG Hausys Vice President of Surfaces Jim Rogers. "Not only are we able meet increased customer demand, we're now well positioned to be at the forefront of the industry with quartz surface products that will feature the most highly styled designs and colors. LG Hausys' investment in domestic, American-made manufacturing continues our role as a reliable supplier and partner to our customers throughout North America."
Supporting the manufacturing expansion is the addition of a new 48,000 square-foot warehouse and showroom in Orange County, Calif. The warehouse will serve as the primary distribution hub for Viatera and LG Hausys' solid surface product brand, HI-MACS. Its strategic location near Los Angeles enables LG Hausys to more effectively serve customers in Southern California and other West Coast markets. The warehouse is LG Hausys' 14th in the U.S. and second in California. LG Hausys' other California warehouse is located in Livermore and currently serves customers in the Bay Area and throughout Northern California.
The new showroom, located adjacent to the warehouse facility, will enable trade partners to view the latest innovative colors and designs from the Viatera and HI-MACS brands. Available by appointment only, it will also serve as an event and meeting space for the design community, end-users and other LG Hausys customers.
Earlier this month, the company held a grand opening event to celebrate the new warehouse and showroom. The facility is located at 711 S. Van Buren Street, Placentia, Calif., 92870.
"This facility marks a new strategic step for increasing our presence and meeting the increased demand of our Viatera and HI-MACS surface products on the West Coast," said Greg Bassett, LG Hausys Regional Sales Director-West. "Combined with our increased Viatera product capacity, we are excited about the future. We're looking forward to providing the service, delivery and high-design products our customers require."
Viatera is an exceptional quartz surface solution used in a wide variety of residential and commercial kitchen and bath applications. Manufactured as a non-porous product, Viatera prevents harmful bacteria or mold from appearing. Unlike natural stone products, Viatera does not require regular application of sealants. Viatera is manufactured to prevent against everyday wear and tear and offers a higher resistance to stains, chemicals and heat, ensuring its long-lasting beauty and durability. Using sustainable material and an eco-friendly manufacturing process, Viatera is NSF (National Sanitation Foundation) and Greenguard® certified. Viatera is backed by LG Hausys' 15-year transferable warranty.
For more information or samples, please visit www.lgviaterausa.com.