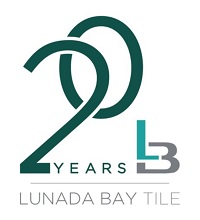 Harbor City, CA, May 8 – Lunada Bay Tile is celebrating its 20th anniversary, building upon a reputation for design, innovation, and artistry.
Lunada Bay Tile was started in a residential home garage by Carl Steadly, President and CEO. The name Carl chose for his company honors the beautiful Palos Verdes Peninsula of Southern California. The company's design philosophy skillfully blends traditional artisanship with modern influences while exploring the boundaries of material possibilities. From forward-looking tile collections to collaborations with design powerhouses such as designer and potter Jonathan Adler™ and lifestyle icon Tommy Bahama™, Lunada Bay Tile has created an array of shapes, patterns, colors, and materials that inspire boundless creation.
"Lunada Bay Tile began by offering carefully curated slate and beautifully handcrafted pewter tile collections and over the years our product lines have extended into glass and ceramic," says Feras Irikat, Director of Design and Marketing. "Throughout our 20 years, we have remained focused on bringing original products made with passion and daring design to interior and outdoor spaces."
Since 2003, Lunada Bay Tile has produced handcrafted glass tile collections through old and new techniques of glassmaking that elevate design possibilities and create statements using color, shape, texture, and luminosity.
"Glass is a versatile medium, and we have been committed to showing how glass is an excellent choice for artistic expression," Irikat said. "Carl himself learned his glass making skills at Bisazza Mosaic in the early 1990s, and we continue to take our inspiration from painting, sculpture, textiles, and nature."
The Art of Lunada Bay Tile
Many of Lunada Bay Tile's exquisite collections, such as Shinju, Ka-nū, Origami, Agate, and Namibia are inspired by the creativity of Japanese artisans. Steadly's early and current collections draw on multiple Asian inspirations—including architecture, sculpture, calligraphy, and paper-making—to create stunning effects.
Carl Steadly's initial immersion into Japanese culture and design started when he was a graduate student at Sophia University in Tokyo in 1982, after having taken early graduation from the University of Connecticut. His sponsors (through the offices of Mori Hanae, a famous Japanese textile and design company) submerged him in Japanese culture; every month he would travel to Kyoto to spend time with his hosts. During the day, he would be taken to see and participate in tea ceremony classes, kimono fitting sessions and to speak with pottery artisans. They would visit/study Japanese temples and gardens and discuss their essence. At night, he would be tutored in Japanese business styles and practices.
It was this background that inspired one of Steadly's earliest creations: "Sumi-e was our first big product, our first big hit," says Steadly. "Essentially, the glass looks like brush strokes, reflective of Japanese calligraphy. The translucent glass provides the perfect canvas for our artists to juxtapose color, contrast, transparency, and movement."
Tile as Art/Art as Tile
"I spend a lot of time talking with mosaic artists, sculptural artists, etc.," said Steadly. "The house I live in used to be owned by a famous bronze sculptor (Mr. Aris Demetrios) and we bought it specifically because it was contemporary (unusual for Santa Barbara which tends to prefer Spanish Mission style homes) and because the windows stretch to the entire walls and ceilings—our eventual goal is to showcase sculptural art. This passion has spilled into my professional life as well."
Carl finds inspiration everywhere, especially when wandering through art galleries specializing in glass, metal sculpture, or landscape art. One such find is Birdscape (found in Auckland, NZ in a national museum). To Carl, the essence of these handmade glass birds is that Lunada Bay Tile glass is much more difficult to make on a daily basis than standard glass tiles and should be portrayed as reproducible commercial art. The individually made avian sculptures also capture Lunada Bay Tile's unique perspective on tile design to draw on various glassmaking techniques to create these one-of-a-kind art pieces.
Another very recent example is Momentum. In a bold nod to Lunada Bay Tile's eclectic and forward-focused design capabilities, the Momentum collection of sculptural tiles feature hand-crafted ceramics that can be used to create three-dimensional art for walls. The tiles actually create visual movement: use as a single shape to discover various textures, or puzzle together multiple shapes to express unique direction.
"No one else makes anything like this," says Steadly."These expressive creations help make it possible for tile to become part of a larger conversation about personal expression."
The Dream Team
"We are celebrating not only our business, but also honoring our staff, clients and suppliers who have contributed to our longevity and continued success," says Steadly. Since day one, the company's guiding principle has been its unparalleled commitment to customers, employees, and suppliers.
From the start, Lunada Bay Tile has fostered a collaborative environment and Steadly refers to his colleagues as the "Dream Team."
"We've painstakingly assembled the dream team. I do not believe in genetic pedigree, but I do believe in career pedigree. We could sum it up by saying there is really a true human factor that is involved in the company. Basically, everybody was involved at some point or another in a very extensive tile career," Steadly says. "It is a hiring prerequisite that our key staff members must love tile."
Many people have been with Lunada Bay Tile 10 or more years – and even longer in the industry – including Design & Marketing Director Feras Irikat (10 years); Chris Brown, North American Sales Director (12 years); Mathew Pike, Director of National Accounts & International Sales (10 years), Ken Milbery, Head of Technical Department (7 years); and Mark Simon, Chief Operating Officer (12 years), who has largely spearheaded the growth and given LBT its organizational rigor.
Mari Hatsukade, Customer Service, and June Ikeda, Accounting –started with Steadly in his early days and are still with him today. Yocelyn Asencio, Inventory Control Manager and artisan liaison (20 years), along with Neil Katz, Director of Business Development (17 years), offer a combination of experience, skill, customer-focus, and industry knowledge that is unsurpassed.
"We aim to meet each client's unique needs by offering a wide array of collections and opportunities for customization," says Jim Stevens, Brand Manager. "Lunada Bay Tile supports a collaborative work environment where people engage in daily and lively discussions as to the exact look, feel and visual experience that exemplifies the LBT design philosophy."
"After 20 years, Lunada Bay Tile shows no signs of slowing down," says Stevens. "We see ourselves as the eye candy of the industry. We want people to talk about our special and innovative designs that are the essence of Lunada Bay Tile creations, and we are excited about our future."
---
About Lunada Bay Tile
Lunada Bay Tile creates handcrafted glass, ceramic and concrete tile with an emphasis on artistic simplicity, texture, and color. The name Lunada Bay Tile honors the beautiful Palos Verdes Peninsula of Los Angeles and exhibits the brand's design philosophy – to blend traditional craftsmanship with modern influences while exploring the boundaries of material possibilities. To learn more about Lunada Bay Tile and view the entire product line visit LunadaBayTile.com or call (310) 257-1300.