With thousands of miles of scenic shoreline, tranquil rivers, and intricate canal networks, there are infinite opportunities to explore Japan's natural and architectural beauty by canoe or sea kayak. Lunada Bay Tile takes inspiration from the streamlined vessels that traverse these waterways in its newest tile collection, Ka-nū.
Japanese for canoe, the Ka-nū ceramic tile collection comprises three architecturally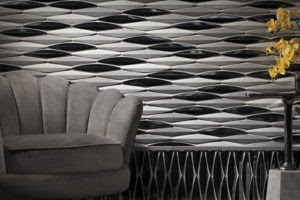 dimensional surfaces: Keel, a canoe-shaped tile with a raised center; Plank, a rectangular field tile; and Buoy Mosaic, a round tile with a single dimple.
Artisans implement a specialized glazing process to create vibrant pearlized colors with an exquisite luster. "The brilliant color and shine of Ka-nū is something very special," said Feras Irikat, director of design and marketing, Lunada Bay Tile. "Our Japanese artisans combine centuries-old techniques, which include a double-firing process, with modern invention to create this gorgeous, pearlized glaze. The high luster is something only these artists can create to accentuate today's most eye-catching commercial and residential interiors."
The diverse selection of 10 hues and six color blends are available in all three patterns to reach your desired destination.
About Lunada Bay Tile
Lunada Bay Tile creates handcrafted glass, ceramic and concrete tile with an emphasis on artistic simplicity, texture, and color. Inspired by the aura of Southern California coastal living, Lunada Bay Tile takes a distinct approach to designing products with a philosophy that blends traditional craftsmanship and modern influences. Our artisans use specialized techniques to create unique effects that capture the imagination and reflect the way people want to live. To learn more about Lunada Bay Tile and view the entire product line visit www.LunadaBayTile.com or call 310-257-1300.