Hanging with Greg Twarog of Unique 2 LLC
Fridays at noon on Facebook
Back in April, the NTCA Technical Team launched yet another opportunity for tile contractors and installers to learn, connect, network and up their tile game.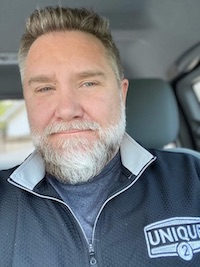 On Friday afternoons at 12 p.m. Central Time, NTCA Training Director Mark Heinlein is presenting an hour-long program on Facebook Live called Lunchtime Live.
I had the opportunity to tune into the second Lunchtime Live broadcast on April 30 with Greg Twarog of Unique 2 LLC near Chicago and enjoy the discussion between Twarog and Heinlein as they talked about the benefits of education and peer support, safety on the jobsite, as well as the challenges in the industry around shortages and delays of necessary materials.
Getting started; getting support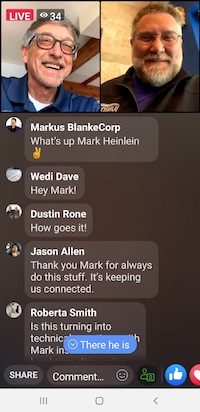 Twarog gave a brief overview of his time in the tile trade to start the discussion. A first generation tile installer specializing in residential work, he's spent time as a tile contractor, working with a flooring store, inside and outside sales with a tile distributor, and ran a company with a partner where he got grounding in commercial business. A year and a half ago, he founded Unique 2 LLC on his own, bringing a blended portfolio of residential and commercial – and finding niche work – such as installing elevator floors.
"I'm blessed with the ability of learning from many very smart people," he said. "To have likeminded peers is awesome." He strongly advocates attending industry events to forge relationships that can help later on.
"Coverings is the one I make time for," he said. Twarog also attends local and state workshops as well as trainings by ARDEX and MAPEI. "I guarantee something has changed – mortar, technique, process. It's important to update your tools – your mind teaches your hands and as those methods and standards change, it's important to learn them and keep yourself up to date.
"Going to these events is more than just cool," he added. "You are learning to get these relationships in place…now you have people in place to help you move forward," if trouble arises on a job. The connections he has made as a member and an Ambassador for NTCA have also been extremely important to him. "I can share my information, and get information," he said.
Heinlein praised Twarog's generous willingness to support NTCA workshops and training events. "Greg does a terrific job of trying to connect people to our industry and help them out." Twarog encouraged viewers to reach out to setting material representatives if they find themselves in a tough spot on a job. Viewer Dustin Rone of Kavajecz Tile and Stone in Waukesha, Wis., agreed. "The reps are the glue to our industry. Every rep I have dealt with has always been there for the smallest questions."
Twarog said more contractors and installers are talking with each other and sharing information, something he fosters by bringing together local contractors and vendors and introduce them to "folks from NTCA and CTEF. We need that – those contractors then talk to other contractors," he said.
Safety on the job
Twarog also discussed safety equipment use. Early in the pandemic, he was able to secure a supply of N95 masks to carry him through the pandemic and keep him working. "I also use a HEPA filter/air scrubber as often as I can." Heinlein praised Twarog's safety precautions – not just during the pandemic, but also using PPE, grinder shrouds, and recommended precautions.
"I've had friends damage themselves," Twarog said. "Our fathers and mentors taught us to respect the tools – our hands, mouths, lungs. What I see is [friends] didn't wear the kneepads or overworked themselves. We can't do much without hands, knees, feet, goggles, hearing protection." He admitted even with precautions and protection, he's starting to get ringing in his ears. "If it's noisy in the building, maybe go outside for a conversation," he suggested.
Pandemic-related delays and shortages
Conversation then turned to challenges Twarog is seeing in the industry around getting materials delivered – especially from overseas – in tile, sundries and related industries. This conflicts with the surge in work that contractors are seeing as people upgrade homes as a result of the pandemic or try to get renovations projects pushed through before they have to return to the office. Twarog said that "domestically-made product is where I am going so I know I can go to the store and pick it up with confidence."
Jeff Davis, Northeast Regional Sales Manager at Skehan & Associates, Cape Coral, Fla., added his observations in the comment thread. "Shortages are being caused by shipping locally as well as ocean freight," he wrote. "U.S. manufacturing is seeing freight lines that do not have enough drivers for the amount of freight needing [to be] shipped. Ocean freight is an issue due to COVID affecting dock workers. Containers at this point from Europe are 14 to 16 weeks. Plus freight rate has doubled and there are additional surcharges. Manufacturers are hoping that things will get back to 'normal' as COVID issues start to reduce."
Heinlein and Twarog agonized over what is to be done. "Do we implore local and federal government to help?" Twarog asked. "Are we going to wait until we are crippled? If shipping is shorthanded of people, do we use double trailers on the road to help move product? Upgrade train service with another set of tracks to move product across the country? Or are we going to wait 16-20 weeks for something to come in instead of 8-10? Is this a way of forcing us to have everything be domestically bought?"
In addition to delays, costs are skyrocketing. Heinlein said he just paid $28 for three 2″x4″s that used to cost $2.99 each. He suggested contacting Congressional representatives and senators to share concerns about these issues.
Twarog said that looking ahead at the information coming out now, allows you to predict the coming impacts on the industry. "There was the Italy shutdown," he said. "People will give up whole lines because they can't get them in time. It's tough to watch. We will have problems with India and Pakistan – onyx. And it's going to be hard to get glass from China. As a result, we won't see as much glass going in, if we can't get it." He is eager to continue the conversation – contact him at
[email protected].
Preparing for indoor rain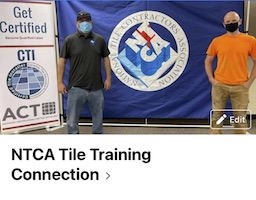 Conversation turned towards tile-specific issues and the age-old problem of shower failures that Twarog is seeing on a massive scale in the Chicagoland area, especially upper floor failures that can allow water into building cavities and affect lower floors as well. Heinlein agreed, saying, "One of the biggest failures we are seeing industry wide is shower pans failing. People understand the importance of a great roof, but we are bringing water inside and not managing it properly."
Twarog added, "It rains three to four times a day in your shower. [Showers] have to be even tighter than your roof, but they usually are not."
To participate in the Lunchtime Live discussion, visit the NTCA Tile Training Connection on Facebook at https://www.facebook.com/groups/ntcatiletrainingconnection on Fridays, noon, Central Time.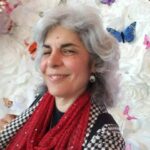 Editorial Director and Senior Writer for TileLetter and TileLetter ARTISAN
Lesley Goddin has been writing and journaling since her first diary at age 11. Her journey has taken her through a career in publishing and publicity, landing her the editor position of TileLetter and its special publications in 2006. Her goal is to educate, inspire, recognize and encourage those in the tile industry -- especially the tile and stone contractor. Other interests include the soft, purring marvels known as cats, labyrinth walking, drumming and percussion, and a range of spiritual, musical and artistic pursuits.