Casa Dorinda, a Continuing Care Retirement Community (CCRC), was opened in 1975 for seniors and is operated as a non-profit organization by the Montecito Retirement Association. It is home to approximately 300 residents, providing healthcare, housing, and other services.
The original mansion was designed by Carleton Winslow, a noted architect who designed the Santa Barbara Natural History Museum, The Valley Club, and other historic estates in Montecito. When built in 1919 for Anna Dorinda Blaksley Bliss and her husband William, the 80-room Casa Dorinda was one of the largest homes in Santa Barbara. Aside from having servants' quarters for staff, a two-story guesthouse and other outbuildings, the mansion itself consisted of a dining room and courtyard, a music room, library, a magnificent tower, and acres of formal gardens. For a time, it served as a recuperation and recreation center for returning Navy personnel, then a boarding school for girls, and was opened as a retirement community in 1975.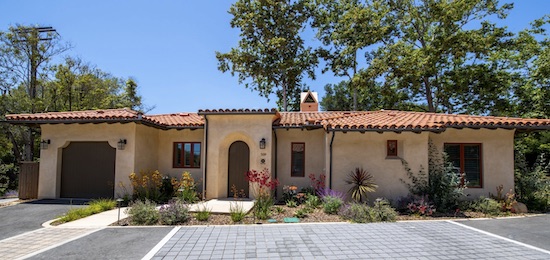 Casa Dorinda retirement community
Casa Dorinda offers residents a variety of options to enhance their lives. Residents live in their own apartments, cottages or in the assisted care of the facility, located in Montecito. Casa Dorinda serves the residential, social, artistic, emotional, and medical needs of many of Santa Barbara's senior citizens with well-appointed common areas including a library, music room and the oriental room, located in the main building on the first floor. In addition, there are jewelry, ceramic and photography studios, several meeting rooms, a computer lab, and a gallery that showcases some of the residents' work.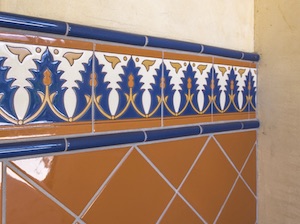 Casa Bliss expansion project
Casa Bliss' expansion addresses campus and community needs by adding healthcare and housing through a combination of independent living apartments and cottage-style homes, more recreation areas, an updated clinic, a new bar and grill, and three acres of oak woodlands. Finally, the circa 1970s architecture in the main plaza will be updated to better suit the historic 1918 architecture of the Main Casa.
Grandeur and expertise come together
Van Nuys, Calif.-based flooring contractor, City Tile & Stone Tile, known for its tile and stone expertise in medium-to-large commercial and residential projects, was responsible for the multifaceted installation. A staple in Southern California, City Tile & Stone Tile expertise includes ceramic and stone tiles, exterior stone veneer, stone pavers, thin-panel porcelain walls, and fabricated stone. It fabricates and installs stone in many shapes and purposes, from curved bar countertops and stair treads and risers to mechanically-anchored stone veneers, always exceeding customers' expectations of quality and service.
Rafa Nolasco, City Tile & Stone Tile's Superintendent, worked directly with the designers of the property in choosing and supplying all the natural stone, porcelain tile, mosaic, and accessories. Willie Cortez, Foreman, and his crew installed approximately 20,000 sq. ft. of various tile and stone products over several phases.
Merkrete provides a flexible solution
Retirement communities and healthcare installations can present interesting challenges for the designer and installer to overcome. The applications can place remarkable stress on the tile and stone applications, creating a challenging environment not only for the finished tile or stone, but also for the installation system materials.
City Tile & Stone Tile, with technical assistance from Merkrete Sales Representative Sergio Flores, assessed the job requirements and provided recommendations for the proper installation system for each specific application throughout the build. This – combined with the safeguards put in place to protect everyone from the coronavirus – presented some additional challenges.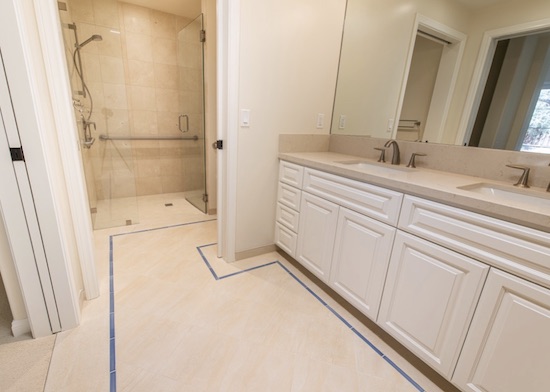 Since the specifications called for crack isolation and waterproofing in most parts of the installation combined with an aggressive project schedule due to the pandemic, work began using Merkrete Hydro Guard SP1. The liquid-applied, fast-drying Hydro Guard SP-1 combines crack isolation up to 1/8″ and a waterproof system that enabled crews to prepare the substrate for setting tile at a faster pace. Hydro Guard SP1 has excellent elongation, adhesion, and high-strength properties, providing a 100% waterproof membrane that also prevents the transfer of substrate cracks to the finished ceramic or stone tile surface. "Merkrete's liquid membranes have been a mainstay of the industry for about 50 years, and we rely on their performance," said Nolasco.
With a properly-prepared crack-prevention and waterproofed substrate to work on, the installers began setting various sizes of large porcelain tile and planks throughout the private units and villas. Large tile and planks present their fair share of installation challenges. Planks in particular demand tighter tolerances to maintain the beauty of the tile and overall aesthetic of the installation. So, selection of the setting material is critical.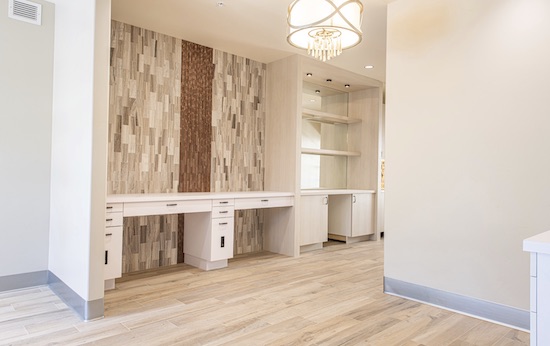 City Tile & Stone's preferred mortars are Merkrete's 735 DUSTLESS Premium Flex and 720 DUSTLESS LHT Mortars for these types of applications. "The smooth and creamy material makes for easy spreading, and the DUSTLESS technology keeps the mixing areas a lot cleaner," said Cortez. "735 DUSTLESS Premium Flex is easy to use and has a tenacious bond, offering high strength and flexibility." Both products feature Merkrete's patented DLT® DUSTLESS Technology, providing less dust and a cleaner working environment. The install was finished with Merkrete Duracolor Grout, a stain-resistant, polymer-modified Portland cement grout.
The project consisted of several villas, cottages, and apartment buildings that encompassed all aspects of retired living. They included over 4,000 sq. ft. of personal care units containing bathrooms and full showers, completely waterproofed with Hydro Guard SP1 with Reinforcing Fabric, as well as heated floors. The gorgeous 12″ x 24″ through-body porcelain tile was set with Merkrete 735 DUSTLESS Premium Flex and finished with Pro Epoxy Grout. The project also featured a Malibu Ceramics decorative feature wall, detailed pattern entryways, and wainscoting throughout the common areas.
A new residential bar and grill restaurant was installed for resident dining and entertainment. Over 4,500 sq. ft. of Hydro Guard SP1 for crack isolation and waterproofing was used underneath the gorgeous porcelain tile flooring.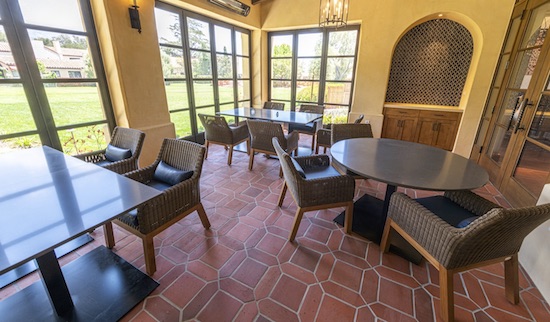 Merkrete and City Tile defeat pandemic issues
The obvious challenge was the ongoing coronavirus pandemic combined with the fact that the project was taking place at a retirement community. City Tile & Stone Tile and its chief safety officer, Ed Klapholz, took extra care in all safety protocols necessary for appropriate distancing, masks, and prevention of any potential person-to-person transmission of the virus. The strict timeline due to the coronavirus pandemic also presented some challenges, so it was critical that the products were delivered and the job completed on time.
"Fortunately for this project's requirements, we have plants and distribution right here in southern California, so our turnaround time and ability to get our products to the jobsite quickly were no problem," said Flores.
"We have been using Merkrete products for several years," said Guy Tzur, President of City Tile & Stone Tile. "As a matter of fact, we now use Merkrete on most of our tiling projects both large and small, because we have trust in the performance and delivery of their products and service."
The stunning architecture and surrounding tile and stone elements were completed in April 2021.
"The decorative feature wall and other custom tilework brought a timeless and classic elegance to this truly inspiring installation," said Merkrete Regional Sales Manager, Todd Boos. "Partnering with a great tile contractor and project designers led to a satisfying and successful finished project."