New VIATERA Quartz Surfaces Emanate the Majesty of Mountains
ATLANTA – November 14, 2023 – LX Hausys America Inc., proudly introduces the Monte Collection, a testament to the majestic allure and raw splendor of mountainous landscapes. Crafted with an artful blend of design and innovation, this collection captures the essence of various mountain ranges across the globe, offering a diverse array of surfaces that epitomize nature's grandeur.
From the towering peaks to the serene valleys, each color in the Monte Collection is meticulously designed to reflect the unique character and visual splendor of specific mountain ranges. These surfaces are a testament to LX Hausys's commitment to precision and artistry, replicating the natural elements and geological formations with unparalleled accuracy.
"Our new Monte Collection is an homage to the awe-inspiring beauty of mountains," said Taewoo Kim, Director of Product Design at LX Hausys America. "We aimed to encapsulate the spirit of adventure and the diverse environments these landscapes offer."
The collection will infuse any space with a sense of wanderlust and natural grandeur. It brings forth a harmonious blend of beauty and functionality, offering both an aesthetic appeal and the resilience of high-quality surfaces. Dolomites and Apennines—the first two colors in the Monte Collection—are each meticulously crafted to echo the unique characteristics of these mountain ranges.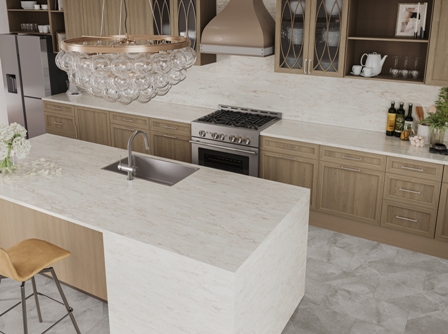 Natural elegance and majestic charm collide in the breathtaking design of Dolomites. Gold and gray veins naturally flow between the tone-on-tone white base, which gives a subtle sense of depth as if viewing Breccia marble. Expressing coolness and warmth at the same time, this inviting color creates an aesthetic resembling the natural and unique look of marble.
Inspired by the scenic and diverse landscapes of the Italian mountain range bearing the same name, Apennines emanates rugged charm and organic elegance. The rough visual texture and intense color contrast give a profound sense of luxury, while the harmony of golden brown and dark gray creates a vigorous pattern set upon a dynamic background.
The VIATERA brand is defined by its classic and timeless aesthetic inspired by the earth's natural splendor. Consisting of six collections offering a wide variety of beautiful hues and patterns created for any kitchen or bath application, VIATERA colors contain up to 93 percent quartz, one of the hardest minerals on earth. VIATERA is manufactured at state-of-the-art facilities in the U.S. and abroad and available throughout North America via LX Hausys America's extensive distribution network. Providing exceptional durability, high resistance to staining and ease of maintenance, all VIATERA colors come with multiple independent certifications verifying their environmental and health attributes. VIATERA is backed by LX Hausys' 15-year limited warranty.
More information about LX Hausys America is available at lxhausys.com/us and at the VIATERA web page: lxhausys.com/us/products/viatera-quartz-surface.
# # #
About LX Hausys America Inc.
LX Hausys America Inc. is a part of Korean-based LX Hausys Ltd., one of the world's leading providers of building and decorative materials employing more than 4,300 employees spanning the globe. Headquartered in Atlanta, Ga., LX Hausys America uses the industry's most advanced technology and eco-friendly manufacturing processes to design products that help create beautiful and functional spaces. LX Hausys America's business lines include surface materials and flooring. Architects, designers and other trade professionals looking for more information can visit www.lxhausys.com.