Deerfield Beach, Florida – MAPEI Corporation celebrated the expansion of its existing Calhoun, Georgia facility with an open-house event held on October 20, 2023, with customers, employees and other guests. The remodeled existing 210,000-square-foot (19 510-m2) facility now features an additional 45,000 square feet (4 181 m2) of production space as well as an additional 20,000 square feet (1 858 m2) of office space.
"The existing facility has been such a tremendous asset, and demand has been so great, that it necessitated the addition of extra lines to increase our production," stated Luigi Di Geso, President and CEO of MAPEI Corporation. "Now we are even better able to accommodate the needs of our clients, not only in Georgia, but in the surrounding states."
Strategically located in an important hub for the resilient flooring industry, MAPEI's Calhoun facility features 210,000 square feet (19 510 m2) designed for the manufacturing of multi-flooring adhesives, including resilient flooring, carpet tile flooring, vinyl sheet flooring, sport flooring, coatings and other products. It is equipped with the latest fully automatic production lines. It has color-matching capabilities and tinting equipment. Further, the Calhoun facility is the home of a state-of-the-art laboratory and a research and development center.
The remodeled facility features state-of-the-art production capabilities, including:
Automatic mixing equipment and processes.
Full automation of finished goods packaging, with all stations automatically controlled by the operator in the control room.
Robotic palletization of finished goods.
A real-time production monitoring system for performance display, data collection and
analysis.
Bulk storage capacity that is now doubled for raw materials and cutting-edge telemetry that controls the tank.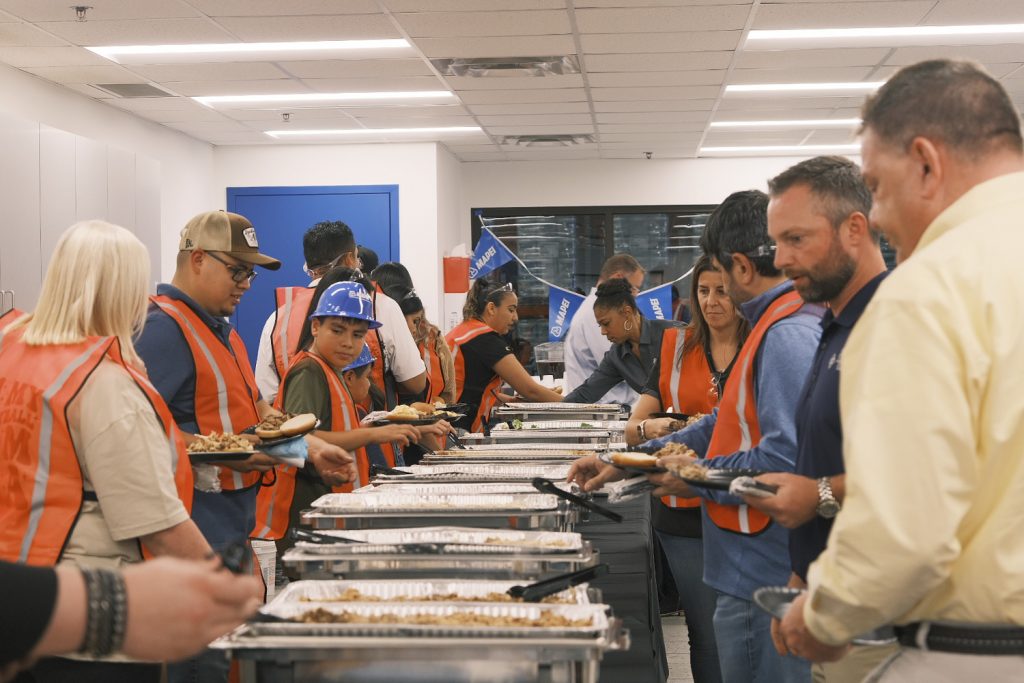 The high-tech equipment is housed in a linear plant layout to enhance efficiency and productivity. This design also provides the facility with the opportunity to further MAPEI's commitment to sustainability by increasing the facility's ability to source and store local materials, decreasing its carbon footprint.
The open-house event featured a guided tour of the research and development laboratory, the mixing plant, the packaging lines and the warehouse. The celebration also included BBQ and family entertainment, including a dedicated play area for children with a well-attended bounce house.

"We thank our employees for their commitment to excellence, our clients for their support, and the community for embracing us. We are excited about this growth and are looking forward to many years of innovation to come," Di Geso said.
---
MAPEI
Founded in 1937 in Milan, MAPEI is now one of the world's leading manufacturers of chemical products for the building industry and has contributed to the construction of some of the most important architectural and infrastructure works worldwide. With 102 subsidiaries operating in 57 countries and 90 manufacturing plants in 35 nations, MAPEI Group employs about 11,000 staff worldwide. The foundations for the success of the company are specialization, internationalization, research & development, and sustainability.

Headquartered in Deerfield Beach (Florida), MAPEI North America consists of the subsidiaries MAPEI Corporation (for the USA), MAPEI Inc. (for Canada) and MAPEI Caribe (for Puerto Rico and other Caribbean islands), whose 28 facilities collectively have a workforce of about 1,800 employees. MAPEI facilities have been certified to ISO 9001
and ISO 14001 quality standards. An environmentally conscious manufacturer that reinvests 5% of its revenue into R&D, MAPEI offers training for architects, contractors, installers and distributors through the MAPEI Technical Institute. For more about MAPEI, visit www.mapei.com or call 1-800-42-MAPEI (1-800-426-2734).