Ultra coverage in an 'Ultra Lite' package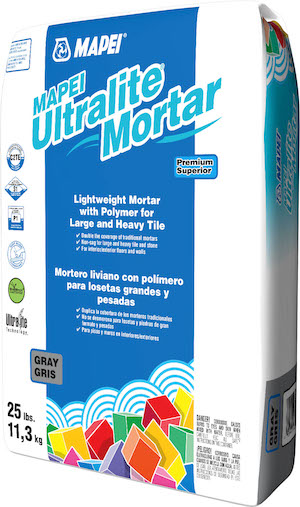 Deerfield Beach, Florida – MAPEI Ultralite Mortar is a premium, lightweight, single-component mortar designed for use with large-and-heavy tiles and non-sag applications. The versatile mortar can also be used for thin-set mortar applications. "Installers have come to rely on this mortar because it answers a variety of their application needs," said Brian Pistulka, MAPEI Business Manager for Tile & Stone Installation Systems. "Now, we are happy to announce that MAPEI Ultralite Mortar is even more in-tune with the installation requirements of today's market."
The most noticeable change is that the popular mortar is now available in gray as well as white. "MAPEI Ultralite Mortar is designed for installations with large and heavy tile and stone in wall and floor applications," Pistulka explained. "In addition, MAPEI Ultralite Mortar is now recommended for submerged applications like pools, spas and water features and is suitable for opaque glass tile installations 3″x3″ [7.5×7.5 cm] and smaller.
"Also, as a contractor once told me, 25 pounds is the new 50," Pistulka said with a chuckle. "We smile about this unofficial slogan because it is true. A 25-pound bag of MAPEI Ultralite Mortar will provide the same coverage as a 50-pound bag of a standard polymer-modified mortar." This means that the lighter amount of product reduces the workload when loading, handling and transporting material to the jobsite, as well as staging the job. The reduced weight means less fatigue, allowing for enhanced productivity and more energy to finish each job quicker, and allowing for more output in a day. "All of this without compromising performance or application properties that contractors have grown to desire and expect," Pistulka noted.
However, this does not mean lighter coverage. MAPEI Ultralite Mortar is polymer-enriched for high-performance and deformability. The smooth, creamy consistency of MAPEI's Easy Glide Technology™ means that whether installed in thin-set, large-and-heavy or in thick bond coats, the mortar will be easy to apply.
MAPEI Ultralite Mortar also features BioBlock® technology to resist mold and mildew. "And it contains more than 20% recycled content," Pistulka said, "making this eligible to contribute to sustainability certifications, including GreenSquared."
For more information about MAPEI Ultralite Mortar, visit www.mapei.com/us.