Dallas, TX – May 11, 2021 – Marazzi is currently launching its new Marble Obsession porcelain and ceramic tile collection that embodies 2021's new definition of luxury.  Marazzi's Marble Obsession is a marble-look assortment featuring an array of three unique marble visuals for floor, wall, countertop, and shower floors.  Its alluring color palette ranges from a classic white with dramatic gold veining to an attractive grey featuring white striations.  This well-rounded series offers versatility through a mix of different shapes, sizes, and finishes.  Marble Obsession's mosaics include a 2×5 picket, 8" hex, and a 6" arabesque that add modern elegance to any space.  Made in the USA.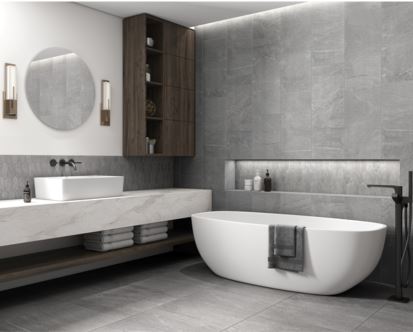 "Being surrounded by a beautiful environment makes us feel better and contributes to our well-being, but it is interesting to note that the concept of luxury is changing," said Shelly Halbert, director of product design, Dal-Tile Corporation.  "Luxury in 2021 does not mean opulent and redundant luxe, but rather creating harmony and class.  Luxury is being expressed through high-end materials such as marbles, precious woods, and expensive fabrics combined with good-quality craftsmanship to add sophisticated warmth to a space and sense of intimacy."
"Marble looks over the last three years have become a mainstream trend, with white marbles appealing to the mass and traditional segments, while designers and many consumers are growing bolder in their material choices, with colorful and high pattern veining such as Calacatta Gold and Arabascato," added Halbert. "The reason for the popularity of marble is due to its timeless elegant visual, and its versatility in both modern and traditional interiors. Why choose 'marble look' porcelain such as Marazzi's new Marble Obsession? It wonderfully brings the look of luxury into a space at a more affordable price and greater with durability/cleanability than natural marble."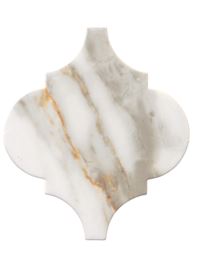 Marble Obsession – Calacatta Gold
Calacatta Gold is one of the most popular of the marbles because it has both warm and cool tones and works in both modern and traditional interiors.  It features a white background with dramatic veins in gray and golden tones.  Marazzi's new Marble Obsession Calacatta Gold will create a work of art on floors and walls with its dramatic variation while providing all of the performance benefits of porcelain and ceramic tile.
Marble Obsession – Arabascato
Marazzi's new Marble Obsession Arabascato was inspired from another beautiful marble from Italy that comes from a quarry in the Apuan mountains near Carrara.  This white marble has unique features of large to small oval areas of white surrounded by light grey and a hint of light rust in the veins.  
Marble Obsession – Grigio
Marazzi's new Marble Obsession Grigio is an attractive grey marble that features white veining. Although white marbles are still trending as the most popular color, grey marbles are a close second.