7/31/2023, Clarksville, TN. – MILE®stone, the distributed brand of Florim USA, hosted its second annual Sustainability Summit, entitled "It's Time to Take Responsibility." The event, held at the Florim USA factory in Clarksville, Tennessee, featured nationally known leaders in Architecture & Design, who discussed sustainability and what's important to them when designing with sustainability as a goal.
Speakers and topics included:
Rebecca Best, Executive Vice President of Sustainability, Material Bank: Embodied Carbon and Interiors
Alex Co, Sustainability Project Manager, WAP Sustainability: Transparency Trends in Tile
Don Haynes, Environmental/Sustainability Manager at Florim USA: Aggressive Innovation: Manufacturing for Sustainability
Sandra Parét, Chief Executive Officer, STG Design: The Impact of Design
AJ Paron,Executive Vice President, SANDOW Design Group: Portfolio Decarbonization: Transforming Ambition into Action
Jon Penndorf, Associate Principal in Perkins & Will's Washington DC office: Environmental, Governance & Social Aspects of Project Development
Brett Shwery, Senior Vice President, Interior Design Director, AECOM: The Mind of a Designer: Why Climate Matters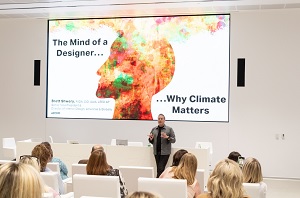 "The event's focus was a dynamic discussion between our speakers and the audience, enabling participants to ask questions, engage with these leaders in their field and ultimately spur everyone into a collective action. Here at Florim USA, we believe strongly in education and keeping our partners and clients updated on a range of topics when it comes to sustainability," stated Florim USA's CEO Rodolfo Panisi. "MILE®stone will continue to host Sustainability Summits annually to educate customers, collaborate with partners and hear directly from architects and designers about what sustainability initiatives and information are important to them."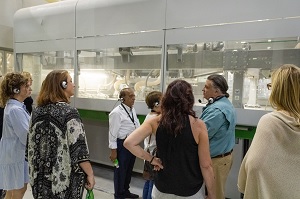 Attendees found the Summit to be "truly inspiring," appreciating "the vast amount of knowledge, perspective and specialties in the speakers."  Overall, the Sustainability Summit was clearly a venue of knowledge, inspiration, motivation and sharing.
Panisi concluded, "Collective action is a key to a sustainable future! It is time for all of us to take responsibility. This can only be achieved when companies, employees and customers work together towards collective goals."
For more information on MILE®stone Tile, visit www.milestonetiles.com.  
---
About MILE®stone
MILE®stone, the manufactured brand of Florim USA, is proud to represent sustainable tile, made in the USA. We are  committed to the environment and community by encouraging the use of building solutions through environmentally friendly practices. Our approach to sustainability intersects with our business strategy to embrace three areas of responsibility: economic, social, and environmental. In addition to numerous green memberships, accreditations, and certifications, MILE®stone introduced the industry's 1st Carbon Neutral Porcelain Tile and is taking steps to become carbon neutral by 2030.