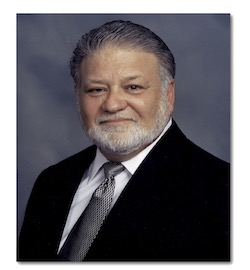 The tile industry is reeling from the news that beloved Tampa resident and industry personality Frank Anthony Canto passed away on June 23, 2023, at the age of 74.
The National Tile Contractors Association (NTCA) especially is hard hit by his passing. He was deeply involved in the association, serving as the association's regional director in the 1990s, and a member of the Technical Committee. Frank served as NTCA president from 2006-2008 and Chairman of the Board from 2008-2010 and was then named NTCA's Tile Person of the Year in 2010.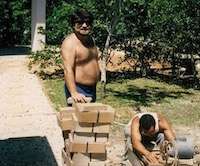 Those in the industry who read his President's Letters in TileLetter during his tenure will remember his warm, loving, and nostalgic tales of him learning the trade (and enjoying Cuban sandwiches!) as he worked with his father John Canto during the summers at Hillsborough Tile. Frank pursued an advertising career for two years, but in 1969, he returned to the tile industry, working in both residential and commercial segments with his father until 1982. Later, Frank held sales and project management positions in the commercial segment, and then formed Tampa's Canto Tile and Stone with wife Linda, daughter Natalie and son John. This business became an NTCA Five-Star Contractor, eventually becoming a consulting business that assisted owners, general contractors, architects and designers, and builders and distributors in all aspects of commercial and residential segments.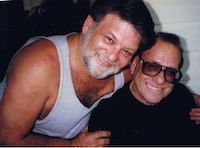 In the '80s, Frank was involved in starting the first tile contractors association in the state of Florida, recalled his brother Phil. There wasn't enough contractor involvement to sustain the association and when NTCA started to spread nationwide, "Frank and others started getting the Florida tile contractors to join NTCA," Phil said.
Frank was extremely committed to education and the promotion of the industry and trade and demonstrated a strong attention to detail. He was a major influence in countless industry segments: installers; distributors; manufacturers; architects; general contractors – all gravitated to his experience and knowledge.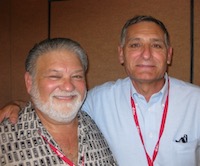 Frank was an amazing sketch artist. His brother Phil noted that "Frank's artistic ability really showed in his tile installations. Frank was always on the cutting edge of new and improved methods for the ceramic tile and stone industry."
Frank was known by many for his warmth, robust sense of humor, infectious laugh and storyteller skills – and a propensity to send jokes by text and Facebook Messenger. This writer recalls riding beside him in a bus to an industry event, and enjoying the humorous and kind conversation that ensued that instantly endeared him to her heart.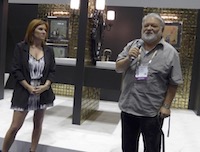 Harold Yarborough, retired Chairman of D&B Tile Distributors, recalls meeting Frank over 40 years ago, and discovered they shared "the same passion for the tile industry, striving for excellence and education. Through the years our friendship grew, and I am so honored to have known Frank as a friend. We all know that Frank will be looking over the tile industry from heaven."
"The tile industry will not be the same without the wonderful smile and booming laugh one could hear when Frank Canto entered the room," said NTCA Executive Director, Bart Bettiga. "Frank had a larger-than-life personality. When I started with NTCA in 2002, Frank was the Second Vice President and he welcomed and supported me immediately. As President of NTCA, Frank's letters in TileLetter shared his passion for the trade and his appreciation of the history of our industry. He loved his family and friends fiercely, and I was proud to be included in this group. Every year, he would bring me a box of cigars from Tampa and thank me for my role in his life and his trade. I looked forward to seeing him at trade shows and events. He is one of those people that made you smile no matter what was going on in your life. I will miss my friend, Frank Canto."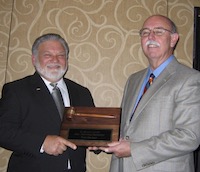 Woody Sanders, of D.W. Sanders Tile and Stone, fondly remembered Frank's writings when he was President, admired his closeness with his family, and enjoyed his rambling conversations with Frank that ranged from "the early years when he and Phil worked with their father, to his years in the commercial tile business and more recently what he was seeing in the consulting business," he said. "He was always helpful and reached out often just to say hello. Frank was a respected peer, but much more – a friend. When a community loses someone like Frank, I think we lose a piece of ourselves. I will miss Frank and the conversations we had."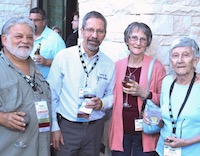 Scott Carothers, Academic Director of the Ceramic Tile Education Foundation (CTEF), said, "Frank was always willing to help in any way he could to promote Qualified Labor within the tile industry. Frank was on the NTCA Executive Committee behind me, which placed us in tighter communication than had we not been members of the committee."
He recalls a memory of Frank that took place at Total Solutions 2005. "I was walking down the hotel hallway on the way to breakfast and found Frank in that hallway in his boxer shorts and holding a newspaper, sporting his 'Don King' hairdo. He had stepped into the hallway to get his newspaper, but his room door closed and locked him out. I asked him how I could help. He said the door locked and his key was in the room. I said that I would go to the front desk and attempt to get him a key, which they refused. But they did send someone to Frank's room so that he could get inside and dress for the meeting." Joe Tarver, NTCA Executive Director Emeritus added, "Nothing upset him and the smile was always there."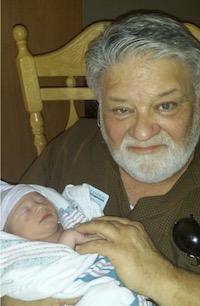 Frank is survived by his wife of 56 years, Linda; his daughter, Natalie Aprile (Jason); son, John Canto; grandchildren, Jason D. Aprile, Brodie Aprile, Angelo Canto, Alexa Canto, Alycen Canto, Adrian Canto and great-grandson, Greyson Rockwell; as well as brothers, sisters, nieces, nephews, and cousins.
Frank lived a fun and happy life, earning the love of many. He will be missed and remembered.
(With thanks to Frank Galifianakis, Phil Canto and Natalie Aprile)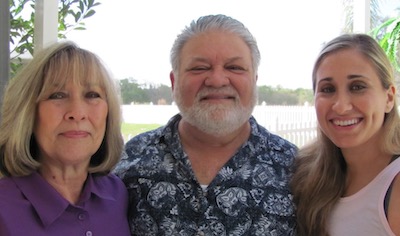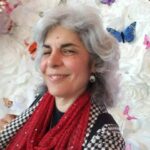 Editorial Director and Senior Writer for TileLetter and TileLetter ARTISAN
Lesley Goddin has been writing and journaling since her first diary at age 11. Her journey has taken her through a career in publishing and publicity, landing her the editor position of TileLetter and its special publications in 2006. Her goal is to educate, inspire, recognize and encourage those in the tile industry -- especially the tile and stone contractor. Other interests include the soft, purring marvels known as cats, labyrinth walking, drumming and percussion, and a range of spiritual, musical and artistic pursuits.