Morpholio Board, an interior design app that is touted by Interior Design magazine as "an ideal tool for designers", has named Daltile's Black River Pebble Mosaic as one of the Top Products for 2018. During the announcement, Morpholio complimented the "clever, innovative and beautiful designs that have emerged from the passion of creatives around the globe." Daltile's Black River Pebble Mosaic was included in Morpholio's "Top Residential Products that Stand Up and Stand Out" for 2018.
"Our trends team was not surprised when Ultra Violet appeared as Pantone's color of the year, as it says so much about how polarized forces can unite to form something that is beautiful, primarily for its strength. It is not a soft or easy color. We feel the same about the pieces selected here. They make bold moves, take chances, and exude what we call 'critical lightness' — taking seriously our need for beauty, playfulness, and exploration," noted Morpholio.
The Daltile Black River Pebble Mosaic, a natural stone tile mosaic with a stone cut finish, was picked from thousands of products. Morpholio said that trends tracked among its growing community of professional and non-professional interior designers, user data, influencer insights and Morpholio's own curatorial team were all factors in naming the distinguished winners of the 2018 Products Of The Year designation.
With products and styles for every budget, Daltile delivers a broad array of tile with unmatched availability, helping customers bring any design imaginable to life. Access the full line-up of Morpholio Top Products here, and visit www.Daltile.com for more design inspiration.
###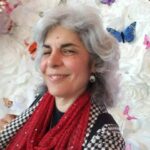 Editorial Director and Senior Writer for TileLetter and TileLetter ARTISAN
Lesley Goddin has been writing and journaling since her first diary at age 11. Her journey has taken her through a career in publishing and publicity, landing her the editor position of TileLetter and its special publications in 2006. Her goal is to educate, inspire, recognize and encourage those in the tile industry -- especially the tile and stone contractor. Other interests include the soft, purring marvels known as cats, labyrinth walking, drumming and percussion, and a range of spiritual, musical and artistic pursuits.