iQ Power Tools, manufacturer of premium power tools with integrated dust collection systems, introduces accessories for the first "Dry-Cut Tile Saw" designed to cut ceramic, porcelain, marble and stone.
The iQTS244® is the 10" dry-cut tile saw specifically created for professional tile setters and contractors. With the world's first fully integrated dust control technology, this innovative tool allows for tile to be cut inside or outside with no water and no dust.
iQ Power Tools is now meeting and exceeding their customers' needs with the addition of three key accessories:
The iQTS244 Miter Attachment accommodates 22.5° and 45° miter bevels cuts for both ceramic and stone tile up to 24" long and ¾" thick. The iQ quick clamps allow for quick setup and versatility for making miter cuts on various tile sizes and thicknesses.
24" miter cut length capacity
Miter up to ¾" thick materials
22.5° and 45° miter bevel cuts
iQ quick clamps facilitate easy setup
The iQTS244 Extension Table adds versatility to the iQTS244 dry cut tile saw.  The Extension Table utilizes a smooth, extra-large table surface and cutting fence that allows cutting of large-format, ceramic tile of 48" or more. The synchronized measurement scale on each end of the table and the quick clamp cutting fence enable long cuts that are accurate, simple to set up, and easy to cut. The iQTS244 cutting fence is designed to clamp on the side for easy transport and storage.
Cut large-format, ceramic tile of 48" or more
Heavy-duty, durable PVC board with smooth cutting surface
Synchronized measurement scale on each end of table for easy set up and accurate cuts
Makes the iQTS244 dry cut tile saw more versatile
The iQTS244 Vacuum Port Hose converts the iQTS244 into a convenient vacuum that can be used to clean up the surrounding work area, grout joints and other areas where you need a quick touch up. Featuring a 10" hose and both narrow and wide nozzle attachments, the Vacuum Port Hose Kit quickly connects to the dust collection slot of the iQTS244. The Vacuum Port Hose Kit comes with a handy carrying bag to keep everything organized and ready when you need it.
Easily convert your iQTS244 into a vacuum
Durable, construction-grade hose and nozzles made to endure years of job site use
Keeps your work area neat and clean
Convenient, eliminates the need for a separate vacuum in your workspace
This revolutionary saw along with all the accessories will be demonstrated LIVE at the iQ Power Tools booth, #4575, during The International Surface Event: SURFACES | StonExpo/Marmomac | TileExpo, January 30-Feb 1, 2018 at Mandalay Bay Convention Center in Las Vegas.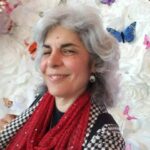 Editorial Director and Senior Writer for TileLetter and TileLetter ARTISAN
Lesley Goddin has been writing and journaling since her first diary at age 11. Her journey has taken her through a career in publishing and publicity, landing her the editor position of TileLetter and its special publications in 2006. Her goal is to educate, inspire, recognize and encourage those in the tile industry -- especially the tile and stone contractor. Other interests include the soft, purring marvels known as cats, labyrinth walking, drumming and percussion, and a range of spiritual, musical and artistic pursuits.