Mosaic Companies, the parent company of Walker Zanger and Opustone has been flexing their muscles since the acquisition of the brands in early 2021. For example, the company has been heavily investing in new product lines and deep inventory levels, benefiting from its considerable buying power and global logistics expertise.
This movement has proven instrumental during the early months of 2022, allowing Walker Zanger and Opustone to offer new and unique products, reaffirming both brands as leaders in their respective markets.

With the unfortunate events in Europe, compounded with the additional disruption on the challenging logistic landscape, the leadership of Mosaic Companies has gone "all in" on its ability to produce, buy and move material across the globe. As a result, this commitment has increased or advanced orders to its global supplier network, further securing substantial buffer inventory.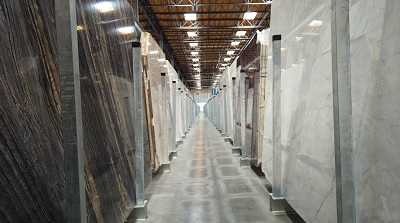 The aggressive decision to advance its initial purchase forecast, in some cases, by more than double doesn't come without its challenges. Finding adequate storage for all of this material is one of the critical puzzles Mosaic Companies' logistic team is solving.

"Our commitment to our customers, dealers and distributors across the country guided the decision. We want to ensure that we're prepared for whatever the future brings. By heavily stocking the current lines – in some cases with enough material for an entire year of orders – we will fulfill our promise to our customers, dealers, distributors, partners, and employees." said Keith Denny, Mosaic Companies' President.

This year's initial investment of nearly $100 million has been dwarfed by the massive amount of new orders. In addition to substantial tile orders, Mosaic Companies has already secured more than 2.5 million sq ft or 45 thousand premium slabs coming to the US, and its showrooms. Thus, Mosaic Companies is setting a solid position in the industry as one of the most prominent players in the industry, with an impressive growth runaway.
---
About Mosaic Companies, LLC
Mosaic Companies, LLC is a holding company formed in 2019 as a partnership between Albert Claramonte, the entrepreneur who founded Surfaces and pioneered the US glass mosaic tile market, and the Baupost Group, a leading Boston-based investment firm with significantexperience partnering with family- and founder-owned businesses with the goal of building a leading omnichannel platform in specialty wall, mosaic, and slab. Mosaic provides its portfolio of companies with access to its depth of resources to excel and grow and invests in brands that are devoted to offering quality products and services, while maintaining a strong passion for their customers. To learn more about Mosaic Companies, please visit www.mc.llc

About Walker Zanger
Walker Zanger is the leading stone and tile design resource in North America. For over 70 years, the company has helped design-trade professionals and homeowners realize their boldest design visions with the most unique, original and thought-provoking surface materials. Walker Zanger has quickly become a go-to expert in the industry, and is often the first to discover new materials, styles, innovations and specialty surface products. Rooted in natural stone slab design, the company continues to push the boundaries of possibility, including recent introductions of cutting-edge materials like recycled glass slabs and thinner-than-stone porcelain slabs that emulate natural marble veining. The company carries on the innovative
spirit with equal passion today in their curated showrooms and slab galleries, and 200
authorized dealers nationwide. To learn more about Walker Zanger, please visit
www.walkerzanger.com.

About Opustone Stone
Opustone Stone is Florida's most broadly sourced importer and distributor of natural and engineered stone and tile, carrying over 10,000 products carefully curated from over 25 countries worldwide. Established in 2001, the company is one of the region's most sought-after distributors and leading experts on decorative and ornamental stone, sourcing the world's most exclusive and high-quality materials. Opustone's state-of-the-art design centers in Miami, Fort Lauderdale and West Palm Beach are destinations for design trade professionals, providing an elevated shopping experience and immersive studios for designers and architects to visualize their projects. To learn more about Opustone, please visit https://opustone.com.