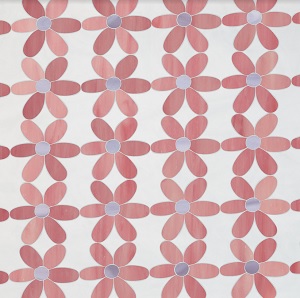 July 20, 2023 (Exmore, Virginia) …..New Ravenna, America's premier designer and manufacturer of mosaics for residential and commercial installations, has integrated joyous pink jewel glass into several handcrafted mosaic designs. Inspired by the midcentury spirit of Barbiecore, the maximalist mosaics reflect both the craftsmanship and saturated color that is the signature of New Ravenna. Hand poured Morganite jewel glass features prominently in these artisan mosaics, which are custom created for vertical interior installations.
Cean Irminger, creative director of New Ravenna, says of the trending shade, "There is a reason that to look through 'rose colored glasses' denotes seeing the best of the world. Pink has always been more mood than color, shifting between shining a bright candy-coated optimism into creating an atmosphere of soft edged romance and cheerful connection. It is the color that bookends each day, that springs forth in wild summer fields, and thanks to a wildly popular, confident, and very career driven gal named Barbie, it is the color most closely connected in our memories to the concept of a 'Dreamhouse.' "

New Ravenna mosaics are available at showrooms throughout the United States, Canada, and Europe. www.newravenna.com #757.442.3379.
---
New Ravenna is America's premier designer and manufacturer of custom stone and glass mosaics for both residential and commercial installations. The handcrafted mosaics are fashioned into decorative borders, murals, fields, medallions, and fine art panels. Mosaic materials are polished, tumbled, honed, and cut to create distinctive styles and subtle shade variations and textures. The installations are custom works of art in mosaic tile, which often incorporate the designs of architects, interior designers and their clients.

New Ravenna mosaics are found in homes, restaurants, hotels, casinos, and businesses around the world, and are available for purchase through designer showrooms across the country and internationally.
Top photo: Maharaja, a waterjet mosaic shown in Morganite, Obsidian, and Absolute White jewel glass.