LOS ANGELES (JULY 20, 2023) – Emser Tile, leading designer and producer of the world's finest tile and natural stone, has released a video in celebration of 55 years in business. The video, entitled 'We Are Emser' offers a glimpse into the company's history, culture, capabilities, and future.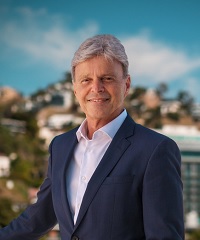 Founded in 1968, Emser Tile has grown to include 78 showrooms nationwide, fourstrategically placed distribution centers, and a corporate office building that is considered a cultural icon and a historic landmark in West Hollywood.

The Emser team has grown to over 1,000 employees, many of whom have been with the company for a decade or more – including Emser CEO and President, Carl Delia who began his career with the company in 1987.
"As we celebrate Emser's remarkable journey of 55 years, I am in awe of the milestones we have achieved. It is a testament to the unwavering dedication of our employees, partners, and customers who have been instrumental in our success," said Carl Delia, CEO and President, Emser Tile. "As we turn our gaze towards the future, we see immense opportunities awaiting us as we continue to embrace innovation and growth."

The 'We Are Emser' video shares a story of a strong vibrant company dedicated to partnership, customer service and excellence, and can be viewed here: We Are Emser – Video.
---
About Emser Tile LLC
Emser Tile is the largest privately held designer and marketer of tile and natural stone products in the United States. Our principle offering includes an extensive line of ceramic, porcelain, natural stone and decorative products to service the design and product needs of our customers. Our products are distributed nationally through a company-owned network of local sales and service locations. The company's products are used extensively in new home construction, remodel applications as well as commercial projects including multi-family housing, hospitality, shopping centers, office buildings and educational facilities. For more information, please visit www.emser.com and follow us on Facebook, Twitter, Instagram and Pinterest