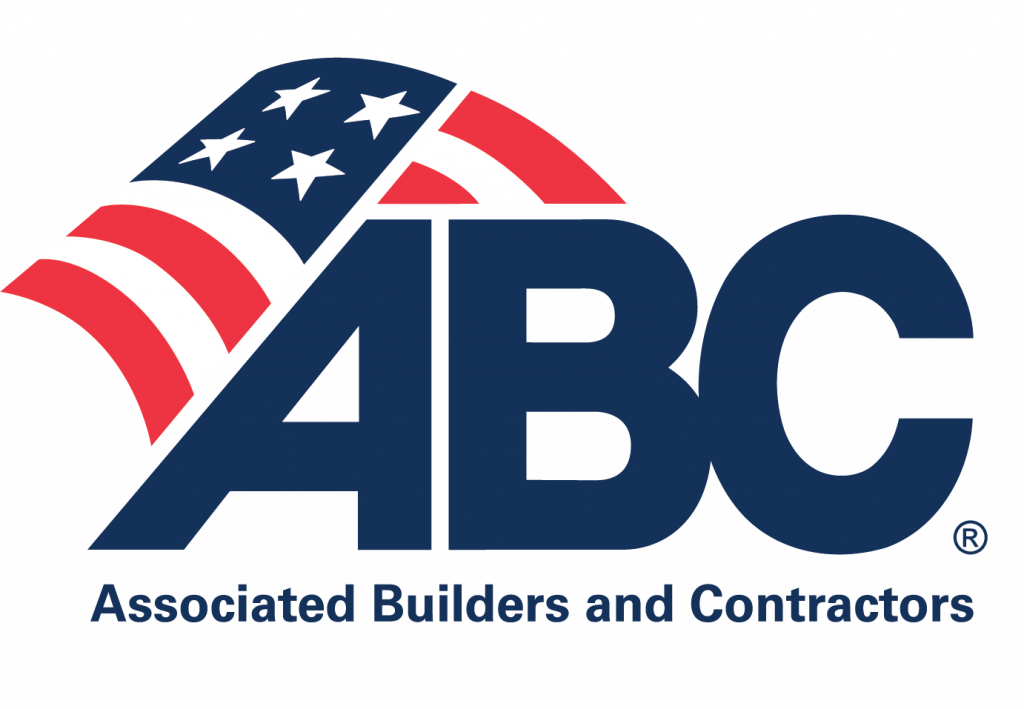 WASHINGTON, Nov. 3—The construction industry added 23,000 jobs on net in October, according to an Associated Builders and Contractors analysis of data released today by the U.S. Bureau of Labor Statistics. On a year-over-year basis, industry employment has increased by 219,000 jobs, an increase of 2.8%. 
Nonresidential construction employment increased by 8,400 positions on net, with growth in all three subcategories. Nonresidential specialty trade added 4,200 positions, while nonresidential building and heavy and civil engineering added 2,600 and 1,600 jobs, respectively.
The construction unemployment rate increased to 4.0% in October. Unemployment across all industries increased from 3.8% in September to 3.9% last month.
"The construction industry added jobs for the seventh consecutive month in October," said ABC Chief Economist Anirban Basu. "Over the past year, hiring has been concentrated in the nonresidential segment, with especially strong employment growth in the nonresidential building category. This is in large part due to the unprecedented surge in manufacturing megaprojects.
"While contractors' demand for labor remains robust, the rising cost of labor, pushed upward by worker shortages, remains a pressing issue for the industry," said Basu. "Average hourly earnings for construction workers increased at over twice the rate of economywide wages in October and have risen significantly faster over the past 12 months. With over half of contractors intending to increase their staffing levels over the next six months and fewer than 7% intending to downsize, according to ABC's Construction Confidence Index, labor shortages should continue to push wages higher over the next few quarters."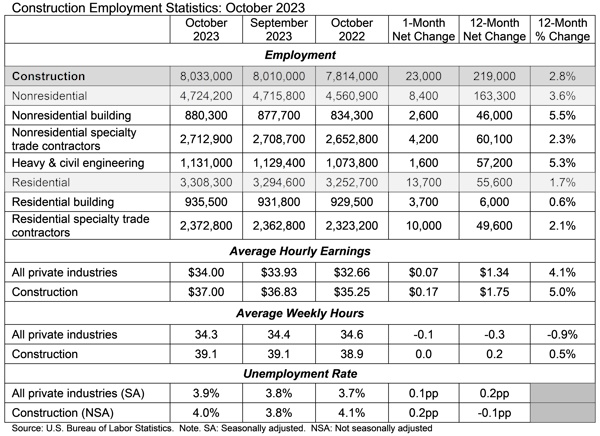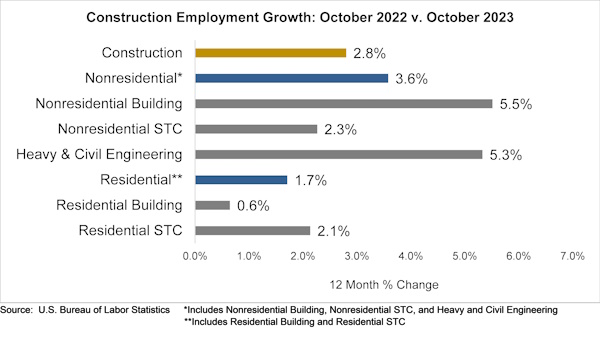 ---
Visit abc.org/economics for the Construction Backlog Indicator and Construction Confidence Index, plus analysis of spending, employment, job openings and the Producer Price Index.
Associated Builders and Contractors is a national construction industry trade association established in 1950 that represents more than 22,000 members. Founded on the merit shop philosophy, ABC and its 68 chapters help members develop people, win work and deliver that work safely, ethically and profitably for the betterment of the communities in which ABC and its members work. Visit us at abc.org.