The National Tile Contractors Association (NTCA) honored numerous members and scholarship winners during a special in-person awards ceremony on Thursday, July 8th at the Coverings trade show held in Orlando, Fla.
"It was so exciting to be able to gather together again this year to celebrate our recipients," said NTCA Executive Director Bart Bettiga. "Coverings is a special event and we are delighted to be a sponsoring association of the show."
Brad Denny, Vice President of Nichols Tile and Terrazzo of Joelton, Tenn., was honored as the NTCA Tile Person of the Year. Denny was cited for his work on the ANSI A108 subcommittee and the NTCA Apprenticeship Program, as well as being a mentor to younger members of the association and a positive influencer on social media. 2020 NTCA Tile Person of the Year Martin Brookes, of Heritage Marble & Tile, Inc., Mill Valley, Calif., presented the award.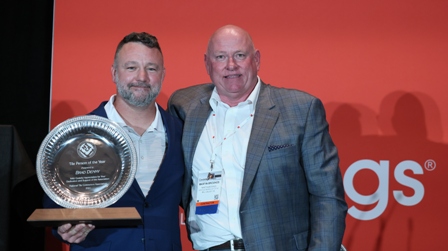 NTCA presented a Special Recognition Award to Lee and Jane Callewaert of Dragonfly Tile and Stone in Milwaukee, Wis., and Joshua Nordstrom of Tierra Tile in Homer, Alaska. The three collaborated with NTCA on a special virtual artisanship project that was assembled throughout the week and streamed live from Dragonfly's studio in Wisconsin to attendees in the Coverings Lounge.
Leo Reynaga (Residential) of Visalia Ceramic Tile of Visalia, Calif., and Ferid Hasic (Commercial) of Grazzini Brothers of Minneapolis, Minn., were honored as the Second Annual NTCA Craftspersons of the Year. The award was announced in 2020, but both craftsmen were honored for installation excellence at the 2021 show.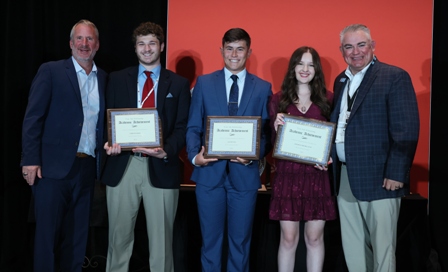 Three deserving students were named as the 2021 NTCA Tom Ade Ceramic Tile Scholarship recipients and each received a $5,000 scholarship. Jacob Fox – son of Kevin and Jolene Fox, Fox Tile, St., Marys, Kan., Christopher Walker, son of Christopher and Elena Walker of David Allen Company, Raleigh, N.C.,  and Amanda Mourelatos, daughter of John and Valerie Mourelatos, Mourelatos Tile, Tucscon, Ariz., were honored for outstanding academic and community achievement in their respective communities with these awards.