The National Tile Contractors Association (NTCA), the world's largest tile contractor association announced the winners of its sixth annual NTCA Five Star Contractor Project of the Year Awards at Coverings 2018 in Atlanta, Georgia.
NTCA's Five Star Contractor Awards were presented for both Commercial and Residential Tile Installations. Many submissions were received and judged via the following criteria: Scope (size of project), Complexity (challenges), Technical Soundness (resolution of challenges) and Design & Presentation (overall appearance, layout and artistic value). 
This year's judges included: 
Kent Klaser of Ceramic Tile and Stone Consultants, Inc., San Diego, CA
Gregory Mowat of Forensic Tile Consultants, San Diego, CA
Richard P. Goldberg of Professional Consultants International, LLC, Avon, CT
Sponsored by Daltile, NTCA Five Star Contractor Grand Prize Award winners received a custom plaque and were awarded two round-trip airfare tickets and a two-nights hotel stay in Atlanta for the Coverings Show.
GRAND PRIZE – COMMERCIAL
By Christian Brothers Flooring & Interiors, Lakeside, Calif.

The Mesa Commons installation in Irvine, CA resulted in a striking visual appearance, design and layout, and the complex environmental challenges overcome during construction are those a NTCA Five Star Contractor could solve easily with its specialized training. To bring this spec to life, Christian Brothers had to overcome constraints caused by weather conditions up to 100 degrees and soaring exterior heights.  The project was also exemplary in the use of porcelain tile to integrate interior and exterior design with common palette of colors, textures and features.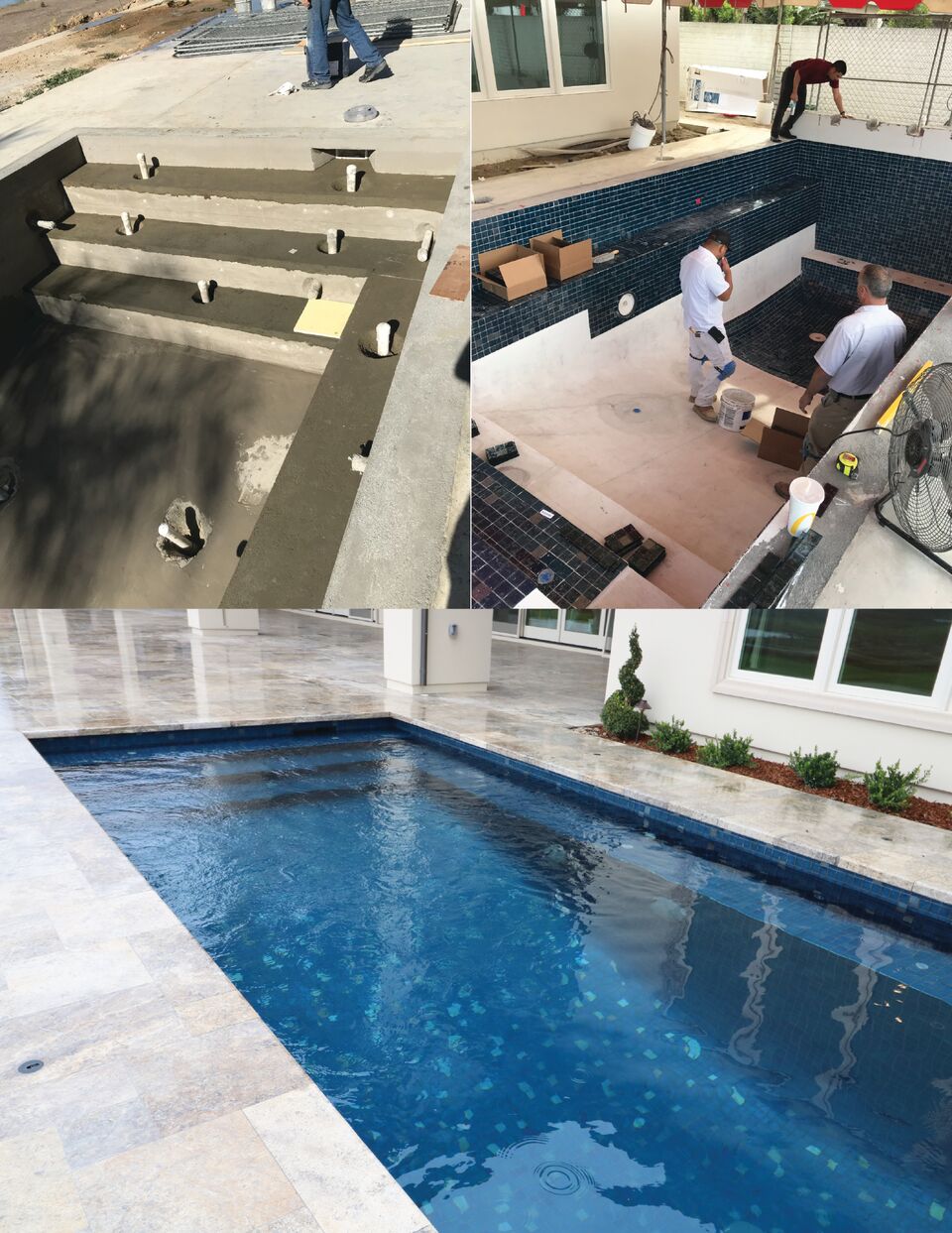 GRAND PRIZE RESIDENTIAL
by Visalia Ceramic Tile, Visalia, Calif.

Workmanship and artistic qualities brought the Hoffman Residence in Fresno, CA to life. A challenging mixture of both natural stone and ceramic presented the opportunity for Visalia to showcase its Five Star Contractor skills. This residential project showcased new product and installation technologies, as well as the unique capability of tile assemblies to integrate other underlying building systems such as radiant heat and building envelope waterproofing.
GRAND PRIZE
COMMERCIAL ELITE
By David Allen Company
David Allen Company of Raleigh, NC was the recipient of the Five Star Grand Prize Award for Commercial Elite Project of the Year (over $1 million). Nearly 80,000 square feet of marble and tile were meticulously installed in the new Kimpton Tryon Park Hotel in Charlotte, NC. Of the many complexities which presented themselves working in a metropolitan area, the narrow doorways offered a unique opportunity for this contractor to showcase its innovative thinking. The team built custom narrow crates and stocked all of the materials required for each guest room into a single crate; saving time and labor on the job.
A trusted Five Star Contractor was preferred and required to partner with the General Contractor to address these many challenges, because the technical challenges associated with this project would need the involvement of an industry-leading trained expert.
NTCA Five Star Contractor Residential and Commercial Project of the Year Achievement of Excellence Awards were also presented. These included:
Residential
Floorology for Nature-Made Bathroom
W. Sanders Tile & Stone Contracting for Classic Inspiration with Modern Luxury for Her Bathroom Remodel
Commercial
David Allen Company for Chancery of Morocco
J&R Tile for the Hotel Valencia Riverwalk
Artcraft Granite, Marble & Tile Co., for Arizona State University Memorial Union
Commercial Elite:
ProFast Commercial Flooring for Sagamore Hotel
California Tile Installers for Apple Campus 2 Gateway Tunnel
 "We would like to thank our contest judges and sponsor for their support and of course, all of the Five Star Contractor Members who submitted incredible projects." stated Bart Bettiga, Executive Director of the NTCA. "Each of these winning installations, as well as the other submitted projects, clearly demonstrates the value of engaging an NTCA Five Star Contractor in such complex arenas. Job site issues such as a confined urban site, mixed product media, material delivery and staging restrictions, new technologies, creative coordination with other trades, and solving problems quickly are exemplary traits of our Five Star Contractors."
Call for Entries for the 2019 Five Star Contractor Awards will begin January 15, 2019.