NTCA, Crossville, Inc., and MAPEI are all supporters of the program
One of the most moving moments of the NTCA Awards Night was the talk given by Sgt. Eric Hunter and his wife Kenna, who gave personal insight in to the transforming power of Gary Sinise Foundation R.I.S.E. specially-adapted smart homes.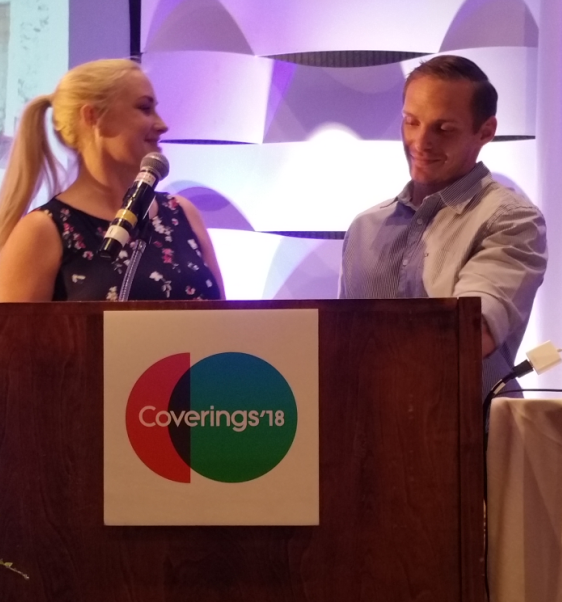 Sgt. Hunter and Kenna spoke about the circumstances that surrounded the family's need for a specially-adapted smart home, provided by the Gary Sinise Foundation R.I.S.E. Program. NTCA, along with ceramic tile donor Crossville, Inc., and setting materials supplier MAPEI, have been supporters of this program.
Sgt. Hunter explained how after suffering injuries in the service of his country, he was denied assistance from other organizations because he wasn't injured "enough" to qualify for assistance. A cut to his Social Security benefits increased the hardship the family was facing in a home that was inadequate for his special needs. He explained how the Gary Sinise Foundation R.I.S.E Program gave hope to him and his family, and how the specially-adapted smart home will allow him to regain independence and dignity.
While introducing Eric and Kenna Hunter, NTCA assistant executive director Jim Olson said, "These life-changing homes not only provide our injured veterans the opportunity to reclaim independence but also the families that have sacrificed alongside them.The recipients of the Foundation homes are deeply grateful for the support of the many sponsors and volunteers. Every one of them have hand signed a photo of their completed home and have sent them to us."
He continued with the introduction, saying " United States Army Sergeant Eric Hunter was first deployed to Iraq in 2010. While there, he connected on the internet with a girl from his hometown named Kenna, and they remained in contact throughout his deployment. On June 1st, 2011, Eric and Kenna married and she and her two children came to live with him in Kentucky.
"Eric's second deployment in 2012 took him to Afghanistan," he continued. "On May 31st, 2012, the day before Eric and Kenna's one year anniversary, while patrolling his unit, Eric stepped on an improvised explosive device. Along with many other injuries, the bomb took his right leg and shattered his left. Eric was flown to three different hospitals before arriving at Walter Reed National Medical Center, where Kenna came to be at his side.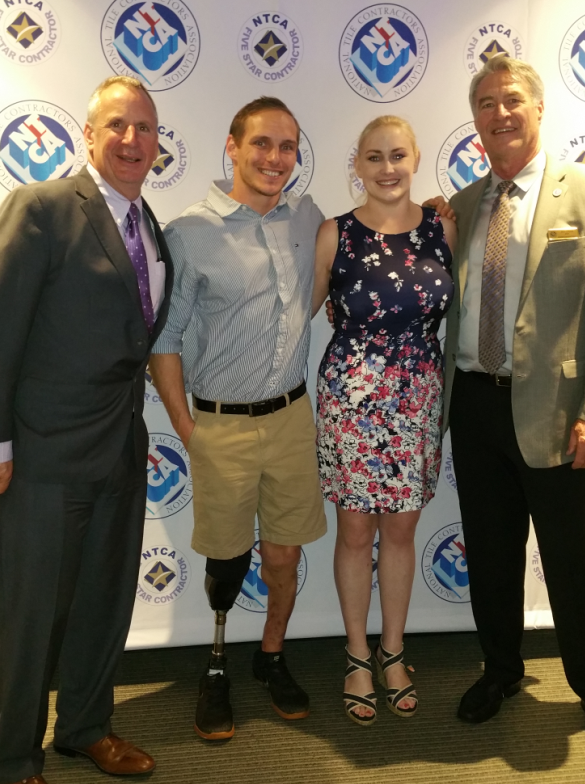 "Eric spent four years at Walter Reed where he has undergone 61 surgeries with the possibility of more to come as he still feels pain in his salvaged leg," Olson added. "In December 2016, Eric and Kenna welcomed a new baby girl, making them a family of five. They currently reside in a non-handicap accessible rental in Marietta, GA. Since Eric cannot use his wheelchair in his home, he has to cope with being in pain while walking or scooting from room to room. The Gary Sinise Foundation is honored to provide the Hunters a specially adapted smart home to further enable this soldier and his family to move forward with their new life together. The NTCA is proud to be a part of this program and we are particularly honored that they are willing to say a few words to us tonight about the difference the Foundations supporters are making in their family's life."
View a video of Eric and Kenna's remarks on the National Tile Contractors Association Facebook page here: Sgt. Eric Hunter and wife Kenna remarks at NTCA Awards Night
Jim Olson coordinates sponsors and assists in finding NTCA contractors to provide labor to install donated ceramic tile. For information on being involved in the program, contact Jim Olson at [email protected].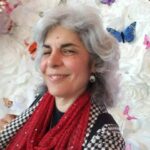 Editorial Director and Senior Writer for TileLetter and TileLetter ARTISAN
Lesley Goddin has been writing and journaling since her first diary at age 11. Her journey has taken her through a career in publishing and publicity, landing her the editor position of TileLetter and its special publications in 2006. Her goal is to educate, inspire, recognize and encourage those in the tile industry -- especially the tile and stone contractor. Other interests include the soft, purring marvels known as cats, labyrinth walking, drumming and percussion, and a range of spiritual, musical and artistic pursuits.