There are still six weeks until Coverings touches down at the Las Vegas Convention center April 5-8. But NTCA, Coverings and the School of Architecture at the University of Nevada Las Vegas have been collaborating on a special project since the end of 2021.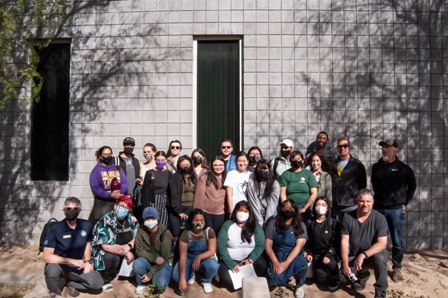 Twenty-seven architecture students, organized into eight teams, will create a special student Outdoor Pavilion project at the show, complete with eight custom, student-designed benches and a serpentine wall.
As a basis for this project, the students are getting a thorough grounding in tile industry standards and methods for writing tile specifications, best practices for specifications and for installing tile, tile design intricacies, qualified labor, tile types, setting material,  substrates, and tile tools, including their application and usage. The TCNA Handbook for Ceramic, Glass and Stone Tile Installation and NTCA Reference Manual will serve as an important resource for the class.
Along with Coverings, a core of sponsors and partners met in person with instructors at UNLV during the first week of February. These partners include Tile Council of North America (TCNA), National Tile Contractors Association (NTCA), MAPEI, wedi, QEP, Arizona Tile and iQ Power Tools. These partners are providing resources, guidance and materials for the project.
Mark Heinlein, NTCA Training Director, finalized instructional plans with UNLV staff and began student training just last week on February 15. Throughout February and March, UNLV School of Architecture students will meet with Josh Vermillion, UNLV School of Architecture Associate Professor and Assistant Director and Paul Morrison, UNLV School Of Architecture Craft Studio Principal inside and outside of schedule class time to finalize bench designs including scale renderings, tile and grout selection, etc.  Mike DeMello, MAPEI Technical Expert, will continue student education at UNLV on March 1 and Mark Heinlein will return to UNLV on March 22.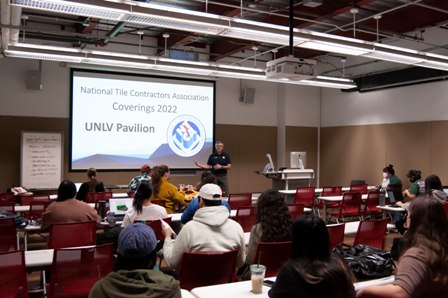 Following his recent time with the students and staff at UNLV, Heinlein stated, "It was a refreshing experience to work with persons who will have a positive future impact on the tile industry. They are a smart, excited group who are dedicated to becoming the best professionals they can be, and are glad to have an educational and hands-on background specifying, designing, constructing and installing their own tile projects."
Prior to Coverings, all benches will be fully designed, erected and tiled from start to finish on the UNLV campus. Completed modules and the serpentine wall will be transported to a special show booth at the exhibit hall where they will be displayed at the event. Following Coverings, the benches and wall will be relocated to a prominent permanent location on the UNLV campus to be enjoyed by all for years to come.