For this letter, I'd like to veer off my usual format a bit and talk to you about an issue that will impact you if you are placing photography in TileLetter print magazine.
Increasingly, we live in a digital world, which runs on imagery. Personal and business pages, newsletters and news posts on the web (including TileLetter.com) are populated with imagery that looks great on a computer, tablet or phone screen. But reproducing those same images in print doesn't give us the same results. Let me explain.
Images are described as having a particular "resolution," which refers to the detail that an image holds. The higher the resolution, the more detail, and of course the lower the resolution, the less detail. Image resolution is measured in DPI (dots per inch, for print) and PPI (pixels per inch, for digital). They both refer to the number of units within a square inch of an image.*
Digital images you see online are somewhere between 72 and 100 DPI. This lower pixel range allows users to access pages faster and the size and quality of the image is suitable enough for viewing on electronic devices.
Images you see when you open a magazine or picture book are 300 DPI or higher. And this is because a printed image requires much more detail per inch to showcase clarity.
For instance, just because the 640×480 pixel image with 72 DPI you use on Facebook looks great online, doesn't mean it will print clearly in the magazine. For your 72 dpi image to produce a lush, clear, rich print reproduction of your head shot, project photos, products, etc., it would need to measure 4000 – 5000 pixels wide – or an image that would measure 32″ wide by 72″ tall! At 300 DPI, an image that is 1200×1800 pixels would result in a clear 4″x6″ print.
The image file size is also a clue to proper resolution. Often I get images that are 128 KB (kilobytes), or even lower. That tells me immediately that the image is going to be unusable for print. Adequate images typically start at 2-3 MB (megabytes, or 2000-3000 KB), which packs in a lot more information and makes for clearer reproduction.
The good news about high resolution images is they can always be resized and used smaller for online forums or posts, but low resolution images cannot be made larger. So it's important that originals are shot high res.
Android phones have a range of resolutions you can shoot at, accessible in Settings in the Camera app. I always choose the largest rear photo size, 4032×3024. Similarly I choose the largest size for the front (selfie camera).
iPhones don't have various size options to choose from but shoot images automatically depending on the megapixel size of your iPhone. Unless your iPhone is older than the iPhone 6S, you shouldn't have any resolution issues. All iPhones use 12 megapixel cameras or 12 million pixels for all images. However, iPhones will compress images to 800 x 600 pixels when you tap the icon to email if you're not paying attention. Again, great for social media, bad for print. Make sure when emailing your photos from an iPhone to choose "Actual Size," never "Large." "Large" is only large by email standards and will reduce the quality of your image for print.
Another thing to note is that sometimes email protocols themselves compress images. Make sure to look at your email settings for attachments to be sure you're sending your files at their original size. Actually, the best way to send high resolution images is through an app like Dropbox, WeTransfer, Box or Share File. These types of free web-based applications don't downsize your files. And for added convenience, you can "zip" them up using an app like WinZip on a PC to keep them all together in one folder for easy uploading.
This may all sound very technical, and it is, but it's important if you want your photos in print. It's akin to using the proper trowels and tools for your tile setting job – without them, you don't get the precision outcome you are looking for.
So, a good rule of thumb for sending images to TileLetter, make sure they measure at least 4000 pixels wide at 72 dpi, or 2400×3600 pixels at 300 dpi. I'm including an article that offers a clear explanation of resolution and why it matters, plus examples of high resolution print images and low resolution print images and why you want the former. https://bit.ly/3zxmKvX
Thanks for coming along on that lesson in print photo resolution. For THIS issue, enjoy the lineup of inspiring, helpful and educational content. Champing at the bit to get back to in-person training? Check out the Training & Education story and learn what NTCA has on tap for 2022 at a physical location near you. Michael Miller of Tile Innovations is our Member Spotlight, with high praise of how membership in NTCA has benefited his business. Kevin Fox of Fox Tile takes us through computations not unlike our photo resolution calculations in his Technical article on determining minimum grout joints. And get to know one of the industry's brightest emerging talents in our Rising Stars article – Cody Cox, General Manager for Cox Tile in San Antonio. Luca Setti of FocalPoint tells us more about becoming a thought leader in the Business section. And Bart Bettiga's talks with Jason McDaniel in the One-to-One article to explore the development of Global Tile Posse and Jason's striving for excellence and positivity in the industry. Also we get a different perspective on the demolition of a shower by a disgruntled contractor in Colorado Springs. Jason and a team of local contractors and industry sponsors have turned a harrowing experience for the homeowner into a show of love and support. That's something to be thankful for, appropriate in this month that we set a day aside to give thanks for all the good in our lives. Wishing you the best!
God bless,
Lesley
[email protected]
* Special thanks to Michelle Chapman, Art Director extraordinaire, for helping to explain the photo resolution arithmetic!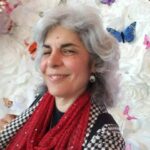 Editorial Director and Senior Writer for TileLetter and TileLetter ARTISAN
Lesley Goddin has been writing and journaling since her first diary at age 11. Her journey has taken her through a career in publishing and publicity, landing her the editor position of TileLetter and its special publications in 2006. Her goal is to educate, inspire, recognize and encourage those in the tile industry -- especially the tile and stone contractor. Other interests include the soft, purring marvels known as cats, labyrinth walking, drumming and percussion, and a range of spiritual, musical and artistic pursuits.