Portobello America, a Portobello Group company, designs, produces and provides complete hard surface solutions focused on the U.S. market at its new American factory, proudly presents its 2023 Fall Collection of Wall and Floor Tiles.
Recently, the firm offered guests attending its factory's Inaugural Celebration, a first-look at its 2023 Fall Collection. These new offerings are domestically produced and specifically designed for the American marketplace… using advanced manufacturing design and production technology.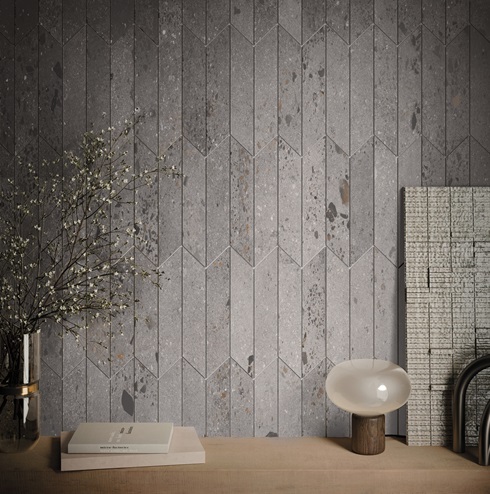 The LAB Collection is an exquisite range of glazed porcelain, consisting of four distinct shades of gray, offered in the following field tile sizes: 12×24 and 24×48. Matching chevron and mosaic pieces are available, as well. LAB's handcrafted concrete collection is inspired by contemporary architectural design and embodies modern aesthetics of urban living.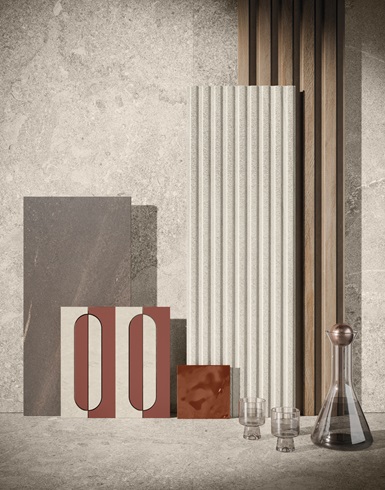 The NORIAN Collection is comprised of glazed porcelain in four neutral colors, matte or polished finishes and comes in field sizes 12×24 and 24×48. Also available in stripe, mosaic and triangle pieces, Norian mosaics may be used in conjunction with other PBA Collections. Evoking the inherent beauty and timelessness of limestone, its fluid lines create tactile-textured surfaces reminiscent of ancient limestone… blending yesterday's designs with today's. From classic to contemporary, the Norian Collection is a versatile addition to all types of interior environments.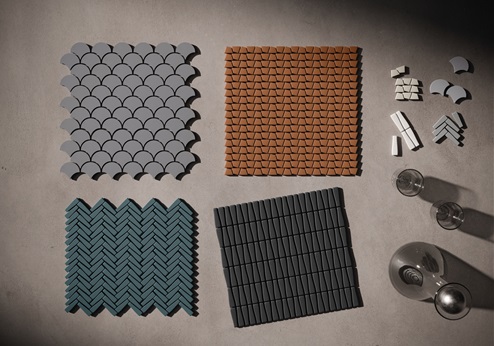 The NASH Collection features matte glass mosaics in four shapes (Brentwood, Midtown,
Broadway, and Sobro); eight colors (White, Sand, Silver, Ash, Amber, Cyan, Indigo and Black). Inspired by the harmonious fusion of Nashville's music, and its architectural legacy, Nash beautifully partners with all PBA field tile collections to create monochrome to bold and vibrant contrasts. These glass mosaics effortlessly combine to create a harmonious flow in interior spaces for both residential and commercial projects.
Portobello America's new Baxter, Tennessee factory offers the most advanced manufacturing equipment and processes found in any facility of its kind. The Company's main goal is to be 100% client-focused. This includes being a leader in product design which this 2023 Fall Collection clearly declares.
---
About Portobello America
Portobello America, a Portobello Group company, designs, produces, and provides complete and competitively priced hard surface solutions focused on the U.S. market. Our belief is that design can transform the way people feel by shaping the environments in which we live. This idea is the essence of Portobello America. Our business model is an integrated one. With expertise in retail and logistics, as well as being founded on design and innovation, our company is uniquely positioned to provide comprehensive support to our partners. To learn more, visit www.portobelloamerica.com.

About Portobello Group
Portobello Group or PBG S.A. is a publicly traded company, part of the Novo Mercado Bovespa since 2008, and was incorporated on December 22,1977. It started its production activities in 1979 and has since been a company that has always been oriented towards "new ideas." This concept was born with the goal of transforming the life of the city and region of Tijucas and bringing creative design to the greatest number of people.
Today, Portobello is one of the largest ceramic tile manufacturers in the world, and the
company believes that their vision of an agile, integrated and market-driven business model is the right strategy to follow to continue its success. The company possesses unparalleled design competence, and their innovative products transform people's lives by creating unique environments in the home, commercial and industrial settings. The Company operates globally but is always aware that the design must reflect the context of the location where its units are purchased. Their culture, strategy, and management focus on enabling the creation and distribution of that design. They generate value for all buyers, through an integrated business model while maintaining operational efficiencies that drive substantial profit margins.