–sponsored content–
Tiles, as a floor or wall covering, have been a go-to material for thousands of years. Since ancient times, people have appreciated tiles' benefits – durability, aesthetic appeal, and hygienic qualities. Yet, surprisingly, the techniques and materials used to install tiles did not change dramatically until modern times. The 1960's spurred evolution in tile setting materials with the invention of green board, an underlayment that withstood high moisture, which then led to the development of "thin-set" technology that revolutionized tile installation and performance.
Manufacturers have continued to innovate in mortars to improve the installation process and accommodate new tile sizes and types. Choosing the right mortar can seem complicated, but today's technology helps individual mortars do more. In fact, our most advanced mortars are modified mortars that can successfully set countless types of tile jobs. They offer labor and time savings, along with performance characteristics for even the most challenging installations. Choosing the right mortar for your job, helps ensure the profitability, longevity and quality of a tile project.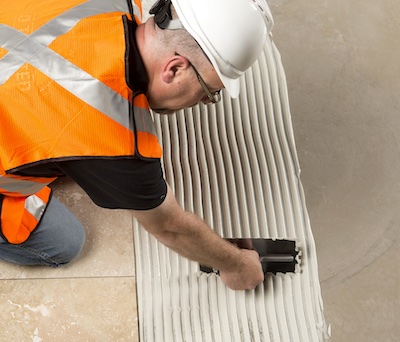 Types of Modified Mortar and ANSI Standards
Given the vast array of tile types/sizes and applications, modern modified mortars are designed to improve performance. Modified mortars contain special polymers or additives to offer better adhesion and flexibility. They can be used on a wider range of surfaces and tile types. Accordingly, standards have kept pace with the evolving tile and setting material trends. When choosing a modified mortar, look for the three American National Standards Institute (ANSI) standards that govern modified mortars.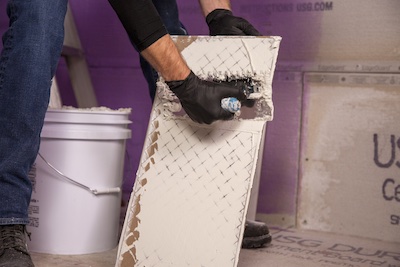 A118.4 American National Standard Specifications for Modified Dry-Set Cement Mortar
A118.15 American National Standard Specifications for Improved Modified Dry-Set Cement Mortar. The A118.15 specification requires the same tests as ANSI A118.4 but with stricter requirements. ANSI A118.15 mortars are the highest performing mortars on the market today.
A118.11 American National Standard Specifications for EGP (Exterior Glue Plywood) Latex-Portland Cement Mortar.

Most, if not all, ANSI A118.15 mortars meet/exceed ANSI A118.11 specifications. ANSI has a designation of "E" for extended open time, "T" for sag resistance on vertical surfaces, "H" for large and heavy tile, and "F" for fast set. These extra letters are listed after the ANSI specification.
Modified Mortars for Daily Use
Choosing the right mortar for everyday use can streamline operations and costs, reduce callbacks, and increase overall work quality. The key considerations for choosing the product include the project's type and size of tile, timetable and environmental conditions for the installation and long-term. Since modified mortar is so versatile, it is a natural choice for daily use. It offers ease-of-use, excellent bond strength, flexibility, and compatibility with diverse substrates and tiles. You can also use it for both wall and floor tiles, indoors and outdoors. An example of a reliable mortar for ever-popular large, heavy tile (LHT – one edge longer than 15") is TEC® PermaLastic® LHT Polymer Modified Mortar*. It is designed to set large format porcelain/ceramic/non-moisture sensitive stone tiles without lippage or shrinkage, for interior and exterior floor applications.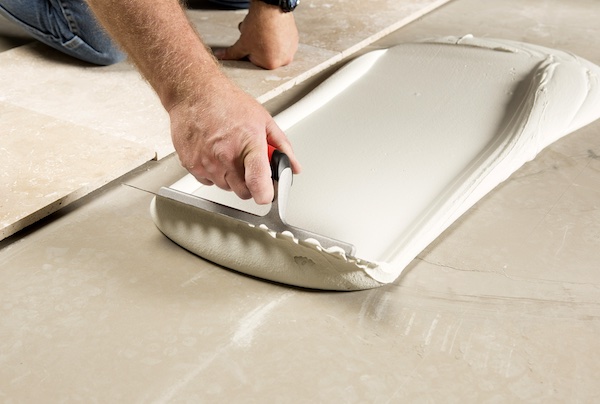 For projects that have a short timetable, a rapid-setting modified mortar can be the key to completing the job on-time. Whether the project is a commercial operation that needs to resume business swiftly or a homeowner that needs to use their freshly-tiled kitchen, rapid-setting mortars save installation time and effort without sacrificing quality. TEC Ultimate 6 Plus Polymer-Modified Mortar* allows for grouting in just 6 hours. It is a high-performance, polymer-modified, full coverage mortar with extended open time. Ultimate 6 Plus also saves labor time by significantly reducing the need for back buttering and offering exceptional non-sag / non-slump characteristics for both wall and floor applications.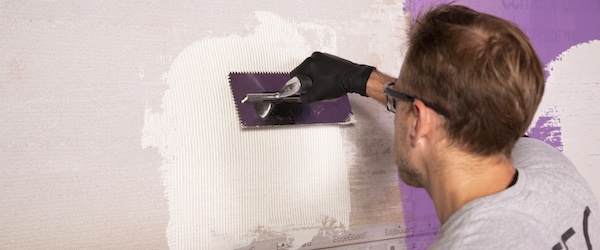 Today's most challenging installations require a high-performance mortar with exceptional adhesion, handling characteristics and resistance to weather or water exposure. Examples might include the outdoor installation of gauged porcelain tile panels (GTPT – 39" by 39" or more), glass tile walls with LHT floors in a spa shower room or mosaic designs in a pool. TEC® TotalFlex® 150 and 110 Universal Polymer-Modified Mortars* combine maximum versatility with ultra-long open time and super-easy troweling. They are ideal for LHT, GPTP, mosaics, floors, walls and ceilings. Both can be used for interiors, exteriors, submerged applications and under or over uncoupling membranes. TotalFlex mortars help improve tile installation efficiency, quality, and speed – all while enhancing sustainability and safety with a reduced weight extended-coverage, silica-free formula.
Mortar Choice Matters
Choosing a reliable, versatile modified mortar for your everyday tile jobs can transform your installation process and profitability. The right modified mortar offers the required performance and ease-of-use. When you match the mortar's properties with your project's specific requirements, including the ANSI Standards to meet, you help ensure your long-term success. Once you create your "short-list" of modified mortar options, you simplify your decision-making process for each project, and ensure consistent quality outcomes to satisfy your clients.
*Permalastic LHT exceeds A118.11 & A118.4T, Ultimate 6 Plus exceeds A118.11 & A118.4HTE, TotalFlex 110 exceeds A118.11 & A118.4HTE, TotalFlex 150 exceeds ANSI A118.15HTE A118.11, A118.4HTE