At MUD6 at Tile Trends, Idaho Falls, Idaho, seven tile installers took their Certified Tile Installer (CTI) test and four took the Advanced Certifications for Tile Installers (ACT) for Mortar (Mud) Floors test. 
A personal vendetta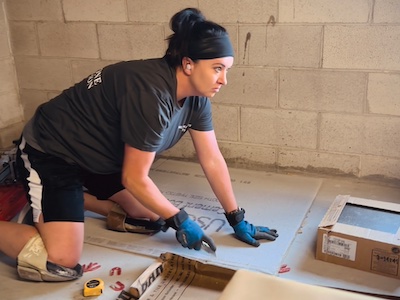 Some tile installers do not pass the CTI test the first time, but have the tenacity to keep trying until they earn their CTI number. Jaime Karsky, Owner of Meadowlark Tile LLC, Dickinson, N.D., was one of them. She became the latest female to pass the CTI test. MUD6 was her third time taking the test.
Karsky called passing the CTI "a personal vendetta" and likened the test to "running the Peloton" (treadmill), saying her heart rate reached 130 bpm at one point during the day.
The most poignant moment of Karsky's test was when her border was complete and she was ready to move on to the walls, but then she remembered making a mistake on her border in past attempts. She decided to recheck her work. "Sure enough, I had the same mistake," she said. It took her 40 minutes to correct the problem.
It's hard to deal with failure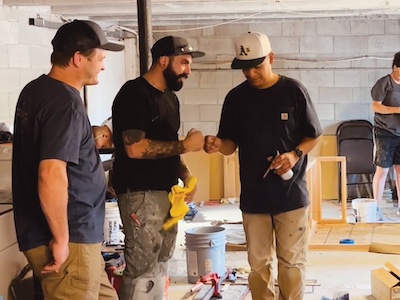 Sal Azzolino, owner of Argo Tile and Stone, San Francisco, Calif., first thought of taking the CTI test after meeting Logan Bounds, owner of Atlas Tile Co., Vineyard, Utah, who failed the CTI at The International Surface Event (TISE). "He was my inspiration for [taking the CTI test]," Azzolino said.
The morning of the CTI test at MUD6, Azzolino felt "a little uneasy" and "kind of panicked" when he started using rapid-set thinset, because it is not a product he uses on his projects.
When there were only two hours left, Azzolino had yet to install his walls. "I really just slammed through the walls, and at that point I kind of knew…" His mindset shifted from passing the test to finishing the test so that it could be graded, and he would know how to improve on his next attempt.
When Azzolino first learned he did not pass, he did not want to be included in this article. "It was so devastating," he said. "It's hard to deal with failure." After a few days, he reconsidered. "It didn't feel as terrible as it did at first," he said. "Most of the CTIs at MUD did not pass on the first time… They obviously are very good at what they do… [Talking to them] just kind of helped me want to take it again."
Working next to Azzolino during the CTI test was "humbling" for Bounds, who said he admires the work he sees on social media that Azzolino is able to produce. "In my installations, I always make that my goal… I want to strive to up my game to be like him."
Bounds recognized similarities between his first CTI attempt and Azzolino's, saying, "I'm a very detail-oriented, perfectionist-type person… so I take more time on my projects. On the CTI, if you do that, it basically… will kick your butt…"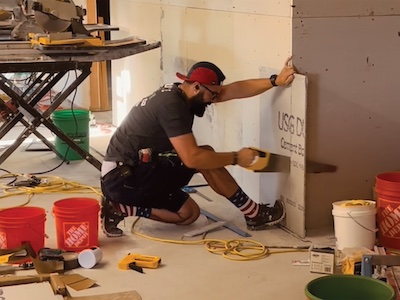 "Hey, have you taken your CTI yet?"
About three weeks before TISE, Mike Foster, president of Tile Trends in Idaho Falls, Idaho and site of MUD6, called Bounds and asked, "Hey, have you taken your CTI yet?"
At that point, Bounds did not know much at all about the CTI. Foster encouraged him to take the test, which opened his eyes to new learning opportunities available to him as a tile installer. "Before, I was just happy with doing regular tile work," Bounds said. Now, Bounds feels empowered to try new things and "not get comfortable."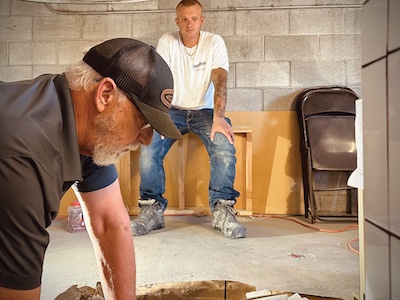 Bounds passed the CTI at MUD6.
Micah Kissee, owner of Timeless Creations, Boise, Idaho, who earned his CTI at MUD6, highly values education. "I want to give a shout-out to [the CTI Evaluators]," he said. "They want to help installers understand how to do installation correctly and avoid failures." 
A total of six new CTIs
Other installers who earned their CTI number at MUD6 include Richard "RJ" Dyer, Sanel Mujagic, and Zuhdija Kuduzovic, installers who run sole proprietorships in Boise, Idaho.
The CTI Evaluators were John Roberts, Technical Sales Specialist at Beno J Gundlach Company; and Terry Hall, Ardex Technical Trainer. Randall Johnson, a 2023 Coverings Rock Star, and Owner of The Tile Geek LLC, in Meridian, Idaho, was an Evaluator in training at MUD6. "He did really well," Carothers said.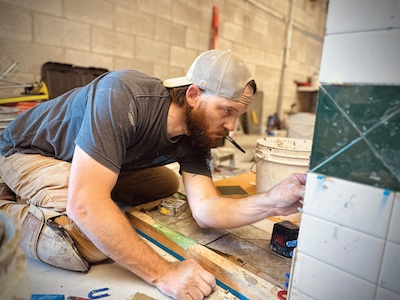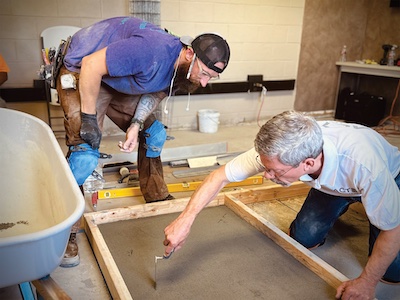 Four new ACTs join the ranks
Several installers who attended MUD6 took the opportunity to not just learn new skills at the event but to gain the distinction of being ACT certified in Mortar (Mud) Floors specialists: Ben Rivkin, owner of River Building Group LLC, Hailey, Idaho; Joppe Aguirre, owner of Cascadia Tile Company LLC, Redmond, Ore.; Paul Crawford, owner of Turtle Tile & Waterproofing, Austin, Texas; and William Pino, owner of Summit Valley Tile & Stone, Las Vegas, Nevada. Carothers was the ACT Evaluator.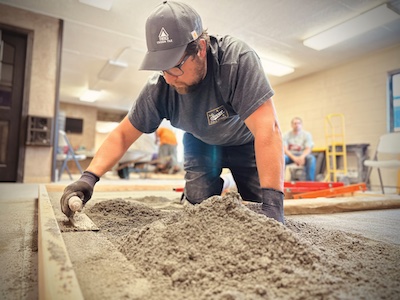 Rivkin likes the idea of making the ACTs more geographically accessible. He said, "[The ACT] is not on the West Coast very often, or at all. [CTEF is in] South Carolina. I think [the ACT is] going to attract people who want to take it, and that's good for the MUD Event. It's also good for CTEF to have a partnership like that…"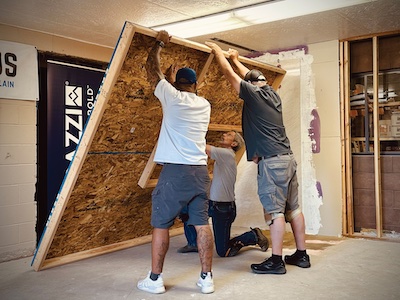 Crawford believes his ACT certification may help open more doors of opportunity for him. As of right now, he has a three-hour commute to most of his projects.
At MUD3, Pino failed his first CTI test. "It was one of the most difficult things I've ever done in my 20 years setting tile," he said. Later, he passed the CTI at TISE, which gave him the confidence to continue to earn certifications. For Pino, the CTI and ACTs are mostly for "personal gain," but he does use certifications as a selling point when he talks to prospects.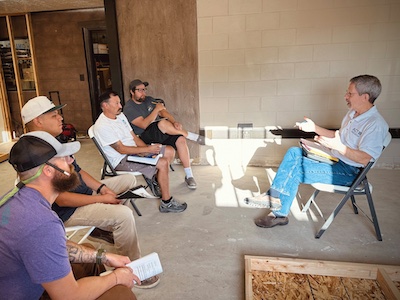 Aguirre, who earned his CTI on his first attempt, was drawn to the MUD Event because of the emphasis on education, including the ACT. "I think the CTI and ACT at MUD is a great combo." He believes earning ACTs will help for "bidding bigger, pricier jobs."
Are you interested in earning your CTI and ACTs? Visit CTEF to learn more.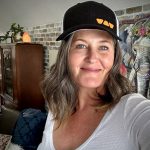 Alice Dean is the owner of Top Floor Writer. She writes creative and technical content for stone and tile restoration contractors, installers, inspectors, and others in the tile and stone industry.