If you are looking for training and education in addition to the NTCA Workshops and Regional Training events, know that your industry is rife with opportunities throughout the year. Following is a summary of just some of the programs and opportunities you can tap into in 2023.
Many of these opportunities are offered by companies that also strongly support the NTCA Training and Education program for 2023, and for that, we at NTCA are most grateful.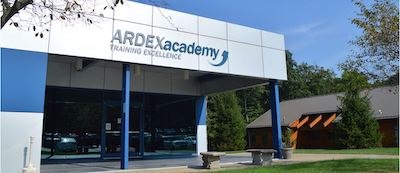 ARDEX Americas
ARDEX Americas' technical training seminars provide classroom and hands-on training where attendees work directly with ARDEX high-performance products, providing an opportunity to learn about ARDEX's Proper Substrate Prep philosophy and the ARDEX SystemOne™ warranty. Expert instructors also cover the latest approved industry installation techniques and guidelines, allowing you to return to the jobsite with the latest knowledge and skills necessary to increase job efficiency, minimize risk and maximize profits for your company.
ARDEX Academy trainings include: underlayments; moisture control; tile & stone installation systems; ARDIFLO™ Pumping Systems; ARDEX Surfaces; and Engineered Concrete Repair Systems (ECRS) at four locations in the U.S. and one in Canada. ARDEX also provides customized on-location trainings at customer facilities and on the jobsite.
All of the trainings offered at ARDEX Academy locations are FREE, and if travel is necessary, ARDEX covers the hotel cost during your stay. Upon your registration, your local ARDEX Sales Professional may reach out to you to answer any questions you have about the training.
If you have questions, or to see the complete list of 2023 trainings please visit https://www.ardexamericas.com/services/ardexacademy/

Bostik
Bostik Academy is a free online educational resource available to contractors, distributors, and other members of the tiling and surface preparation industry. Bostik Academy provides training and helpful information about industry trends, product features and benefits, and installation guidelines. Easy-to-use eLearning modules provide information from product basics to tips and tricks for installation success, plus webinars, on-site training, technical videos, and an extensive library of product catalogs, brochures, and more. Whether you're an experienced construction professional or new the industry, Bostik Academy provides the resources you need to perform better!
https://www.bostik.com/us/en_US/bostik-academy/ or https://bit.ly/3XNQ5jl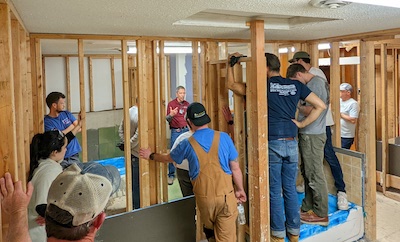 Ceramic Tile Education Foundation (CTEF)
CTEF expands its mission beyond core Understanding and Installation Ceramic Tile (UICT) and Mortar Shower Base and Waterproofing (MSB) classes in 2023!
New Foundations 100-Level classes are geared toward finer skills a ceramic tile finisher needs, establishing the history of the trade, then practicing grouting, cleaning, membranes, troweling, measuring, cutting, and repairing. These include Intro to Ceramic Tile, Ceramic Tile Finishing, and Advanced Finishing.
Practical 200-Level classes teach accuracy from prep to finish, precision layout and measuring, and techniques to make you faster. These include Installation Big Picture, Attention to Details, Where Did the Time Go?
Learning focuses on skills and knowledge needed to pass the Certified Tile Installer (CTI) test. Two Ceramic Tile Inspection classes offer an updated and expanded curriculum. Visit www.ceramictilefoundation.org for details, scheduling and information about Ceramic Tile Installer (CTI) tests and Advanced Certification for Tile Installer (ACT) tests nationwide.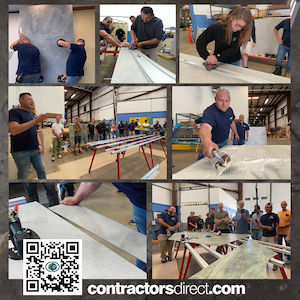 Contractors Direct
Contractors Direct (CD) offers single-day Large Format Tile Training & Education classes multiple times a year. Attendees mix, trowel, cut, break, make mistakes and learn while having a chance to take advantage of unbelievable one-day deals, in cooperation with CD's many vendors and Tri State Tile.
Large-format porcelain tile is one of the fastest growing tile categories. Your customers will want this impressive high-end design option for showers, bathrooms, kitchens, and counter tops. Learn how to make the most money by properly handling and installing this in-demand material.
Contact Customer Service at [email protected] or 1-800-709-0002 for the most updated details and schedule of classes. You can also visit https://www.contractorsdirect.com/blogs/large-tile-format-training-and-education or view videos at https://youtu.be/DtsHlS0jiEc.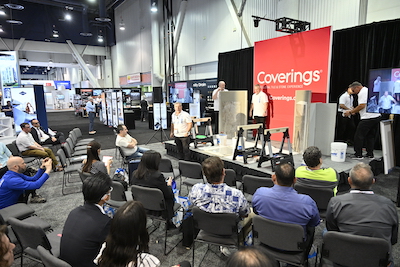 Coverings
Coverings, North America's largest tile and stone showcase, offers tile and stone industry pros a robust lineup of complimentary learning opportunities, including live demonstrations, curated show floor tours, interactive sessions, and so much more. With leaders speaking from NTCA, TCNA, CTEF, NSI, and ISFA, you will access the critical resources and know-how you need to keep current in today's highly-competitive tile and stone marketplace at Coverings 2023. Visit Coverings 2023, April 18-21 at the Orange County Convention Center in Orlando, Fla. Learn more and register at no cost at www.Coverings.com.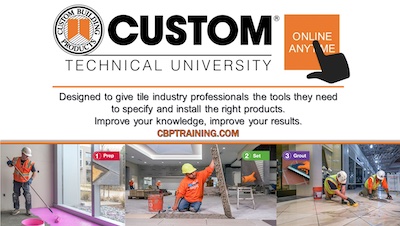 Custom Building Products
For almost 60 years, Custom Building Products has provided integrated systems of professional grade products, exceptional customer service, technical support and quality control.
We have a strong partnership and long history with the NTCA, and our core beliefs align when it comes to training and education. CUSTOM takes great pride in sponsoring and supporting workshop programs throughout the year. CUSTOM also provides in-person, hands-on training events throughout the calendar year in many separate locations, one of which is our CTU/CUSTOM Technical University located in Southern California, and available online at CBPtraining.com.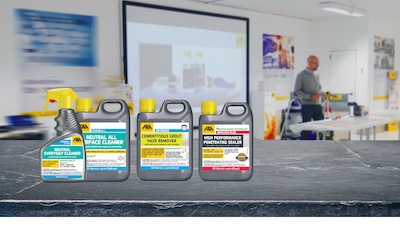 FILA Solutions
FILA Solutions offers training on its advanced, professional cleaning and sealing methods for tile and stone. Caring for the beauty of surfaces since 1943, FILA brings to the field expertise developed in the company's R&D laboratory for almost 80 years and makes it available to tile and stone professionals around the world. In fact, over 240 international tile and stone manufacturers recommend FILA products for effective and reliable cleaning and sealing.
Are you a professional contractor or tile installer who wants a quick fix for cleaning post-installation grout residue? Do you want to make sure the stone you install stays protected from common spills? Contact [email protected] for more information about 2023 training opportunities with products that have low environmental impact, and really work – always have, always will.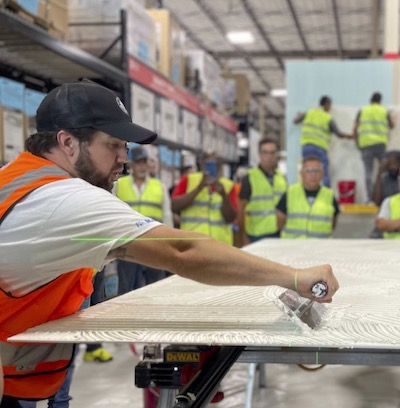 Floor & Decor
Floor & Decor will host training classes in partnership with the NTCA throughout 2023. With a combination of NTCA Workshops and NTCA Regional Trainings, more than 100 classes will be taking place at Floor & Decor locations nationwide. Classes will cover topics including:
Gauged Porcelain Tile Panel Installation
The Ins and Outs of Layout
Tile Matters: Best Practices for Pros
Failure, Could It Be Me?
Substrate Prep/LFT
And more!
See www.floorand decor.com/ntca for a class near you.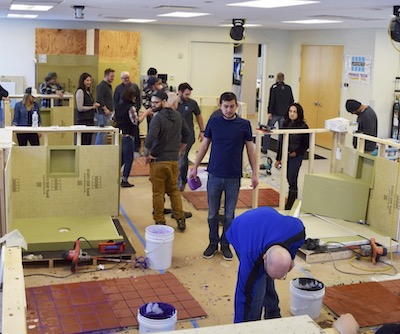 LATICRETE
LATICRETE's long history of education and training opportunities include in-person presentations and demos to online webinars. Learn important industry knowledge as well as the planning, design, installation and trouble-shooting of LATICRETE products.
Profit Through Knowledge (PTK): LATICRETE hosts one- and two-day seminars at domestic plant locations to provide insights and offer participation in hands-on installation techniques and product demonstrations.
Gauged Porcelain Tile Panel Training (GPTP): Held in-house or at a distributor location, this full-day, industry-based course covers the unique challenges and skills needed to install large-format panels.
LATICRETE University: This free e-learning program provides vital industry, technical systems and product information via on-demand online tutorials, allowing users to learn at their own pace.
AIA & IDCEC Programs: Choose from a wide range of online or in-person AIA- and IDCEC-approved presentations to earn continuing education credits.
Webinars: LATICRETE experts teach about specific installation systems via live, upon-request online webinars, such as swimming pools and shower systems.
Find out more at laticrete.com/training.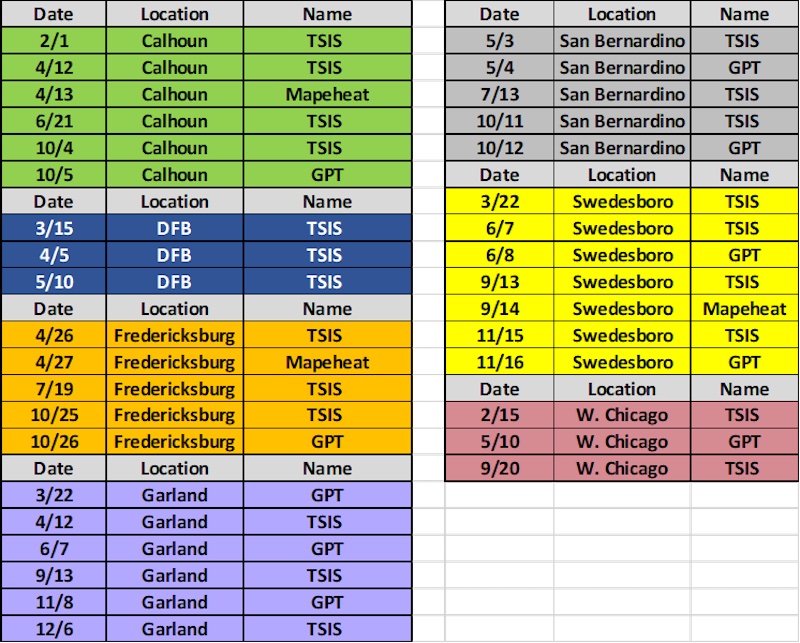 MAPEI Technical Institute
MAPEI Technical Institute (MTI) provides the highest-quality, fundamental and advanced product knowledge with demonstrations and hands-on training at the following MAPEI locations in the USA: Deerfield Beach, Fla., San Bernardino, Calif., Garland, Texas, Calhoun, Ga., West Chicago, Ill., Swedesboro, N.J and Fredericksburg, Va. Classes in other locations may be added as needed or requested.
MAPEI offers the following Fundamental Systems Training (FST), which is an overview of product knowledge with industry standards, product demonstrations and hands-on class participation for each subject. Classes cover:
TSIS – Tile and stone installation systems, addressing surface preparation, moisture mitigation, waterproofing, crack isolation, tile and stone installation systems, grouts, sealers, finishes, and cleaners for stone/tile/grout.
GPT – Gauged Porcelain Tile industry standards, tile limitations, safety, handling, tools, subfloor preparation, surface preparation, cutting and installation of floors and walls.
Mapeheat – Mapeheat Floor-Heating Systems product line including membranes and customizable mats, cables, mesh, programmable thermostats and a variety of accessories.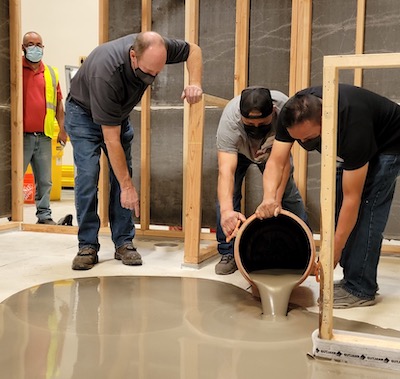 Merkrete
Merkrete holds several training sessions around the country. These sessions center on best practices and materials selection for surface preparation, crack isolation, waterproofing setting tile and grouting. The thorough, hands-on training gives attendees a chance to put their skills to the test using quality products from Merkrete's tile-setting solutions. Go to www.merkrete.com for more information.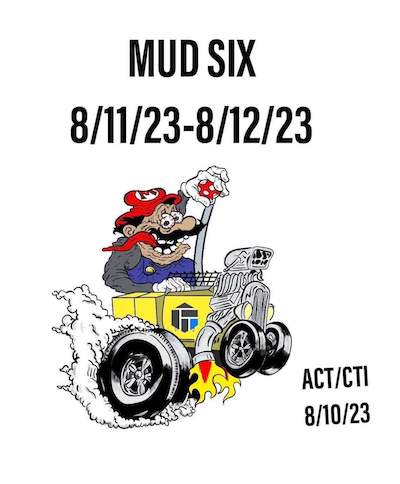 The Mud Event: Mud 6
"Come experience the best tile event ever," said organizer Mario "Tile Guy" Garcia! "You will not be disappointed!"
Mud 6 includes demos, seminars, exhibitions, competitions and celebration of our wonderfully diverse craft. It takes place at Tile Trends, Idaho Falls, Idaho, August 11-12, with a ACT/CTI exam scheduled for August 10 at the same venue. For information:
facebbook.com/mynameismudevent.
Natural Stone Institute
The Natural Stone Institute and Stone World magazine begin the 2023 Stone Industry Education Series this month. Stone Summits will be led by industry leaders and will cover a wide range of topics relevant to fabricators, including stone shop management, business diversification, and ways to increase efficiency. Attendees will have the opportunity to source products from event sponsors and hosts and will benefit from dedicated networking time.

For more information, visit www.stoneindustryeducation.com.
2/16 Arizona Stone Summit
Arizona Tile, Tempe
3/23 Tennessee Stone Summit
Architectural Surfaces, Nashville
5/4 Utah Stone Summit
MSI, West Valley City
6/1 Minnesota Stone Summit
UGM Surfaces, Plymouth
6/15 Oregon Stone Summit
Arizona Tile, Beaverton
7/20 Pennsylvania Stone Summit
MSI, Bridgeville
9/21 Missouri Stone Summit
Global Granite & Marble, St. Louis
10/19 Connecticut Stone Summit
EleMar New England, New Haven
11/9 Texas Stone Summit
Triton Stone Group, Austin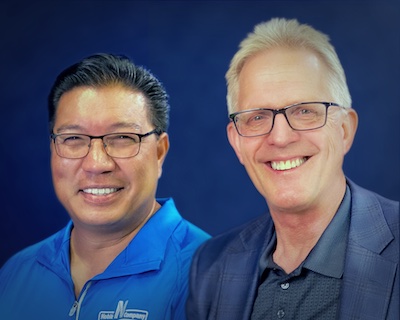 Noble Company
Noble Company offers AIA and IDCEC approved 1-hr HSW CEUs on installation methods and interior waterproofing systems that comply with industry guidelines and prevent failures. Classes examine moisture/vapor transmission and crack isolation, as well as ancillary design elements that contribute to the success of your waterproofing details. The real-world examples presented are timely, practical, and enable you to effectively implement the knowledge gained. Available courses:
How to Use the Tools in Your Toolbox – Understanding the TCNA Handbook – NEW!
When the Walls Close In – The Fundamentals of Wet-Area Waterproofing – NEW!
Foam & Function – How Foam Has Changed Architecture – NEW!
It's All Downhill…The Evolution of Slope-to-Drain Shower Pans
Sound Advice – The Role of Sound Isolation in Ceramic Tile and Natural Stone Installations
Going Curbless – Overview of the Growing Demand for Curbless Showers
Do I Really Have to Do That?… On My Tile & Stone Installations – A Collection of Tile Industry Myths, Urban Legends, Misconceptions, and Misunderstandings
To attend or schedule a live webinar or Lunch & Learn, call 231-799-8000, email [email protected] or visit www.noblecompany.com/education.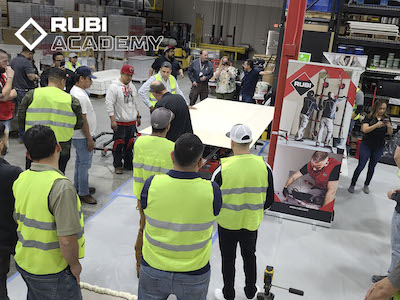 RUBI Academy
RUBI Academy brings the professional the opportunity to learn about new trends of the sector and to perfect their skills in ceramic tile installation through specific webinars, tutorials and events such as the several trainings RUBI has carried out during the last year in collaboration with the NTCA, Floor & Decor, Atlas Concorde and Crossville, all over the United States. This year, RUBI Team will continue inviting tiling installers to further training events that will be updated on the website rubi.com.
With this approach to teaching, the RUBI Group collaborates in the achievement of the United Nations Sustainable Development Goals (SDGs) selected within its global strategy of Corporate Social Responsibility. Specifically, the SDGs "4. Quality education" and "17. Partnerships to achieve the goals" are those linked to this project. Subscribe to a monthly newsletter that details RUBI training at www.rubi.com/us/landking/demos-carlos-delgado.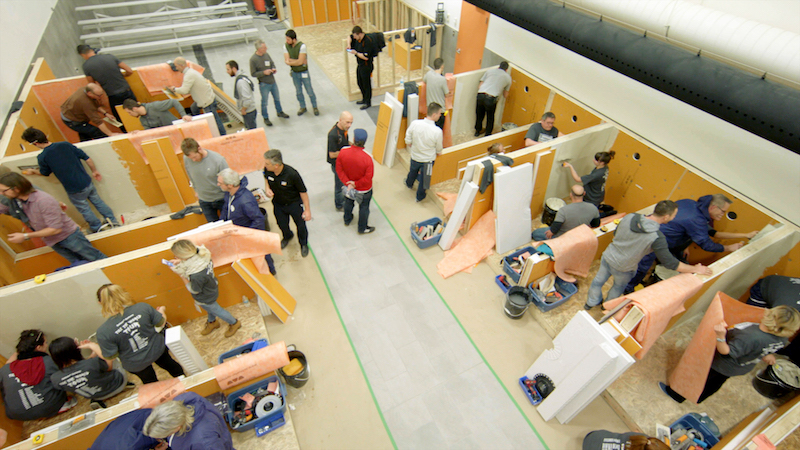 Schluter®-Systems
Upgrade your trade: Schluter®-Systems' workshop program is designed for tile industry professionals and is offered throughout North America. These workshops offer valuable education on industry best practices as well as Schluter products, which are designed to address recurring tile installation challenges. The workshops are informative, engaging, and involve a combination of theoretical, and practical hands-on training. Whether you specify, sell, or install tile, join us for a free-to-attend workshop and take advantage of tangible educational and networking opportunities. View some of the workshops we offer, find out more and register to attend: www.SchluterEvents.com
Beyond the workshops: It is the company's philosophy and practice to support education and training on industry-approved ceramic and stone tile installation methods in many ways. For this reason, we are active sponsors of the NTCA, supporting their workshops and regional training programs, as well as other educational opportunities.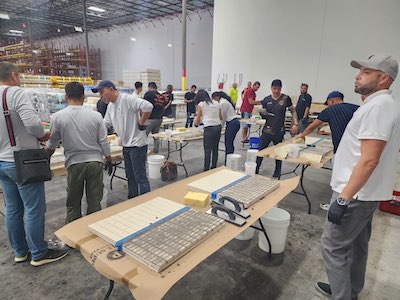 Sika Tile
Sika conducts contractor training that provides in-depth, hands-on knowledge on the four main grout categories. Participants receive a greater understanding of grout products' performance characteristics as well as their features that eliminate unwanted jobsite callbacks. The training sessions use the SikaTile line of grout solutions and take place at Sika locations in Chino, Calif., Lewisville, Tenn., and Davenport, Fla. Additional information is at www.sikatile.com.
SunTouch

Interested in growing your brand and expanding your skills in SunTouch® floor warming? Become a certified expert on the floor warming solution millions of homeowners have relied on for the past 30 years. When you become a Certified SunTouch Installer, you will receive:
Qualified Leads
Access to VIP Tools
Exclusive Sales Support
Get started today!
Visit https://www.suntouch.com/contractor-certification
---
Training resources you should know about
In addition to all the training programs and classes that are offered to tile installers and contractors, there are a couple of other resources that it's good to know about: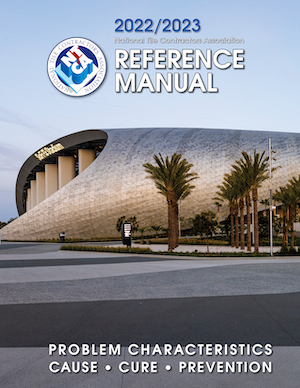 NTCA Reference Manual: Published annually, this document is one of the industry's triumvirate of essential documents – the TCNA Handbook for Ceramic, Glass and Stone Tile Installation, and the ANSI Manual. This publication identifies recurring installation challenges, recognizes potential problems, and offers expert solutions. The NTCA Reference Manual is a comprehensive culmination of knowledge, research, and development that addresses common installation obstacles and issues in the tile and stone industry. NTCA Technical Committee members, industry allies, and ceramic tile contractors, distributors, and manufacturers, meet twice a year to confer about topics in the NTCA Reference Manual, and NTCA adds new documents and updates existing chapters with each annual printing in August. Each member receives a copy, and you can order additional copies of the current print version by visiting the NTCA Online Store at www.tile-assn.com/store/default.aspx? to order a PDF version.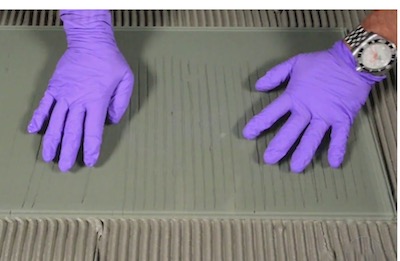 Trowel and Error – How to Set Tile the Right Way: This video was created with major funding by Custom Building Products. In only six-and-a-half minutes, you can learn the NTCA-approved, correct trowel techniques to set large-format tile and to create a stronger bond between the tile and the substrate. This video helps you prevent crack transmission, lippage, tile breakage and other costly tile repairs. In addition to troweling, it addresses the perils of spot bonding, voids under the tile, proper mortar coverage, movement joints, substrate preparation and flatness, flat back troweling (aka "back buttering") and more. This video is available in English, Spanish, Russian and a new French Canadian translation just completed in 2022.